How Dua Lipa Really Feels After Her Breakup From Anwar Hadid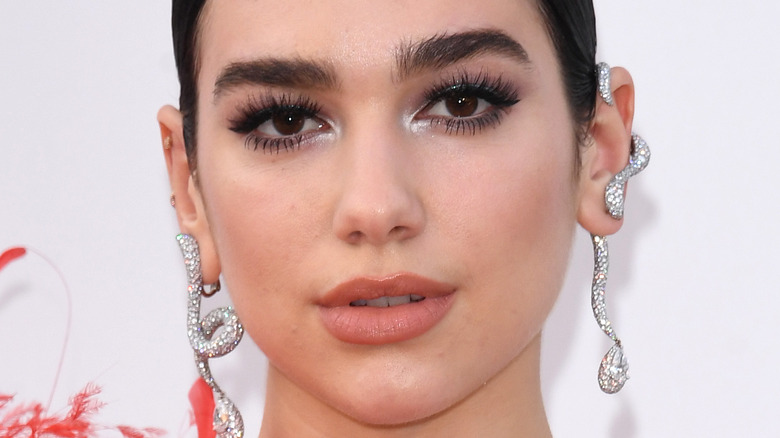 Daniele Venturelli/Getty Images
On paper, Dua Lipa and Anwar Hadid's relationship seemed perfect. After all, she's an international popstar, while he's a model and the younger brother of fashion icons Gigi and Bella Hadid. The relationship had all the hallmarks of a cool kid couple, but Lipa and Anwar somehow managed to keep things low-key, too. "I'm very comfortable in the relationship, more so than in any others," the "Levitating" singer told Rolling Stone in January 2021. She also shared her "pandemic routine" with Anwar at the Hadid family farm, adding, "[We] wake up around 9:00, 9:30, shower, get dressed, have a bit of breakfast, take the dog out on a really nice long walk, maybe do some yoga, make some lunch, hang out, watch a movie, play with the animals." The whole thing sounded refreshingly casual!
But the fairy tale ended when Lipa and Anwar split in December 2021. At the time, a source told Us Weekly that the two were "on a break" and "no longer dating." The U.S. Sun also reported that the pair's relationship had been rocky for months, and that "traveling so much" had led them to "put the brakes on their romance." Six months out from the breakup, the exes haven't spoken much about the split. It makes sense, as Lipa spoke to British Vogue in 2016 about the need for privacy in her life and relationships. But now, a source close to the "Don't Start Now" singer is opening up about how she really feels post-breakup.
Dupa Lipa plans to prioritize herself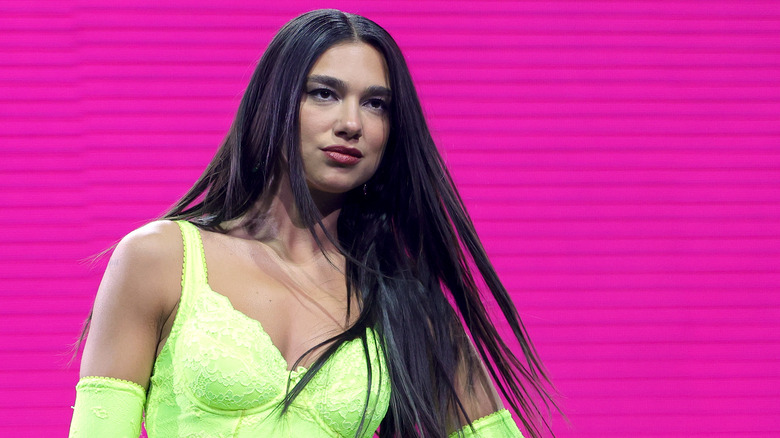 Ethan Miller/Getty Images
Following her breakup from Anwar Hadid, Dua Lipa has been coping by immersing herself in work, according to Page Six. "Dua is laser-focused on work," an insider said in February. "She has been preparing nonstop for her tour and working on her next album." The superstar, who is currently in the midst of her Future Nostalgia tour, made headlines for stepping out solo in NYC. As she told Vogue in the outlet's June/July cover story, she took herself out for dinner in the Big Apple and chronicled the whole experience for her newsletter, Service95. "Some people on the internet were like, 'Oh, Dua went out for dinner on her own, blah blah, I do this all the time.' ... But it was a big step for me. I was nervous — like, what am I gonna do? I don't want to be on my phone," Lipa said.
Next up, Lipa also plans to take herself out to the movies. As she put it, "The next chapter of my life is about truly being good with being alone." It's a brave move for someone in the public eye who is coming out of a two-year relationship! Though Hadid hasn't said anything about dating after Lipa, the Grammy winner told Vogue that she is currently "single and content" with no plans for that to change anytime soon. On the bright side, maybe fans can count on the star to drop some new breakup bops.