Selena Gomez And Nicola Peltz's Friendship Explained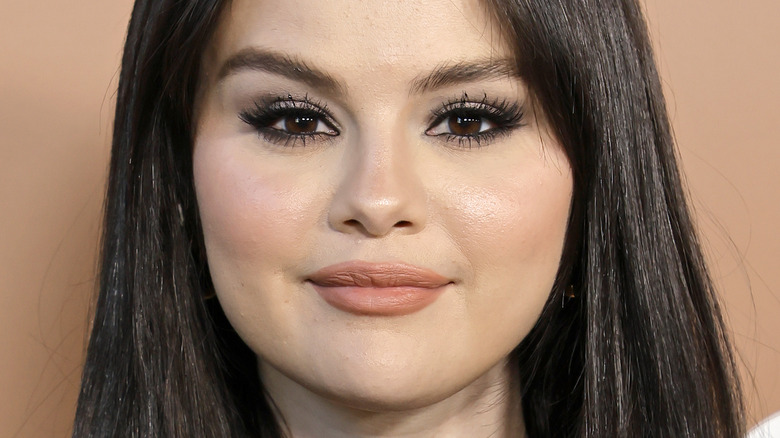 Kevin Winter/Getty Images
By now, we know that Brooklyn Beckham is pretty much obsessed with his wife, Nicola Peltz. In February, Beckham stepped out with a giant tattoo of his wife's face — and if that's not love, we don't know what is. "I think once you find that person that you just can't live without ... it's so easy [to be romantic]," the budding chef told E! News. "I love [Nicola more than anything. I always try to make her happy." Clearly, Beckham has no qualms about flaunting his love for Nicola, so much so that the Internet has even dubbed him "the perfect husband."
But just because Nicola and Beckham's PDA is all over our feeds doesn't mean the pair doesn't have other friends. From cuddling up with her brother Will Peltz's girlfriend, to hosting "girls night" sleepovers, Nicola makes room for platonic love, too. Her girl gang is reminiscent of a certain blonde singer's well-documented female friendships — and it turns out that Selena Gomez is a staple in both circles!
Judging by social media, Gomez's friendship with Nicola is relatively new. The unlikely duo soft-launched their relationship in late 2022, when Nicola hosted one such "girls night" to celebrate the release of Gomez's documentary, "Selena Gomez: My Mind & Me." Meanwhile, bear in mind that Gomez wasn't actually invited to Nicola's wedding, which took place in 2022, so this friendship seems to have sprung up overnight. If you're wondering how that happened, and what Gomez and Nicola have in common (besides both once dating Justin Bieber), you are likely not alone.
Selena Gomez and Nicola Peltz flaunt their friendship on social media
Since making their friendship debut on Instagram, Selena Gomez and Nicola Peltz have shared plenty of milestones. Let's start with New Year's 2023. According to social media, Gomez joined Peltz, her husband Brooklyn Beckham, and a group of other girlfriends for a getaway to Los Cabos, Mexico. During the trip, Peltz and Gomez revealed they had gotten matching "angel" tattoos, according to Page Six. Then, they stepped out in sparkly, silver minidresses and clear platform heels, which Gomez shared on Instagram.
Matching tattoos? Custom outfits? The whole thing is giving Stassie Karanikolau-Kylie Jenner vibes, but it didn't end there. "Fine call us a throuple," Gomez captioned an Instagram post that showed her snuggling up to both Beckham and Peltz. The "Wolves" singer next celebrated her bestie with a sweet birthday post of her and her little sister kissing Peltz's cheek. Beckham's wife commented, "Omg my sisters" (via the Daily Mail), and repaid the favor by gushing over Gomez's Golden Globe nomination. "Celebrating our golden globe girlie," Peltz wrote. "So proud of you @selenagomez I love you so much!"
There's more. From rocking matching headwear to supporting "Uncle Brooklyn" at his soccer game, Gomez and Peltz are about as lovey-dovey on social media as Peltz and her husband. What's more, it seems like this outpouring of female support couldn't have come at a better time for Gomez.
Nicola Peltz showed support for Selena Gomez amid feud with Hailey Bieber
So far, in 2023, Selena Gomez has been at the middle of a social media firestorm that alludes to a feud between her and Justin Bieber's wife, Hailey Bieber. From a TikTok video that supposedly body-shamed Gomez, to Instagram Stories poking fun at Gomez's eyebrows, there's plenty to dissect. The gist is that things got bad enough for the "Only Murders in the Building" actor to briefly quit social media. Amid the drama, Gomez's new bestie, Nicola Peltz, was there to lend her support. In a TikTok that showed Gomez and Peltz performing a skit, one fan commented, "TELL SELENA EVERYBODY SUPPORTS HER" (via the Daily Mail). Peltz then liked the comment in a subtle show of support. Brooklyn Beckham's wife hasn't commented publicly on the beef between Gomez and Hailey, but it's pretty clear where her allegiances lie.
Meanwhile, Gomez is embracing self-love after opening up about her mental health in the documentary "Selena Gomez: My Mind & Me." "Self-confidence is still something I work on daily," the singer told Glamour UK in December 2022. "But when I stopped trying to conform to society's unrealistic standards of beauty, my perspective entirely shifted." Something tells us that Peltz is fully here for this more self-accepting version of Gomez. After all, they are "angel sisters" for life! Just one question: does this mean we can expect more matching tattoos in the future?