Inside The Heartbreaking Death Of Guy Fieri's Sister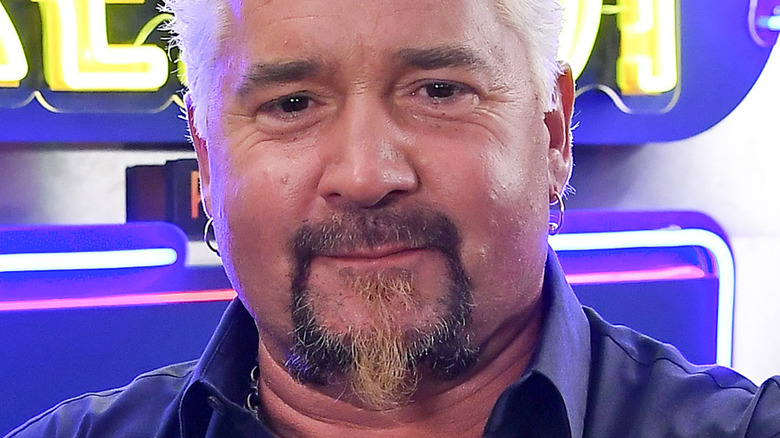 Steve Jennings/Getty Images
Guy Fieri, the host of "Diners, Drive-ins and Dives," travels the country sampling mouthwatering dishes from local restaurants. His late sister, Morgan Fieri, however, had a very different approach to eating. Morgan grew up in California with her brother and their parents, and she developed eco-friendly habits from a young age, per Legacy. The famous foodie's sister was a vegetarian who contributed several meat-free recipes to Guy's cookbooks over the years. "She was such a teacher of our family," Guy told TravelFoodandDrink.com about Morgan (via Chicago Now). "She would tell us about organics and about recycling and I'd be like, 'c'mon.' but she would always be in my ear about it again and again," he added.
Although Guy never adopted Morgan's dietary habits, she did have a profound influence on his life, as the Food Network star has been heavily involved with the Make-A-Wish Foundation. "I know what the family is going through, to some degree," he said, via Delish. "I know that heartache and I see that, and if there's anything I can do to help enlighten or empower those kids, I want to do it," Guy added. During the COVID-19 pandemic, the "DDD" star helped raise more than $21 million for restaurants that were struggling to stay afloat amid lockdown, per PopCulture. This gesture reminded many fans of another time Guy gave back to the community, which was inspired by his late sister. Keep reading to learn more about Morgan's death, and how it shaped the television star.
Guy Fieri's touching tribute
Morgan Fieri was first diagnosed with cancer when she was 4 years old. Guy Fieri never forgot how their community rallied around the family, and how local celebrities visited Morgan in the hospital when she was a child, per Delish. In 2011, at the age of 38, Morgan died of metastic melanoma, via Legacy. She was survived by her son Jules and her partner Annie Antepara. "My little sister passed away in February. It was heartbreaking," Guy told TravelFoodandDrink.com (via Chicago Now). At the time, the Food Network star had just finished a book that was going to print. To honor Morgan, Guy had the dedication of the book changed at the last second. "My sister lives on in the book shelves and in the homes, with the families of people forever," he said.
Guy continued to commemorate his sister in various ways. In 2015, Guy paid tribute to Morgan, who was a lesbian, when he officiated 101 same-sex marriages in Florida, per USA Today. The event was organized by fellow celebrity chef Art Smith after the state lifted the ban on same-sex marriage. "Was an honor to be part of such an amazing day for so many loving couples #101gayweddings," the "Guy's Grocery Games" host wrote on Twitter at the time. Guy paid tribute to his sister in February 2020 with a touching Instagram post. "Miss you my sister Morgan. You continue to inspire us all," he wrote in the caption of a family photo. "We love you! Namaste."