Why Kate Moss Regrets Working With Mark Wahlberg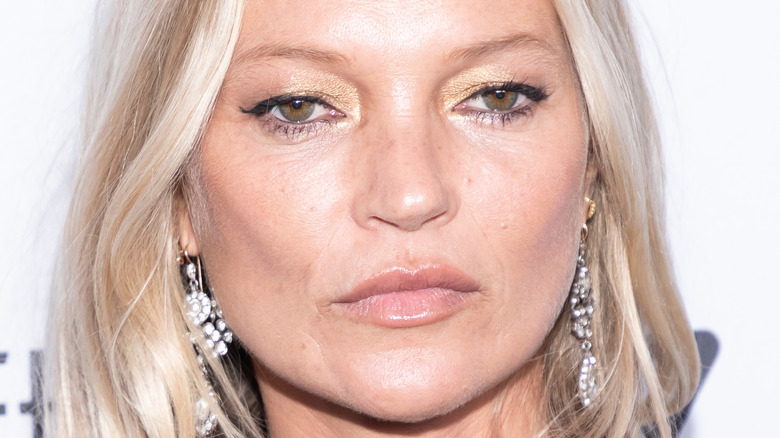 Shutterstock
International supermodel and actor Kate Moss and teen pop idol turned movie star Mark Wahlberg have both had successful careers. Though their professional paths crossed only once, in some ways, both of their primary careers were launched at the same time, with the same Calvin Klein ad.
Yes, Wahlberg was already known as the teen idol Marky Mark, short-time member of boy band New Kids on the Block, and then frontman of the Funky Bunch. But the first gig of his acting career was an underwear commercial costarring model Moss in her first acting appearance.
Moss was discovered in John F. Kennedy airport when she was 14 years old, as she told W Magazine in 2017. "Since I was 14, they always got me to take my clothes off," she says. "I have no idea why, I really don't get it at all." She was only 18 when she and Wahlberg appeared in the underwear ad, and she was extremely nervous.
Though they only worked together once, and it kickstarted her superstardom as a model, Moss regrets working with Wahlberg and says that it led to her having a "nervous breakdown." Keep reading for the whole story.
Nerves weren't the only reason Kate Moss hated her experience with Mark Wahlberg
Then-18-year-old Kate Moss was extremely nervous working on the Calvin Klein ad, telling W Magazine "it was so intimidating." Mark Wahlberg was three years her senior and already a star. He also had a reputation: According to Biography, Wahlberg was a "bad boy," dropping out of high school at age 14 and convicted of assault at 16, resulting in time served. Prison motivated him to straighten up, but he still had a violent streak. Moss, sounding hesitant to speak openly, told W, "Marky Mark was like, diff— it was a different, whole Hollywood thing. He didn't talk very much."
Klein himself admits to Interview magazine that Wahlberg "was trouble," and that "[Wahlberg] and Kate couldn't stand each other." He also says Moss "had gone through some difficult times, and it sometimes came through in the work and in the attitude," but that "she ended up being really great."
Moss admitted that the experience was so uncomfortable for her that she had a nervous breakdown, telling Vanity Fair, "I couldn't get out of bed for two weeks. I thought I was going to die." Of the shoot, she said, "It didn't feel like me at all. I felt really bad about straddling this buff guy. I didn't like it." Wahlberg himself admitted to the Guardian that he was "rough around the edges." No wonder Hollywood sets all have intimacy coordinators now.