The Truth About Tom Brady's Political Views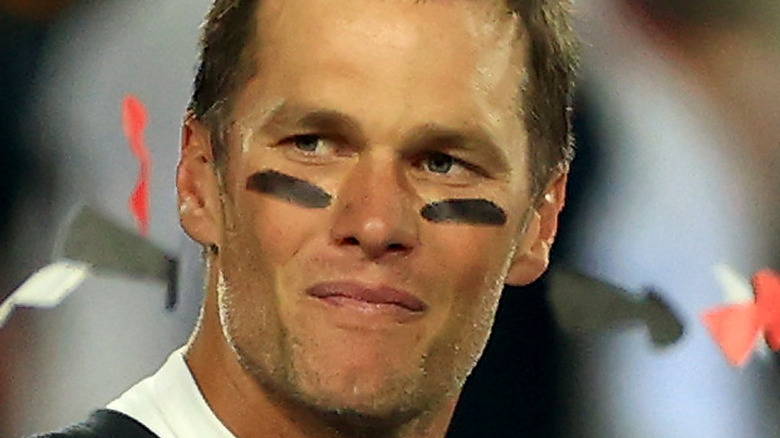 Mike Ehrmann/Getty Images
Tampa Bay Buccaneers quarterback Tom Brady is a living football legend — and after he became the first player in league history to win a seventh Super Bowl ring at Super Bowl LV, it seems his GOAT status is well earned. "Wayne Gretzky ... was, until tonight, the undisputed best team sport athlete in history," retired Canadian Football League offensive lineman Peter Dyakowski tweeted after Brady's record-breaking win. Indeed, the NFL veteran's prodigal throwing arm and fitness regime is often the subject of countless headlines and Twitter threads. But he's also generated his fair share of controversy, in no small part thanks to his political views.
Brady first found himself in hot water when he infamously donned a "Make America Great Again" hat during a 2015 interview. Because ex-President Donald Trump was running on the slogan at the time, fans naturally made assumptions about Brady's political affiliation. However, the winningest quarterback of all time cleared things up to Boston's WEEI (via Time). "He sent it to me via R.K.K [Patriots owner Robert Kraft]," Brady said. "He always gives me a call and different types of motivational speeches ... so now that he's running for president, he sent me a hat." So does this statement mean that Brady and Trump are buds? And what's the truth about his political views?
Does Tom Brady support Donald Trump?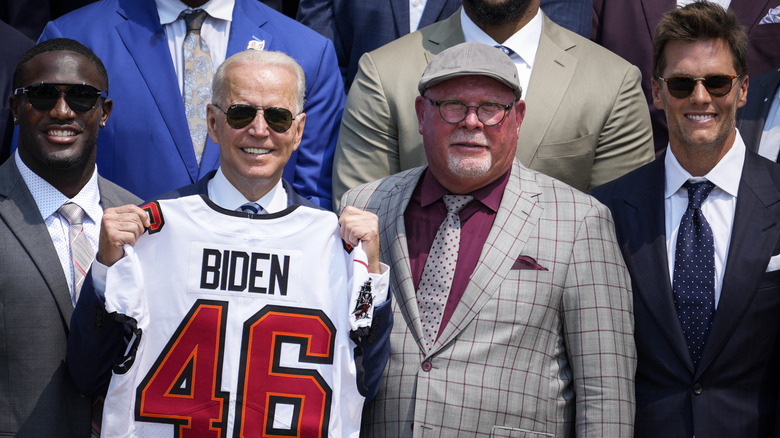 Drew Angerer/Getty Images
Per Time, Tom Brady and Donald Trump's friendship dates back to 2002 and includes good times spent together on the golf course. The former president also publicly congratulated Brady via Twitter after his Deflategate suspension was lifted in 2015. But in more recent years, it seems that Brady has attempted to distance himself from his controversial "friend." Speaking to WEEI (via Sporting News) in 2017, the Tampa Bay quarterback explained that while he'd congratulated Trump on his presidential victory, he didn't agree with his values. "I don't want to get into it, but if you know someone it doesn't mean you agree with everything they say or do," Brady added.
According to The Sun, Brady also raised eyebrows when he opted to skip the traditional White House visit (citing "personal family matters") following his Super Bowl LI win with the New England Patriots in 2017. Perhaps most tellingly of all, Brady's supermodel wife, Gisele Bündchen, refuted claims that he had voted for Trump in the 2020 election (via Daily Beast). Instead, Brady seems to be chumming it up with Democratic President Joe Biden. Not only did he make a joke at Trump's expense during a White House visit in 2021, but he drew parallels between himself and Biden, stating that they both share the same "Sleepy" nickname (via The Sun). Though he hasn't publicly stated a political affiliation, it seems Brady is keen not to be known as a Trump supporter.