Why Is There A Controversy Over Melania Trump's Wedding Ring?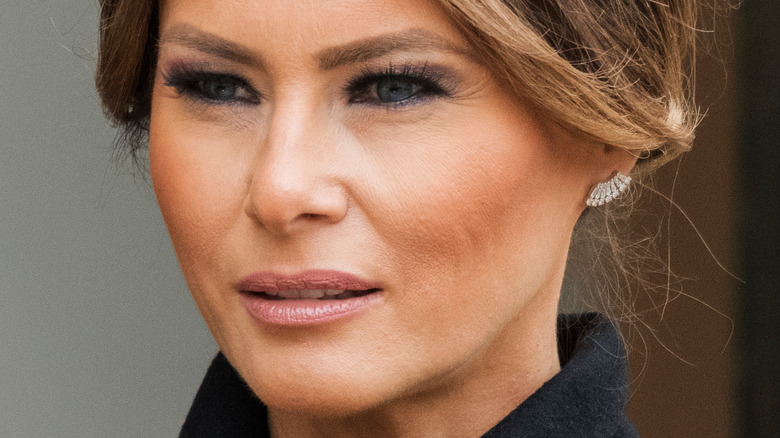 Shutterstock
Melania and Donald Trump are no strangers to the press scrutinizing their every move, but it seems like Melania's wedding ring is causing quite the stir, even now.
The couple married in January 2005 at Donald's luxe Mar-a-Lago estate, which underwent a $42 million renovation at the time, per The New York Times. Melania wore a Dior gown embellished with crystals and pearls, which landed her on the cover of Vogue. To say the guest list was star-studded would be an understatement — the Clintons, Billy Joel, and Tony Bennett were just a few of the famous faces in attendance. The reception was something to behold, complete with Cristal champagne, beef tenderloin, and Grand Marnier chocolate truffle cakes. Who wouldn't want to dance the night away on gleaming marble floors amidst the 24-karat-gold moldings?
Yet, although the wedding seems like a lifetime ago, critics are still talking about Melania's wedding ring. Keep reading for more details.
Not everyone is convinced Melania Trump's wedding ring is the real deal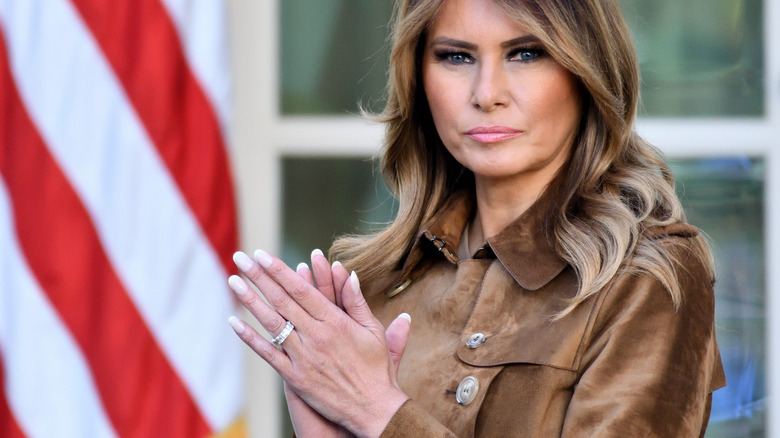 Shutterstock
Melania Trump's wedding ring is reportedly worth $685,000 (via The Things), but despite the sparkle, fans are wondering why she rarely flashes it in public. She wore it for her White House portrait, but other than that, it seems like it sits in her jewelry box.
However, there are reasons why the ring isn't in Melania's rotation. "There are three reasons why she may not wear the ring in public," said Gary Ingram, CEO of The Diamond Store London, to Express UK (via The Things). "Firstly, if it doesn't sit comfortably next to her statement engagement ring. It is also a substantial ring that is worth a fortune, so it could alienate voters who feel she is flaunting her wealth. Or, Melania may not want her rings to be a focal point in the press, so she doesn't wear it in public."
This isn't the first time critics went after her jewels. In 2005, Donald Trump allegedly said he bought her engagement ring for a "steal." The ring was apparently $1.5 million, but the former president paid just half of that price. "Only a fool would say, 'No thank you, I want to pay a million dollars more for a diamond," he told The New York Times in January 2005. In 2018, Graff Diamonds CEO Laurence Graff told Forbes that Trump was given "no favours." "He paid for [the ring] in full, and he paid immediately," a source told the outlet.