This Is What Happened To Meghan And Harry's Staff When They Left The Palace
Chris Jackson/Getty Images
Ever since Prince Harry and Meghan Markle cut the cord on their working relationship with the rest of the British royal family, there has been one report after another suggesting that they might have burned every bridge in London upon their departure. But that might not necessarily be true. While the Duchess of Sussex has fought as well-publicized fight with the British media, there are some people in London who would still pick up the phone if Meghan would call them today. In other words, she might not be the royal villain that the tabloid press is making her out to be.
With that said, though, Buckingham Palace did open up an investigation over whether or not Meghan had bullied her staff. Allegations were made that Meghan was supposedly so awful to her staff that she reduced many to tears. However, Prince Harry went on record to defend his wife, telling Oprah in the first episode of Apple TV's "The Me You Can't See" (via BuzzFeed) that the reports were nothing more than a "combined effort of the firm and the media to smear her."
Despite the claims that were made, the Duke and Duchess of Sussex didn't leave things on bad terms with their staff after they decided to leave London for California. In fact, it was quite the opposite. Here's what happened to their staff after Harry and Meghan left the palace.
Prince Harry and Meghan Markle's bittersweet British good-bye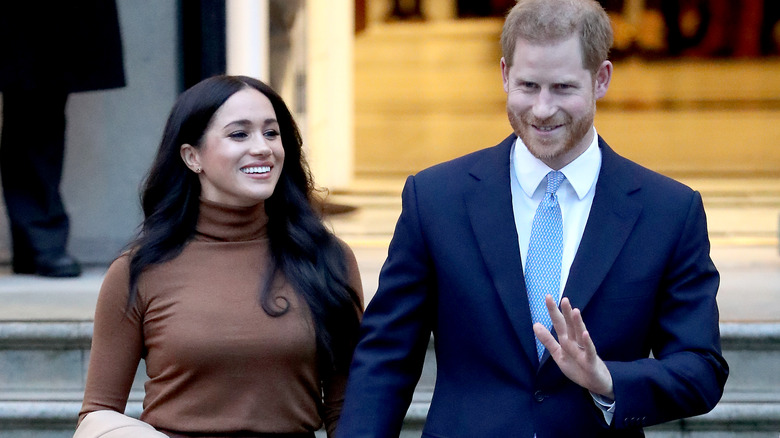 Chris Jackson/Getty Images
During their short tenure as full-time working royals, Prince Harry and Meghan Markle had an all-star staff that included their communications director, Sara Latham, who previously worked for Hilary Clinton and the Obamas. And while Harry and Meghan's decision to leave London — which was conveniently dubbed Megxit by the British press at the time — was certainly controversial, it was also an emotional rollercoaster for their staff. And that's not because of the stress that was put on them or the fact that many of them were made redundant, but mostly because they reportedly did enjoy working with Harry and Meghan.
The last few days at the palace were also bittersweet. One source told Page Six, "Harry and Meghan have often done fun things like throwing pizza parties or hiring ice cream trucks for their staff, but they wanted to do something special going into this last week together. They toasted the team and thanked them for everything they have done. Some of the staffers cried."
Harry and Meghan's departure wasn't the bloodbath everyone expected it to be, as Latham did end up getting a job with Queen Elizabeth after Megxit. Even though their London-based staff clearly couldn't relocate to California with them, at least many of them could count on a letter of recommendation from the Sussexes — which is an honor in itself.