What Does Michael Phelps Really Think Of Simone Biles?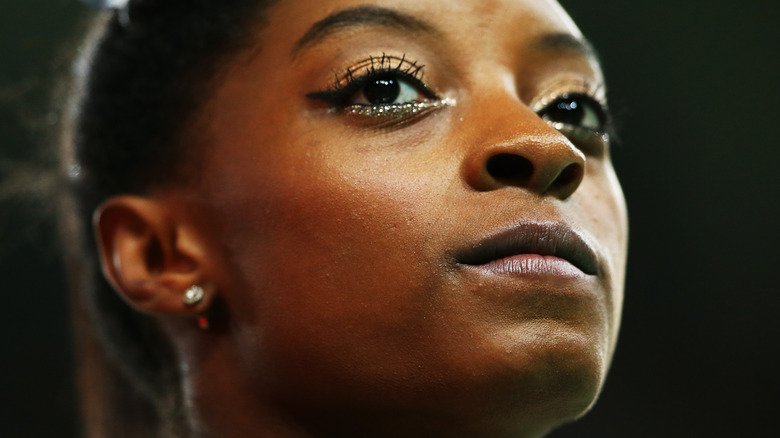 Alex Livesey/Getty Images
Simone Biles is currently in Tokyo for the 2020 Olympic Games, but she has yet to compete in any medal events. The skilled gymnast withdrew from the team final on Wednesday, July 27, for a "medical reason," according to a tweet from USA Gymnastics. While many people assumed that Biles was injured, it was later revealed that she was focusing on her mental health. "We also have to focus on ourselves, because at the end of the day we're human, too. We have to protect our mind and our body, rather than just go out there and do what the world wants us to do," Biles said, according to NBC News.
The four-time Olympic gold medalist was planning on taking things day-by-day, and was looking forward to having Wednesday, July 28, as a day of rest. "We're going to see about Thursday, we'll take it a day at a time. I know tomorrow [Wednesday] we have a bit of a break from training so that'll be really nice, to have a mental rest day," she said, according to the Guardian. However, on July 28, Biles withdrew from the all around final set to take plane on July 29. "After further medical evaluation, Simone Biles has withdrawn from the final individual all-around competition at the Tokyo Olympic Games, in order to focus on her mental health," read a tweet from USA Gymnastics.
Former Olympian Michael Phelps weighed in on what's going on with Biles. Read on to find out what he had to say.
Michael Phelps understands what Simone Biles is going through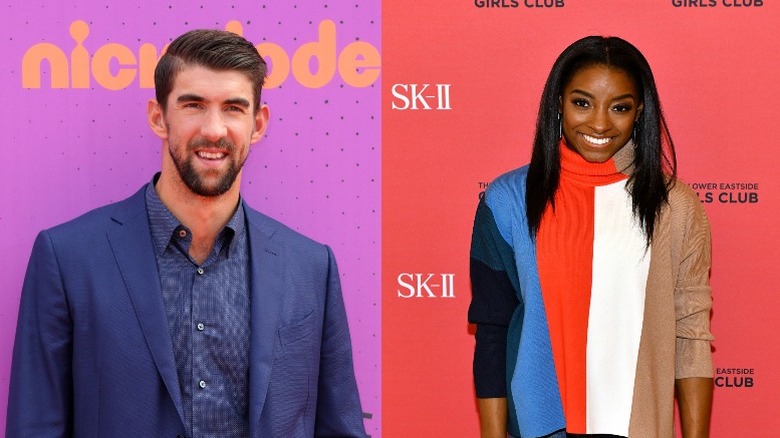 Shutterstock & Craig Barritt/Getty
If anyone could understand the emotions that come with being an Olympic athlete, it's Michael Phelps. As the most decorated Olympian of all time, Phelps knows what it's like to feel the pressure, stress, excitement, nerves, joy — and everything in between — when it comes to competing in The Games. In an interview with Mike Tirico, Phelps shared his thoughts on Simone Biles' decision to withdraw from competition and focus on her mental health. 
"I think athletes and Olympic athletes in general, I mean, talking about weight of gold. We need someone who we can trust. Somebody that can let us be ourselves and listen. Allow us to become vulnerable, somebody who's not going to try and fix us. You know, we carry a lot of things, a lot of weight on our shoulders. And it's challenging, especially when we have the lights on us and all of these expectations that are being thrown on top of us. So it broke my heart," he said, according to the New York Post. Showing his full support for Biles, he added, "We're human beings. Nobody is perfect. So, yes, it is OK to not be OK. It was hard for me to ask for help. I felt like I was carrying, as Simone said, the weight of the world on [my] shoulders."