The Truth About Dua Lipa And DaBaby's Relationship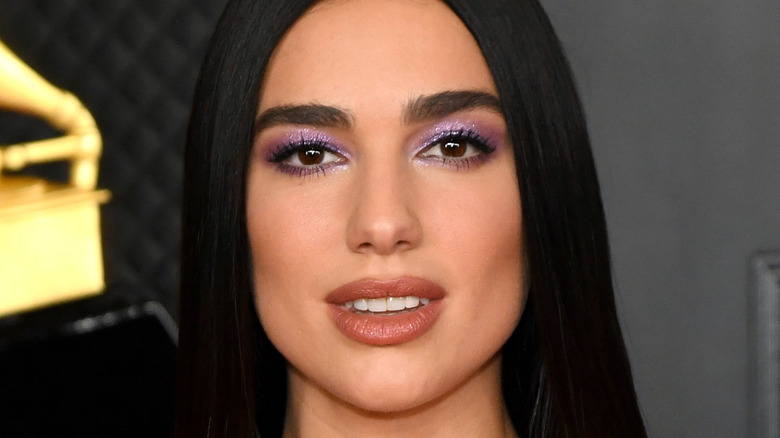 Kevin Mazur/Getty Images
Not long after releasing her "Future Nostalgia" album, dance-pop star Dua Lipa tapped several artists to collaborate on a few remixes. For her song "Levitating," in particular, Lipa decided to join forces with North Carolina rapper DaBaby. Released in October 2020, the "Levitating" remix was accompanied by a glossy music video, also starring DaBaby.
Fans of Lipa were shocked by her new collaborator, but they seemed to love the track. "Dababy is the last person you'd expect on a song like this," one fan wrote under the video's YouTube comments. "No one would have expected that a dua lipa and dababy Collab will be this good," a second one admitted. Once the "Levitating" video hit 10 million views, Lipa took to Instagram to celebrate the accomplishment, as well as thanking DaBaby for his help. "A HOT 10 MILLION VIEWS ON LEVITATING ALREADY!" Lipa wrote, sharing pictures from the set. "@DaBaby I have to thank YOU so much for lending ur voice n talent and really going crazy on ur verse," she continued. Lipa added that it was a pleasure meeting and working with the rapper. "im sending so much love 2 you and ur team i'll never forget how kind and hardworking you all were on set LEVITATING 2 THA WORLD." 
Following DaBaby's shocking homophobic and anti-HIV comments at Rolling Loud Miami (via Page Six), however, Lipa has now taken a stance against her former collaborator. Scroll on for all the details.
Dua Lipa is 'surprised and horrified' by DaBaby's homophobic comments
Noel Vasquez/Getty Images
While performing at Rolling Loud Miami on July 25, rapper DaBaby decided to engage with the crowd by making disparaging comments about HIV/AIDS and the LGBTQ community. At one point, he asked audience members to "put your cell phone light up," unless they're having gay sex "in the parking lot" or are HIV-positive. Once clips from DaBaby's set hit the internet, people were quick to call him out. "DaBaby randomly going on a homophobic rant during the middle of his performance is so telling lol," one person tweeted. "What type of straight man randomly thinks about sucking d*** in the parking lot??" they added, referring to the rapper's tyrade. 
Pretty soon, Lipa unfollowed DaBaby and publicly condemned his words. "I'm surprised and horrified at DaBaby's comments," she wrote in an all-text Instagram Story (via People). "I really don't recognize this as the person I worked with. I know my fans know where my heart lies and that I stand 100% with the LGTBQ community." She added, "We need to come together to fight the stigma and ignorance around HIV/AIDS."
In response, DaBaby sent out a backhanded public apology. "Anybody who done ever been effected by AIDS/HIV y'all got the right to be upset, what I said was insensitive even though I have no intentions on offending anybody. So my apologies," he tweeted. "But the LGBT community... I ain't trippin on y'all, do you. y'all business is y'all business."
If you or a loved one has experienced a hate crime, contact the VictimConnect Hotline by phone at 1-855-4-VICTIM or by chat for more information or assistance in locating services to help. If you or a loved one are in immediate danger, call 9-1-1.