How Aaron Rodgers Really Spends His Millions
Shutterstock
Even if you're not an avid football fan, there are plenty of good reasons to be interested in Green Bay Packers quarterback, Aaron Rodgers. Beyond his throwing arm, the popular player is involved in an ongoing family feud with his brother, Jordan Rodgers. He has also made headlines for his equally famous ex-girlfriends — former NASCAR driver Danica Patrick and actor Olivia Munn — as well as his surprise engagement in 2021 to "Big Little Lies" star Shailene Woodley. Not to mention, Rodgers generated buzz earlier in the year over allegations that he was keen to leave the Packers, although recent reports suggest he will be staying with the team through the 2021-2022 season.
When he isn't making news off the field, Rodgers' stellar career is earning him praise from newscasters and fans — as well as a jaw-dropping amount of money. Celebrity Net Worth pegs him at a whopping total of $120 million, and Forbes listed the quarterback as one of the highest-paid athletes in the world in 2020. The outlet touts his impressive accomplishments, like the fact he's the "fastest-ever quarterback to reach 300 passing touchdowns," along with his lucrative business decisions, such as purchasing "a minority stake in the NBA's Milwaukee Bucks." Therefore, it's not surprising that Rodgers has amassed a fortune, but how does he spend his millions? 
Aaron Rodgers has a little bit of money for everything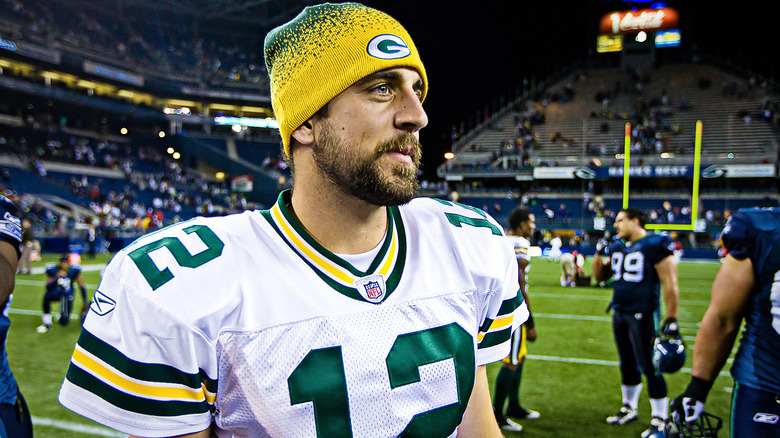 Shutterstock
Per Variety, Aaron Rodgers lives in the lap of luxury — or more specifically, he owns a mansion in Del Mar, California. As well as owning property in Wisconsin (where he lives during the NFL season), Rodgers reportedly dropped $28 million on the Malibu mansion, which features "a media room, a subterranean lounge/games room, three guest bedrooms and a chicly minimalist master suite with a spa-style bathroom and a private ocean view deck." Beyond his palatial digs, Rodgers is known to spend money on luxury cars. According to Just Richest, he's the proud owner of vehicles from luxury auto brands like Tesla, Ford, Mustang, and Mercedes-Benz. But Rodgers doesn't buy all his own cars, because his prized Chevrolet Camaro was a gift from the Packers franchise after he helped lead the team to victory at the 2011 Super Bowl, as noted by Hot Cars.
In addition to spending money on himself, Rodgers is a generous guy. In 2021, he donated $500,000 to the Barstool Fund to help support small businesses. Sportscasting reports that he's worked with numerous charities over the years, including the Make-A-Wish Foundation and the Midwest Athletes Against Childhood Cancer (MACC) Fund, among many others. Plus, he's quick to get behind a timely cause, such as when in 2018 he donated $1 million in support of California wildfire recovery efforts. In short, it seems Rodgers' dollars are well spent.