Here's Why Everyone's Talking About Adam Driver's New Burberry Commercial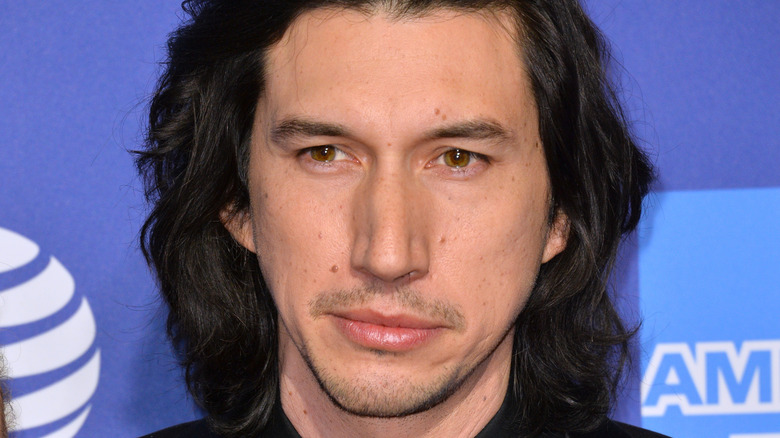 Shutterstock
So, Adam Driver is in a new Burberry commercial that dropped on July 28, and honestly, we're not sure where to begin with this. And apparently, neither does anyone else. 
The minute-long cologne ad is slightly erotic, a bit confusing, and sort of uncomfortable — yet alluring, much like Adam Driver himself. Celebrities starring in bizarre, pseudo-surrealist fragrance ads is nothing new, of course. We're still scratching our heads over what exactly Johnny Depp was supposed to be doing out there in the desert in those Sauvage ads, for example. But honestly, this Burberry campaign for their new fragrance, Hero, takes the weirdness to another level. 
Many reactions to the Burberry commercial have fallen into one of two camps. There is the (let's not kid ourselves) aroused contingent; those too distracted by Driver's powerful sex appeal to fully concentrate on anything else going on. Then, there is the "WTF is happening here" contingent; those too distracted by the substance of the commercial to even have time to lust after Driver. As for us? We're split! Gallop down to slide two for more on this commercial and the internet's reactions.
Adam Driver's Burberry commercial is hot in the most confusing way
In the aforementioned Burberry ad, we first find Adam Driver on a beach. He runs into the water with a large horse. As one does. After a few moments of swimming in a not unsexy manner with the horse, Driver emerges from the water, no horse in sight. Then, the brand logo text appears and you can see the shadow of what looks to be Driver's torso attached to the horse's legs, like a centaur. There is obviously a lot to unpack here. And the internet isn't holding back.
"[I] see [B]urberry has tapped into the horse girl to [A]dam [D]river pipeline," quipped one user. Another person tweeted, "I'm suddenly into centaurs. Who knew." Yet another wrote, "I'm not like other girls I'm the horse in the Adam driver perfume commercial." 
Lots of social media users had a field day digging up other cinematic centaurs and asking why Burberry overlooked them in the making of this commercial. Those include comparisons to the "Harry Potter" centaurs and one from a "Saturday Night Live" sketch. Others still just needed a little time to, uh, process. "I'm emotionally unfit to discuss that Adam Driver Burberry ad," one user tweeted. "Just watched the Burberry commercial where Adam Driver becomes a centaur so yes my day has been ruined," tweeted yet another. 
People don't what to do with the Adam Driver horse commercial, but they're not mad
So, what was Burberry going for with their Adam Driver-starring commercial for their new fragrance, Hero? The brand describes the scent in the description of its YouTube video as, "A new masculine spirit exploring the house codes of duality and the power of the animal kingdom." They added that it's about, "A man in search of transformation and metamorphosis as a new modern heroism." Hmm, well that answers none of our questions. That being said, while people are generally enticed, confused, and speechless, many are also just really enjoying this Driver centaur moment.
"We didn't ask for this but dear god did we need it. Thank you Burberry. We are forever in your debt," one YouTube user wrote. "Why nobody is talking about the fact that miss Fka Twigs graced this ad with her angelic voice," another wrote, citing the fact that pop star FKA Twigs' song "Two Weeks" is used as the background music of the commercial. "So this is what dying and going to heaven feels like uh? Nice!!! Give me every new fragrance with Adam as the model from now on please!" wrote a third. "Where can I invest in Burberry? I don't care about their scents or apparel...I just want them to keep doing this," wrote a fourth.
As for us, we have just decided not to think about this too hard because we, too, are feeling some very confusing emotions right now.