Out Of Every Ryan Reynolds Hugh Jackman Diss, One Stands Above The Rest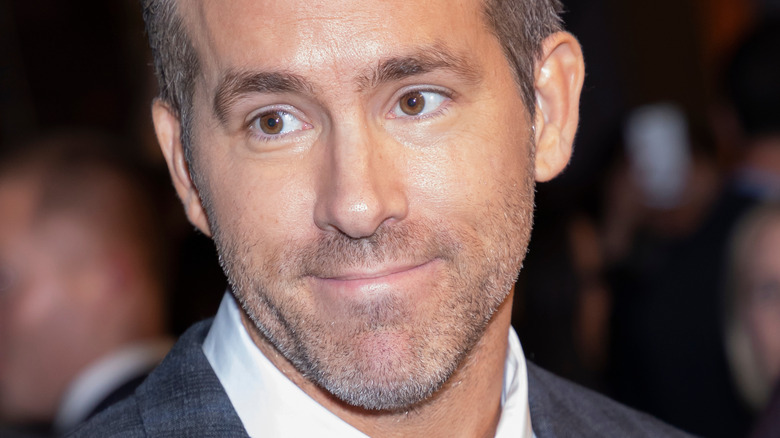 Shutterstock
While some celeb feuds have come and gone — hello, Taylor Swift and Katy Perry — one that has satisfyingly withstood the test time has been between two of Marvel's biggest superheroes. Like a classic case of arguing for the sake of it, Ryan Reynolds and Hugh Jackman have been frenemies for so long, they can't even remember how it began. Jackman told The Daily Beast in 2020, "It's gone back so long now... God, this is a classic sign where your feud has gone too long, where you don't even know why or how it started!" But surprisingly, their ongoing argument has something to do with Reynolds' ex-wife Scarlett Johansson.
Reynolds was making his "Deadpool" debut — albeit in a small-ish role — in Jackman's "X-Men Origins: Wolverine" film in 2009. As Jackman was top dog on set (literally), he had some stern advice for his supporting actor, who had recently tied the knot with his "close friend," Johansson. "I used to ream him because I was very close friends with Scarlett [Johansson], and Scarlett had just married Ryan, so when he came on set I was like, 'Hey, you better be on your best behaviour here, pal, because I'm watching...'" And apparently the snide remarks snowballed from there. "We started ribbing each other that way, and then it all escalated with the 'Deadpool' thing and him calling me out, and trying to manipulate me through social media to do what he wanted." If you couldn't judge the tone of sarcasm, just FYI — Jackman and Reynolds' beef is 100% fake and fabulous.
Ryan Reynolds used Hugh Jackman's Hollywood Walk of Fame star to promote his gin brand
Ryan Reynolds and Hugh Jackman have blessed the internet countless times with their friendly feud. Some of our favourites include when Reynolds pretended to be Jackman in 2015 by donning his "Deadpool" full-face burn prosthetics and requesting fans — in an Aussie accent — to "vote" the "Wolverine" actor as People's Sexiest Man Alive, per The Evening Standard. Jackman also one-upped Reynolds during Christmas of 2018 when he got Jake Gyllenhaall in on the fun. While wearing an ugly Christmas jumper, Reynolds wrote to Instagram: "These a**holes told me it was a sweater party." But one of their more recent trolls is not only hilarious, but perhaps their most strategic.
When Reynolds sold his stake in Aviation American Gin back in 2020 for a whopping $610 million, its new owners, Diageo, said the actor still had an "ongoing ownership interest" in the company, per CinemaBlend. This "interest" saw Reynolds dive at the opportunity to promote the brand while doing a bit of old-fashioned trolling. After someone defaced Jackman's Hollywood Walk of Fame star with a bottle of gin, Reynolds wrote on Twitter: "Permission to frame this? Or turn it into a billboard?" which Jackman bluntly "DENIED." Reynolds then responded with: "I can't just snap my fingers and magically make a billboard on your front lawn disappear." 
While we remain on standby with this historic advertisement — everyone continue to check your local billboards — we are eagerly waiting on Jackman's rebuttal. All is fair in love and feuds, right?