Who Is The Richest Member Of The Duggar Family?
Who is the richest member of the Duggar family?
Jim Bob and Michelle Duggar became household names thanks to their hit reality television show, "19 Kids and Counting," but also because of their well-publicized controversies. The Duggars have made headlines for their son Josh Duggar's behavior, including his molestation controversy and his most recent arrest when he was indicted on two counts of child pornography. This led the TLC network to finally pull the plug on the Duggar family and their spin-off shows.
However, Jim Bob and Michelle don't seem to be deterred over their family's scandals and sullied reputation. In fact, Michelle attributes her family's success and the strength of her marriage to her faith and, well, frugality. The Duggars are so sensitive about money that Michelle had a very thrifty wedding and honeymoon with her husband Jim Bob nearly 30 years ago. "I wanted to do as much as I could myself as a way to save money and keep the expenses reasonable," she wrote in a since-deleted TLC blog post, per Daily Mail. "We didn't buy flowers and barely even decorated the hall."
Fast forward three decades, and the Duggars are still living with money on their mind — but also getting extra help from (formerly) being on television and the opportunities that come with being public personas. With that said, a lot of people can't help but wonder who might be the richest Duggar. Keep scrolling to find out.
The richest Duggars are the most frugal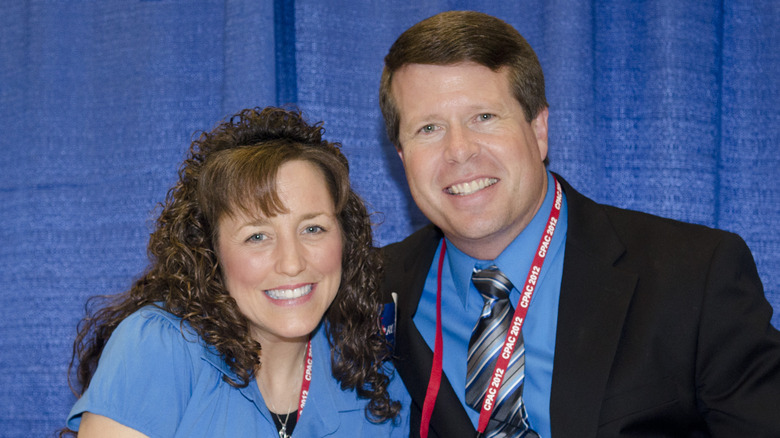 Kris Connor/Getty Images
While the older Duggar kids have certainly carved out their own lives, families, and even spin-off shows, the two members of their former household that remain the most financially comfortable are their parents, Jim Bob and Michelle Duggar. There aren't a lot of couples out there who can say they've raised 19 kids and still have enough for Starbucks the next day. Jim Bob and Michelle can even add a Venti to their order, because according to Celebrity Net Worth, they are worth an estimated $3.5 million dollars.
If that weren't enough, The Sun reports that Jim Bob has a $6 million dollar real estate empire to lean on now that they won't be cashing in any more of those TLC checks. In fact, he and Michelle had been flipping houses even before they landed their reality television show. "They've always looked for opportunities where they could improve something," the couple's representative told People in 2020. "They just like flipping houses. They like the construction business, the remodel, and seeing something go from bad to good — from unused to being attractive for others."
Seeing how the Duggars most likely won't be on the small screen anytime soon, at least they can count on Michelle's creative home economics to make that last dollar of their $3.5 million dollar fortune stretch.