Why The Actor In The AHA Sparkling Water Commercial Looks So Familiar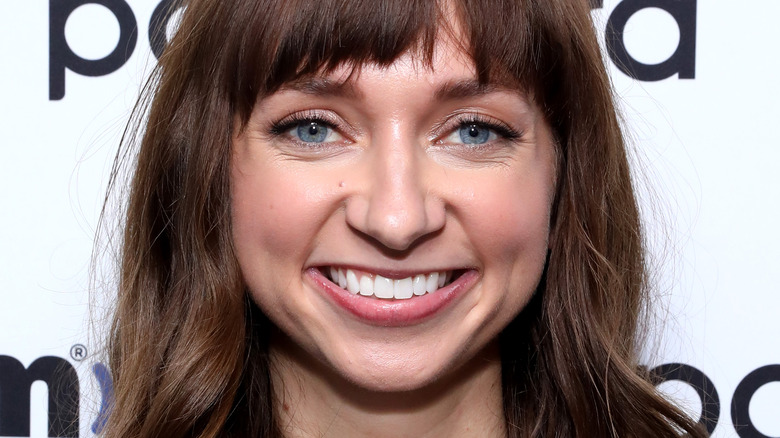 Robin Marchant/Getty Images
The Coca-Cola Company broke into the sparkling water world in 2020, with the launch of AHA sparkling seltzers. It makes sense, considering seltzers (spiked or otherwise) appear to be at an all-time high in terms of popularity. 
Of course, most people associate Coca-Cola with soda so it would take a pretty memorable ad campaign to make them think about the company making seltzer, too. And the brand did just that by not only enlisting two recognizable comedians to star in their commercials but also by creating the catchphrase, "Can I Get an AHA?"
Group Director in Hydration For North America, Coca-Cola, Ulises Ramírez, explained in a press release that the company is "leaning into humor with the goal of enlivening our fans' everyday moments." He also touched on the importance of the commercials' stars by adding that they're "looking forward to reaching an entirely new fan base with the help of the brilliantly funny and always refreshing Lauren Lapkus and Colton Dunn." Fans probably recognize Dunn from the comedy shows "Key and Peele" and "Superstore." Dunn joked, "I was already a fan of AHA before jumping in on this campaign, but now I'm a full-on fAHAnAHAtic. Like, for real, it's a prAHAblem."  But some may be wondering where they know Lapkus from — keep reading to learn more.
You've probably seen Lauren Lapkus on TV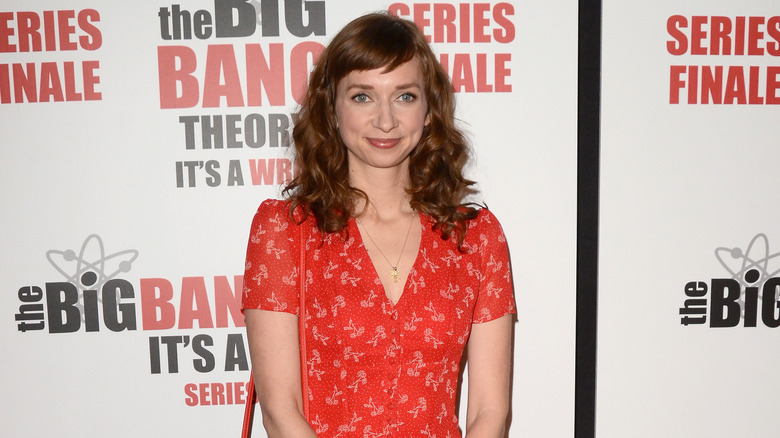 Shutterstock
If you're wondering why the actor in the AHA sparkling water commercial looks so familiar, it's probably because you've seen her on TV. Lauren Lapkus has been working in Hollywood for over 15 years, according to her IMDb, with notable roles in the Netflix series "Orange Is the New Black" and the CBS comedy "Big Bang Theory." More recently, Lapkus appeared in NBC's "Good Girls."
Yet, Lapkus isn't just a TV actor, she's hit the big screen too. Fans may recognize her from 2015's "Jurassic World" or the 2020 Netflix comedy "The Wrong Missy," in which she starred alongside David Spade. Lapkus revealed to Screen Rant, "I initially got the script and kind of went in on a lark...I saw that David Spade was the star of it. I wanted to work with him and was like, 'Well, I'll give that a shot.'"
Lapkus is no stranger to comedy. The Daily News reports that she even came to Hollywood through improv comedy with the ​​Upright Citizens Brigade. Lapkus revealed, "Doing improv at UCB is so fun, and I do it all the time in L.A., I perform there regularly." She uses those improv skills to host several comedy podcasts, including her own "With Special Guest Lauren Lapkus." She also co-hosts the "Newcomers Stars Wars" podcast with comedian Nicole Byer and "Threedom," alongside Scott Aukerman and Paul F. Tompkins. With all that on her plate, it's surprising she found time to do a commercial.
Lauren Lapkus just became a new mom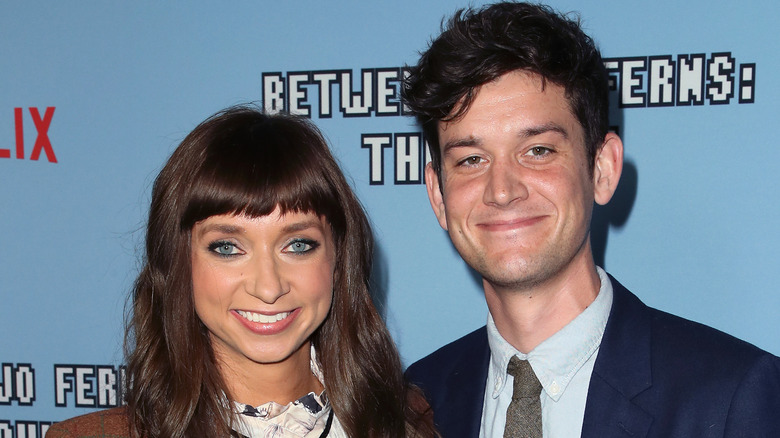 David Livingston/Getty Images
From TV to movies to podcasts to commercials, it's safe to say Lauren Lapkus has been everywhere. Yet she somehow found the time to star in the new AHA sparkling water commercial. But for Lapkus, it was a fun way to earn a paycheck. She dished (via the Coca-Cola company), "This AHA campaign really was a fun one. I feel like people always say, 'this was a fun one,' but it's just the truth this time. For real, I prAHAmise." She also poked fun at herself for the commercial on her Instagram, writing in a post, "I am being pahaid to tahalk like this. Apahalogies to everyone involved."
However, things may slow down a bit for Lapkus, as she recently welcomed a baby girl, Holly, with her husband, Mike Castle. According to People, Castle and Lapkus wed in October 2018. The "Brews Brother" star gushed that when it comes to Lapkus, "She's just so fun and cool to be around." He added, "I always thought she was funny and everything, but I remember when I heard the podcast I was just enamored. I couldn't believe how funny she is."
With a busy career as an actor, comedian, and podcaster, along with being a new mom, it's clear Lapkus is way more than just the woman from the AHA commercials. The Coca-Cola Company knew what it was doing when it hired the comedian for the AHA campaign!