The Oprah Interview Moment With Dennis Rodman That Went Too Far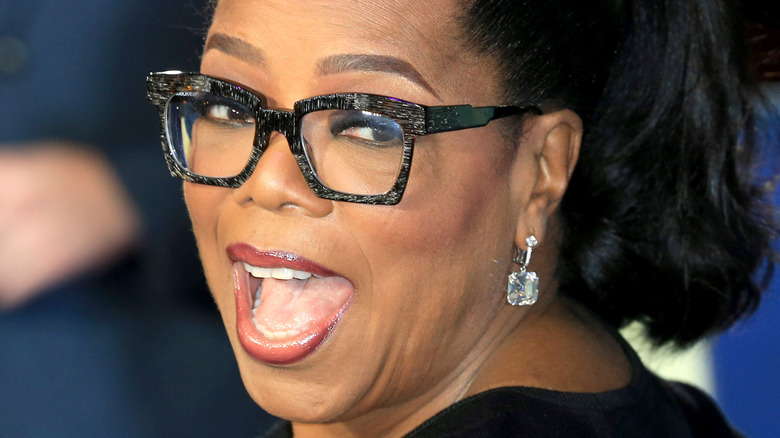 Shutterstock
Oprah Winfrey is a household name, best known for her time hosting "The Oprah Winfrey Show." The series lasted almost three decades, from 1986 to 2011, where Winfrey interviewed a range of celebrity guests while providing audiences with various gifts at the show's tapings. In addition to her long-running reign in television hosting, Winfrey also created an entire channel, The Oprah Winfrey Network ("OWN"), along with a magazine known as "O."
In 1996, a decade after "The Oprah Winfrey Show" started, famous Chicago Bulls basketball player Dennis Rodman sat down for an interview on her show. Rodman had made headlines in the 90s for both his relationship with actor Carmen Electra and appearing in light drag on a Sports Illustrated cover the year before the interview. Yet, Rodman also was an accomplished basketball player, winning five championships. Over the decades, clips from Rodman's interview with Winfrey have resurfaced, and some of the questions haven't aged well.
Did Oprah Winfrey cross a line?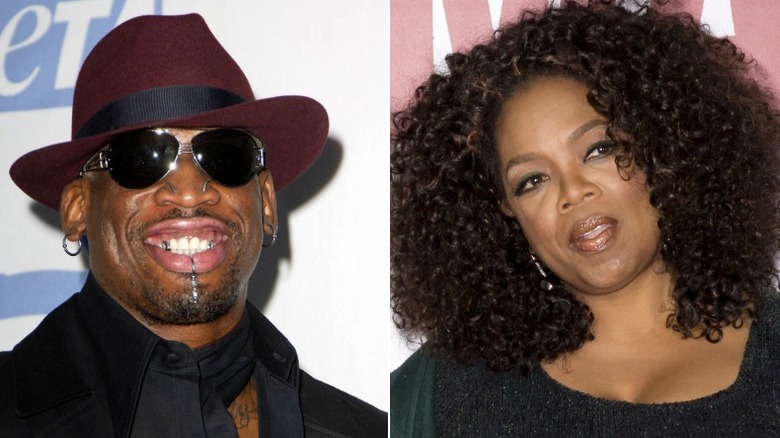 Shutterstock
In a clip from Oprah Winfrey's interview with Dennis Rodman that users re-uploaded to Twitter, Winfrey repeatedly asks Rodman about his sexuality and whether he is gay or bisexual, despite him saying he is not. "If you were gay, I believe you would tell me," Winfrey continues in the clip. Instead of slowing down or changing the subject, she then alludes to a moment from Rodman's memoir "Bad As I Wanna Be." She said, "You do say in this book, you say that maybe in your mind you are."
Rodman tries his best to lightly joke off Winfrey's pressure, with a response that has aged better with society's understanding of fluid sexuality. "I can float with the idea. I can float with however you want to look at it. I can do anything I want... That doesn't mean I'm going to act and do it." Once again, Winfrey asked whether he had "ever been with" a man before. The host, who seemed surprised by the answer, repeated the question even though Rodman seemingly appeared like he wanted to move on.
The resurfaced clip isn't sitting well with many, as one user tweeted, "Let people express themselves without trying to predict their sexuality!!" Someone else said, "The man said he wasn't gay the first three times she asked. Interviewers that railroad their way to answers are hard to watch."