Limp Bizkit's Fred Durst Is Nearly Unrecognizable With His New Look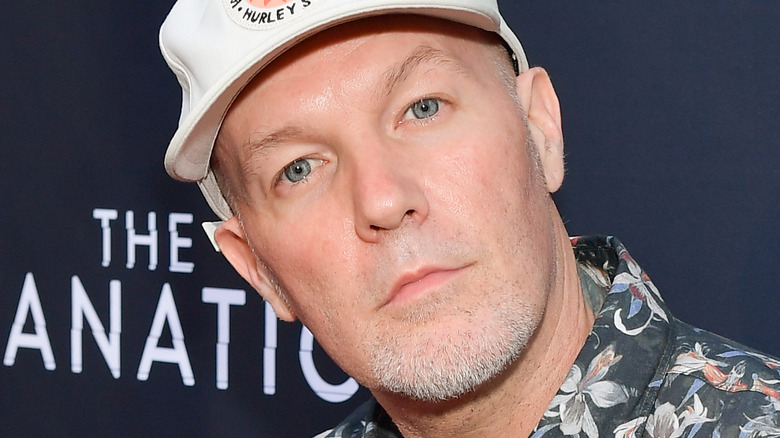 Matt Winkelmeyer/Getty Images
Limp Bizkit is preparing for a year of touring, and frontman Fred Durst may be debuting a totally new look for it.
Fans may remember Limp Bizkit as the '90s rock band consisting of Sam Rivers, John Otto, DJ Lethal, Wes Borland, and of course, Durst. The band, whose last album dropped back in 2011, is preparing for a big return to the music scene beginning with Lollapalooza music festival in July. "We've probably, in the last 10 years, been in the studio to try and complete the record, I wanna say, seven times, to different studios," revealed Guitarist Borland on Youtube series "Drinks with Johnny." "Fred has been consistently kind of unsatisfied with where vision is, I guess." Borland continued, "We probably have 35 songs recorded instrumentally, and he's done vocals on them and then thrown the vocals away. Done vocals and then... ​'F*** this.' Thrown it away."
Thankfully, the guitarist went on to give fans hope that the band is close to releasing a new album, as long as Durst is satisfied. Meanwhile, could his new look be a hint at what is to come? Read on for more details.
Fans are confused by Fred Durst's new look
In a new Instagram photo posted on July 28 (seen above), Limp Bizkit's Fred Durst debuted a shocking new look featuring a goatee and matching grey hair with the caption, "thinking about you 70." The middle-aged artist then posted a photo with a similar look, captioning it, "dad vibes." We're thinking Durst might just be embracing he's not the '90s rock star he used to be. In an even stranger turn of events, he simultaneously deleted all other posts (via CNN). Fans were quick to hit the comments section, asking the artist, "are you okay my brother" and "how is your hair THAT white," as another chimed in. The new look could also be Durst's way of starting anew or stripping fans of their memory of Woodstock '99.
A new HBO documentary titled "Woodstock 99: Peace, Love, and Rage" details the horrors that occurred at the male-dominated festival that left three deaths, 44 arrests, 1,200 hospital admissions, and multiple sexual assault allegations, according to Pitchfork. Durst has expressed no regrets in participating, telling Variety in 2019. "Limp Bizkit is an easy target so bring it on. It's easy to point the finger and blame [us], but they hired us for what we do — and all we did is what we do." 
So what will Limp Bizkit do at Lollapalooza? And is new music coming? It seems Durst is definitely going for a clean (if not clean-shaven) slate.