The Real Reason Dolly Parton Isn't Ready To Make A Biopic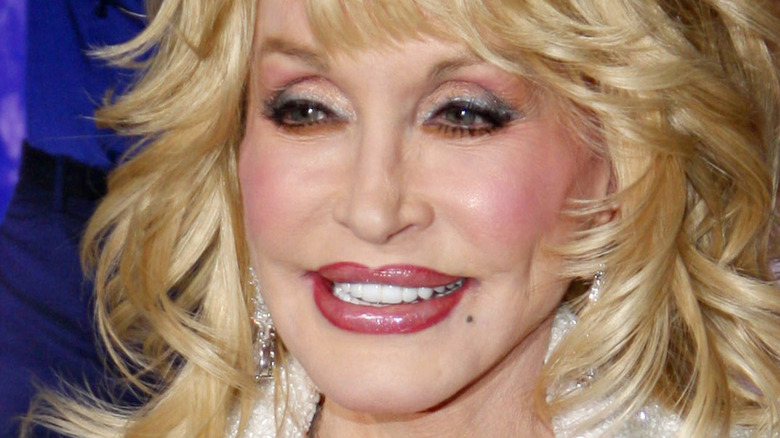 Shutterstock
Dolly Parton has no plans for a biopic anytime soon! When asked on the July 29 episode of "Watch What Happens Live" celebrity she would want to play her, she replied in the most Dolly way ever: "Well I have [thought] different times through the years that I was gonna do my life story and I've had different people in mind and it just keeps lagging on ['cuz] I can't do my life story ['cuz] I ain't lived it yet." Fair enough! She added, "So I don't know who it'll be when we get there but..I'll just have to see who's the right one at that time. That may be a few years in the future."
That wasn't the first time Parton addressed a possible biopic — she told Elle in October 2019 that she has actors Reese Witherspoon and Scarlett Johansson in mind. But nailing down the right actor — and the timetable — remains unclear. "That depends on when I get it done," she told the outlet.
Although Parton isn't ready for a biopic, what does her acting reel look like? Keep reading for more details.
Dolly Parton is no stranger to the camera
Shutterstock
Acting-wise, Dolly Parton is arguably best known for starring in the '80s classics "9 to 5" and "Steel Magnolias," which are nods to her iconic songs of the same name. She opened up about "Steel Magnolias" in an interview with Tim McGraw on Apple Music's "Beyond The Influence Radio" show, noting how she usually took "parts that are pretty close to my own personality." She continued, "Even when I did 'Steel Magnolias,' I played a beautician. If I hadn't made it in the music business, I would have been a beautician." Parton also has a few Christmas movies to her credit, which makes perfect sense when you consider Parton is always bursting with cheer.
Of course, it seems inevitable Parton will one day use that acting talent to share her story with the masses. And maybe that will come in the form of TV. When asked by Marie Claire whether she ever considered a miniseries, the star explained, "Everybody wants me to do that. Different networks and Netflix have offered that up. But I'm still working on my life story as a musical, and so I'm not sure if I want to do it as a feature-film musical or if I do want to go ahead and do it on Broadway." She added, "But I do think that would make a good series."
So hang tight, folks — a Parton biopic might come sooner than you think, even if the star still has some living left to do.