What Carol Burnett Looked Like When She Was Younger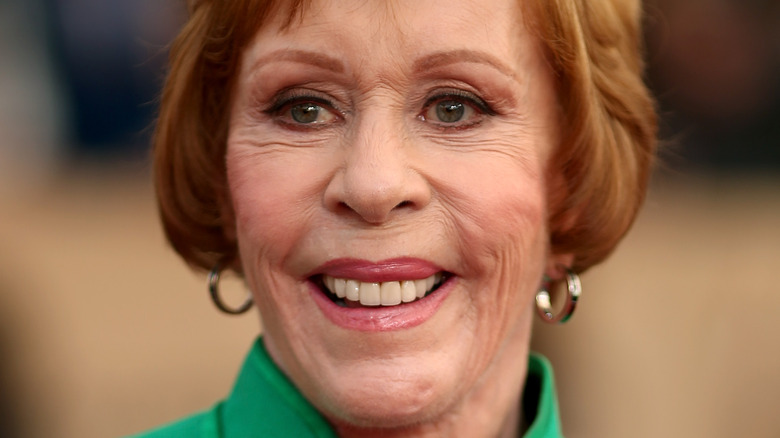 Christopher Polk/Getty Images
Carol Burnett has been one of the most respected comedic figures in the entertainment industry for longer than many can remember. Despite facing both hardships and tragedies throughout her life, the star, who is known for her work on "Mama's Family," "Mad About You," and, of course, "The Carol Burnett Show," has also tackled plenty of other roles. And she has earned countless awards while making fans laugh for years — all the while also being incredibly inspirational (and successful)!
Granted, Burnett's life was a little more laidback during the coronavirus lockdown. She opened up to The Hollywood Reporter in 2020 about what her average day looked like at the time, saying, "I get up in the morning, make the bed, have breakfast, and feed the cat. I have a treadmill, so I walk about a half-hour to 45 minutes every day." Adding how she occasionally saw her friends and neighbors from a distance and was apparently looking forward to getting out and hugging those she cares about once again.
That kind of relatively quiet and isolated lifestyle is quite different from Burnett's earlier days when she was a young star. Granted, even though she is both talented and good-looking then and now, it turns out that Burnett feels like she wasn't exactly beautiful back then.
Carol Burnett didn't consider herself to be 'particularly attractive'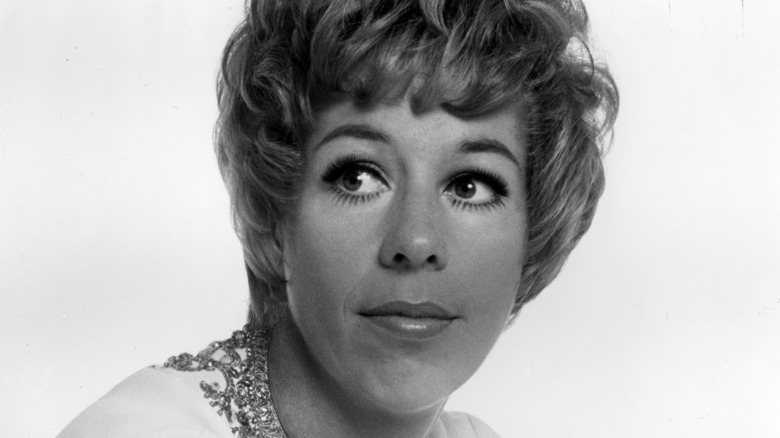 Michael Ochs Archives/Getty Images
Carol Burnett is a legendary actor, an iconic comedian, and a stunning star. Her funny ways and charming looks, which have been adored by many, may be characteristics that she inherited, in part, from her mother. During a 2020 interview with NPR, the star noted that her mom "was very witty," and also, at one time, "very beautiful." However, Burnett didn't think of herself in the same way.
Recalling when she was a young theater student at UCLA, Burnett was "terrified" about the fact that she had to take a required acting class, as she told NPR. However, when she got up to perform a comedic scene, her classmates laughed. She explained, "I thought, well, that's really nice, you know (laughter). I like that. I just felt validated, you know. And it was a high..." That being said, Burnett was quick to add that back in high school and junior high school, she was considered "one of the nerds." She added, "I was quiet. I was not particularly attractive. I had friends. I had a lot of buddies, but I was not what one would call very popular."
That may have been how Burnett saw herself, however, there's no doubt that she was truly attractive enough to break into the entertainment industry and gorgeous enough (not to mention funny enough) to earn countless loyal fans!
Carol Burnett's 'chic' personal style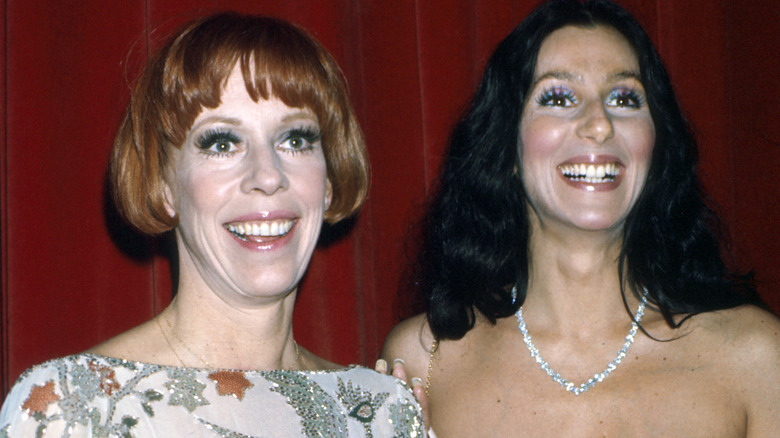 Michael Ochs Archives/Getty Images
Carol Burnett not only had the right kind of look to make it in the entertainment industry, but she also has a sense of style that has evolved throughout the years. Longtime fans of the star — or those who have just discovered clips of her classic comedy online — will know that she tended to use costumes to enhance her skits. Just check out episodes of "The Carol Burnett Show," which kept fans laughing from 1967 to 1978, and you'll see all kinds of quirky, outrageous, and truly incredible outfits. However, what you might not have known is that the "show's most memorable costumes" were "all designed by the incomparable Bob Mackie," according to the New York Post.
While opting to work with such a fashion icon is undeniably impressive and proves that Burnett had a serious sense of style even when she was younger, she has also shown time and time again that her personal fashion sense is just as stunning. The Hollywood Reporter went over a few of her notable aesthetic moments over the years and explained that back in the '60s, she was known for nailing an era-appropriate "free-spirited" style while by the next decade she "dazzled" at industry events in red-carpet worthy formal ensembles. In the '70s (as seen above, with Cher) that only continued. Now, in her later years, she's still showing off her stellar style, which is both, per THR, "sophisticated and chic."