How Leonardo DiCaprio Impressed Vladimir Putin
Shutterstock
Leonardo DiCaprio is, arguably, just as known for his activism as he is for his incredible film career. The Oscar-winning actor has been fighting for environmental causes for decades, having established the Leonardo DiCaprio Foundation in 1998. The pro-environment cause, especially the fight against climate change, has been instrumentalized by politicians, a movement that has gained traction in recent years. But DiCaprio has remained equally as vocal about his beliefs amid our increasingly polarized society, often criticizing former President Donald Trump for his negationism, HuffPost noted.
In fact, DiCaprio used his acceptance speech following his Best Sctor win for "The Revenant" at the 88th Annual Academy Awards to demand that global leaders take climate change seriously. He discussed the difficulty producers encountered when finding a place with enough snow to shoot the film to illustrate that "climate change is real. It is happening right now." Unsurprisingly, DiCaprio's stance has rubbed many conservatives the wrong way, including global leaders. 
In 2019, he became embroiled in an odd battle with Brazilian President Jair Bolsonaro, who accused the actor of being somehow involved in the fires that ravaged parts of the Amazon forest that year. "This Leonardo DiCaprio's a cool guy, isn't he? Giving money for the Amazon to be torched," Bolsonaro said (via Deadline). Yet, the image of DiCaprio — who has publicly supported Democratic presidential candidates since John Kerry ran in 2004 — seems to be different in the eyes of Russia's conservative leader, Vladimir Putin. Read on for the details. 
Vladimir Putin called Leonardo DiCaprio a 'real man' in 2010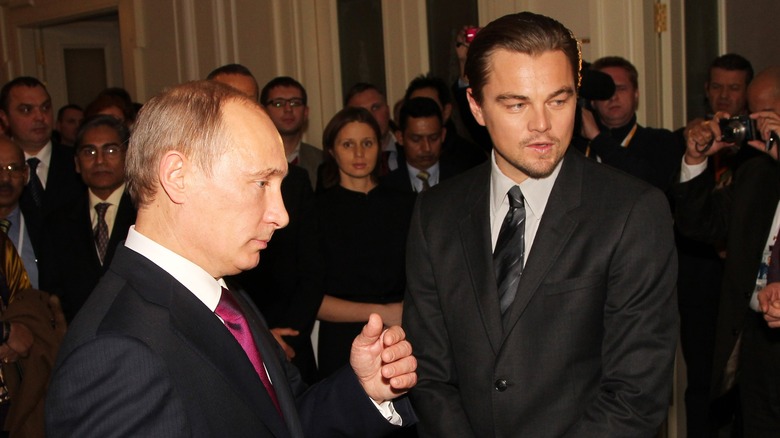 Konstantin Zavrazhin/tcf/Getty Images
In 2010, Leonardo DiCaprio attended a summit held in St. Petersburg, Russia, to discuss endangered tigers, but his way there was no walk in the park. The actor's Moscow-bound flight lost an engine shortly after taking off, the New York Daily News reported, an experience he sarcastically described as a "bummer" on "The Ellen DeGeneres Show" in January 2016. "I was looking out the window and the entire engine just turned into a fireball," he said.
He appeared to be the only passenger who noticed the event because everybody else continued to go about their business as placidly as ever. "I felt like I'd already died and gone to heaven because no one said anything," he added. They made an emergency landing and all passengers exited the aircraft safely. But the obstacles on his way to St. Petersburg didn't stop there. His second flight had to make an unexpected stop to refuel in Helsinki, Finland, after encountering strong headwinds, per The Sydney Morning Herald. 
But DiCaprio arrived and his presence in the audience didn't go unnoticed. Vladimir Putin, then Russia's prime minister, paused his speech to praise DiCaprio's perseverance, per the BBC. "I would like to thank you for coming despite all the obstacles. A person with less stable nerves could have decided against coming, could have read it as a sign — that it was not worth going," Putin said before calling DiCaprio a "muzhik," which translates to "real man," per the BBC.
Leonardo DiCaprio finds Vladimir Putin 'very, very, very interesting'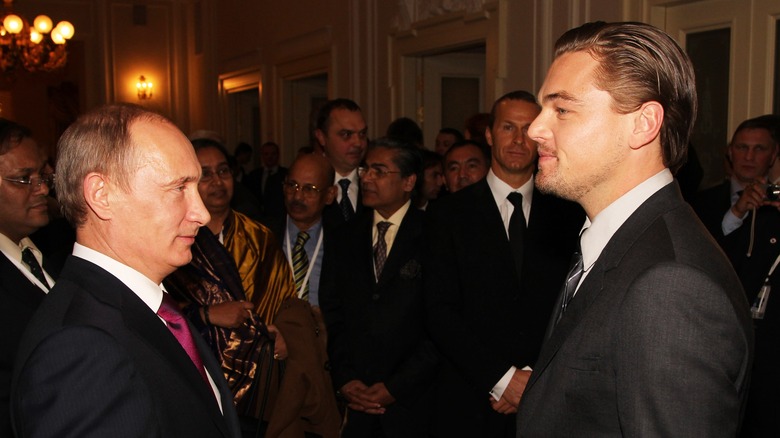 Konstantin Zavrazhin/tcf/Getty Images
What Leonardo DiCaprio thinks of President Vladimir Putin's policies or stances on varying issues is unknown. But how he feels about the prominent leader's personality is a different matter. During the summit to save the tigers, DiCaprio and Putin had a sit down together that offered them an opportunity to get to know each other personally, according to the BBC. And Putin was not the only one who was impressed. 
Later, DiCaprio told the German newspaper Welt am Sonntag that he finds Putin "very, very, very interesting," The Guardian reported in 2016. And he did not stop there. DiCaprio added that he "would love to play him," the publication detailed. While noteworthy, DiCaprio's wish to play the polarizing politician is not all that strange, given he has a penchant for portraying controversial real-life figures, including Frank Abagnale Jr. in "Catch Me If You Can" and Jordan Belfort in "The Wolf of Wall Street."
DiCaprio emphasized he and Putin did not discuss politics, focusing only on how his foundation can assist in the protection of big cats, per The Guardian. But he did share with the then-prime minister that he has Russian roots, with two of his grandparents hailing from the world's largest country. He added that he wished he'd had the opportunity to take his late grandmother to St. Petersburg, which pleased Putin. "I'm sure when you get to know St. Petersburg you will be proud of your Russian roots," Putin said, according to the BBC.