The True Meaning Behind 'Demeanor' By Pop Smoke Featuring Dua Lipa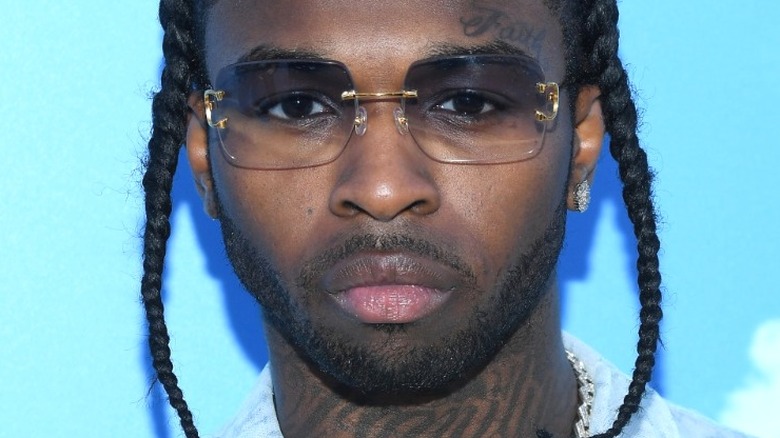 Pascal Le Segretain/Getty Images
Released on July 16, Pop Smoke's second posthumous album, "Faith," is already breaking records. The project has recently debuted at No. 1 on the Billboard 200 Albums chart, becoming Pop Smoke's second No.1 album. As reported by Chart Data, the late rapper is now the first artist to posthumously debut two No. 1 albums in the history of Billboard.
Much like his first posthumous project "Shoot for Stars, Aim for the Moon," Pop Smoke's new album is filled with exciting features from Chris Brown, Future, Kanye West, Pharrell Williams, and 21 Savage... as well as an unexpected guest appearance by dance-pop star Dua Lipa on "Demeanor." "I like Dua Lipa but that whole pop smoke collab seems outa place," one fan tweeted about the song. "How did Dua Lipa and Pop Smoke become friends," another confused fan asked.
Despite all the confusion, Pop Smoke's Dua Lipa-assisted song seems to be a hit. The official video for "Demeanor" surpassed 2 million views on YouTube in just a couple of days, and the single peaked at No. 27 on Billboard's Hot 100. The singer took a moment to thanks her fans for the support. "thank you for all the [heart emoji] on Demeanor!!! @POPSMOKE10," Lipa tweeted on July 31. But what's Pop Smoke's "Demeanor" all about? Scroll down to find out.
Pop Smoke and Dua Lipa brag about their "Demeanor"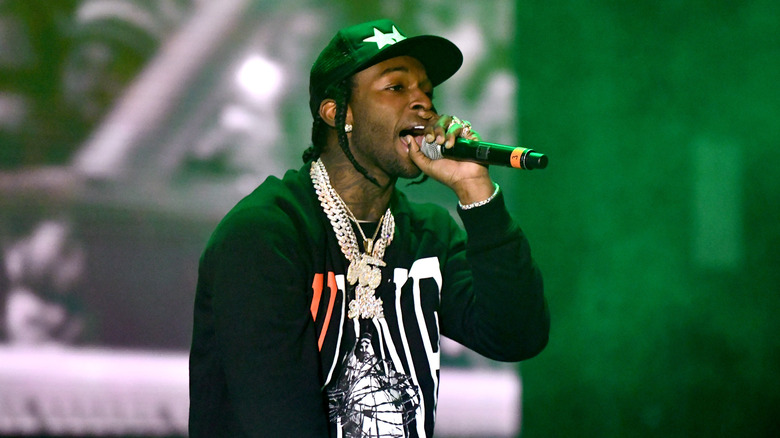 Scott Dudelson/Getty Images
On "Demeanor," Pop Smoke raps about his attitude, which apparently attracts plenty of women. "Shorty said she like my demeanor / And she look like a eater," Smoke spits in the chorus (via Genius). Later in the song, meanwhile, the late rapper talks about upgrading his sneaker collection. "I'm 'bout to turn my Air Force 1's into a Gucci shoe / I'm 'bout to turn my Timberlands into a Yeezy Boost," he raps in the first verse.
The same verse also includes a shout-out to former president Barack Obama, who is still the president in Smoke's eyes. "My president black, bandana is blue / Diamonds drippin', got me glistenin' like I came out the pool." Dua Lipa isn't one to shy away from patting herself in the back, as her verse is also filled with braggadocios lines. "Female alpha and I practice what I preach, I devour," Lipa sings. "I know you like what you see / That 'Je ne sais quoi' energy." 
But although Dua Lipa is featured on the song, she wasn't Pop Smoke's first choice. Taking to Instagram Stories before his death, Pop Smoke gave fans a sneak peek of "Demeanor," also revealing which pop singer he would have loved to hear on the song. "I told you if we get Bruno Mars on this it's over!!!!!" Smoke's caption read. And now, based on recent events, fans of Dua Lipa are asking her to distance herself from Pop Smoke. Find out why below.
Dua Lipa fans are pointing out Pop Smoke's past lyrics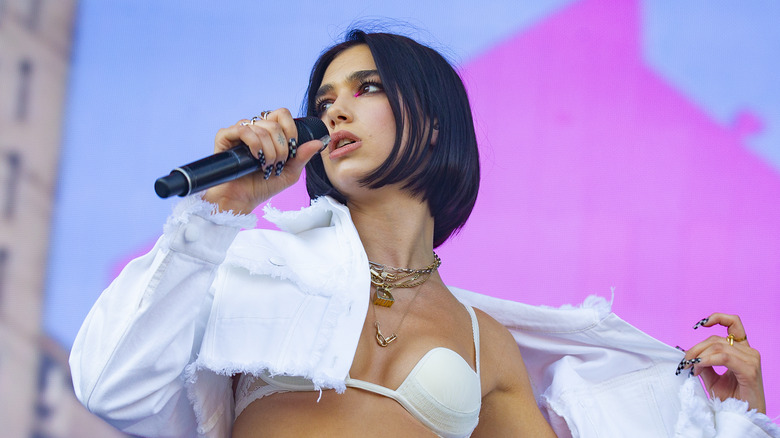 Mark Horton/Getty Images
In case you missed it, Dua Lipa has called out DaBaby, her former collaborator on "Levitating," over his homophobic comments made at Rolling Loud Miami on July 25. During his set, the North Carolina rapper asked the audience to put their phone lighters up, unless they were HIV+ or engaged in gay sex "in the parking lot." Taking to Instagram Stories, Lipa firmly distanced herself from DaBaby's behavior. "I'm surprised and horrified at DaBaby's comments," she wrote, after unfollowing the rapper (via People). 
She continued, "I really don't recognize this as the person I worked with. I know my fans know where my heart lies and that I stand 100% with the LGTBQ community. We need to come together to fight the stigma and ignorance around HIV/AIDS." Though fans praised her for taking a strong stance against the homophobia, people are now reminding her of Pop Smoke's anti-gay lyrics. For example, on his popular 2019 song "Dior," Smoke rapped: "I can't f*** with these n****s 'cause n****s is gay / All on my page suckin' d***" (via Genius).
"Dua Lipa removed her Da Baby collab from streaming services and drops a song with Pop Smoke the same [day]. Nobody told her about this I guess," hip-hop commentator Adam22 tweeted, sharing a screenshot of the lyrics in question. "Dua Lipa condemning Dababy for homophobic comments but promoting a song w Pop Smoke the next day...lol anyways," another fan pointed out.