Why Queen Elizabeth Never Uses A Last Name
Stuart C. Wilson/Getty Images
Queen Elizabeth was born on April 21, 1926, and named Elizabeth Alexandra Mary Windsor. When her father, King George VI, became king in 1936, Elizabeth took on the title of Her Royal Highness Princess Elizabeth, according to History. Little did she know that she would become the queen of the UK less than two decades later. Elizabeth was crowned queen in 1953 at Westminster Abbey, less than one year after her father died.  
At the time of her coronation, Elizabeth was married to Philip Mountbatten. The two had celebrated their wedding on November 20, 1947, at Westminster Abbey, according to the royal family's official website. At the time of the royal wedding, Philip wanted his new wife to take his surname, but she ultimately decided against it, according to Good Housekeeping. When the time came for Elizabeth to ascend the throne, she was asked which surname she would use to which she responded, "My own, of course." 
As far as descendants of the queen go, however, the queen was able to reach a compromise with her husband: they would give their children the last name Mountbatten-Windsor. All of that said, however, and the queen doesn't actually use a last name at all. Keep reading to find out the reason why.
Queen Elizabeth doesn't use a last name because she has a royal title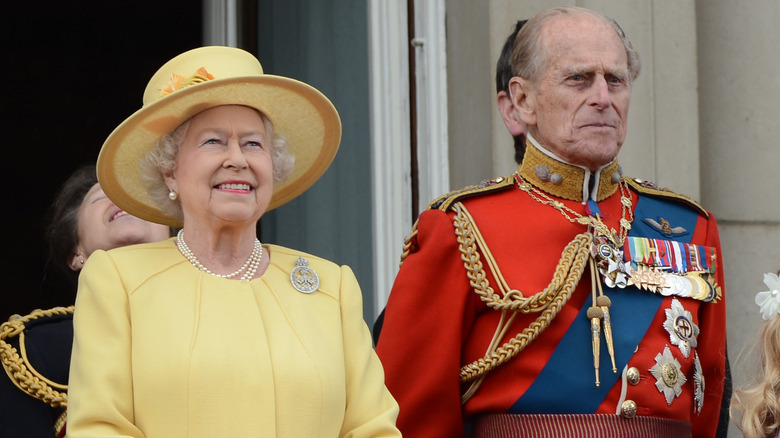 Shutterstock
The main reason that Queen Elizabeth doesn't use a last name is because of tradition that was started before she was born. According to Time, "last names are typically only used by members of the royal family without a title." Moreover, Time reports that the royal family is more likely to use the name of their given titles (such as Cambridge or Sussex, for example) over a surname. According to Town & Country, the Duke and Duchess of Cambridge's three children go by the last name Cambridge at school, not unlike Prince William and Prince Harry who were known as William Wales and Harry Wales during their school days, according to Time.
Family members without a title, such as Harry and Meghan Markle's two children, Archie and Lilibet Diana, are given the surname Mountbatten-Windsor. If Harry and Meghan were still living in the UK and were still senior members of the royal family, their children could use the surname Sussex. 
Another reason that the queen doesn't use a last name? Well, she doesn't actually need one. According to Time, just about everyone knows who Queen Elizabeth II is.