Why Hugh Hefner Ended His Friendship With Donald Trump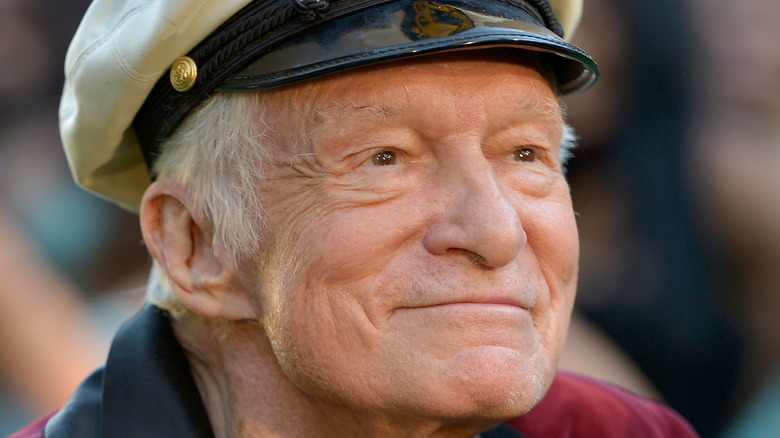 Charley Gallay/Getty Images
It didn't matter if you loved him or hated him, Hugh Hefner was considered a cultural icon who revolutionized the magazine industry. Per CNN, Hefner launched Playboy magazine in 1953, which ushered in a new era of sexualization and journalism. Interviews in Playboy magazines were highly popular because of celebrities' and politicians' admissions about their personal lives and sexual preferences. Additionally, scantily dressed women who wore the oh-so-famous bunny ears — otherwise known as playmates — enticed readers and drove millions of sales in the early 2000s, according to Business Insider. Photo shoots were seductive, but also offered a chance for prominent names to share the spotlight, like former President Donald Trump.
Trump appeared on the cover of Playboy magazine in March 1990 with playmate Brandi Brandt and was so proud of the accomplishment that he had the magazine framed in his office in Trump Tower in New York. "I was one of the few men in the history of Playboy to be on the cover," he told a Washington Post reporter in 2016. While Trump was appreciative of Hefner's invite at the time, their friendship seemed to have ended when the "Celebrity Apprentice" host became president. Find out why Hefner decided to cut ties with Trump below.
Donald Trump went against everything Hugh Hefner stood for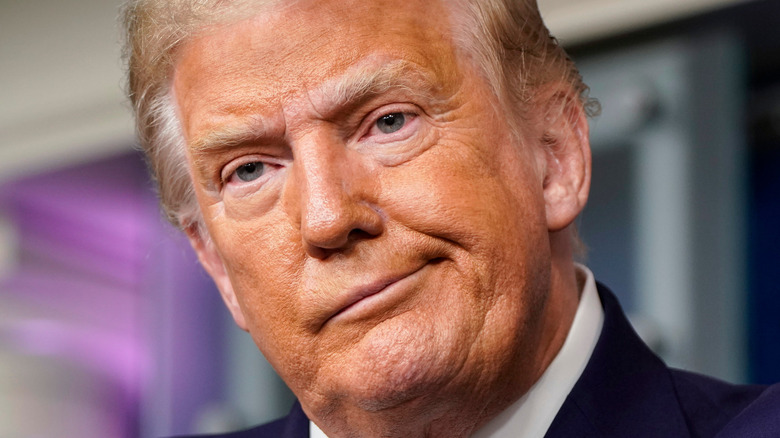 Shutterstock
For many, it may have seemed like Hugh Hefner had a lot in common with Donald Trump. Both were millionaires and had an affinity for attractive women, but it turned out that they had a lot of ideological differences. Newsweek reported in 2017 that Hefner ended his friendship with Trump over his campaign platform on gay marriage and conservative ideals. Hefner was "a lifelong supporter of LGBT rights," the outlet noted, and "[spoke] out on high-profile issues such as sodomy laws, same-sex marriage and transgender rights," prior to his death.
Hefner's son, Cooper, confirmed his father's feelings towards Trump in an interview with The Hollywood Reporter in the same year, calling Trump's 1990 Playboy cover a "personal embarrassment." "We don't respect the guy," he added.
Cooper elaborated his comments further in a series of tweets, writing that Trump's ideologies ran counter to Playboy as a company. "Why am I embarrassed about this cover? Because we promote a philosophy that encourages ALL individuals to choose the life they want to live," he wrote. "If the 1990 team at Playboy would have known Trump's platform than the President would have never found his way onto our cover." However, there have been clues that Hefner wanted to end his friendship with the businessman way before he was elected as president.
Hugh Hefner didn't like Donald Trump interfering with his creative decisions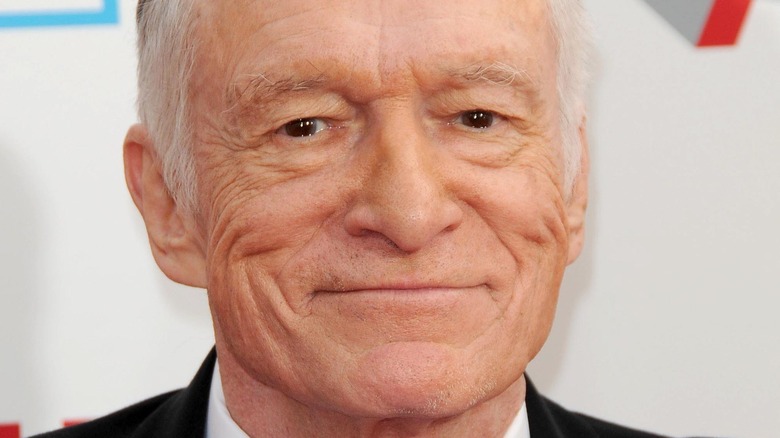 Shutterstock
Though Cooper Hefner verbalized disdain for Donald Trump after his father Hugh Hefner's death in 2017, former Playboy editor Heidi Parker noted that their dislike for each other went back as far as 2004. In a tribute to Hefner for the Daily Mail in September 2017, Parker wrote that Trump wanted female cast members of the "Celebrity Apprentice" to pose on the cover of Playboy with him, to which Hefner responded "Ewww."
Hefner declined Trump's suggestion and told Parker that he didn't like the idea. Trump then demanded Parker to be fired, which, of course, became a go-to-phrase for him on the show. "I was shocked Trump wanted me fired and even more shocked Hef pretended to be his friend but really didn't like him at all," Parker wrote.
Though Trump frequently visited the Playboy mansion after that incident, his friendship with Hefner was beyond repair — so much so that Trump didn't even release a statement after Hefner's death in 2017.