Out Of Every Lady Gaga Hairstyle, One Look Stands Above The Rest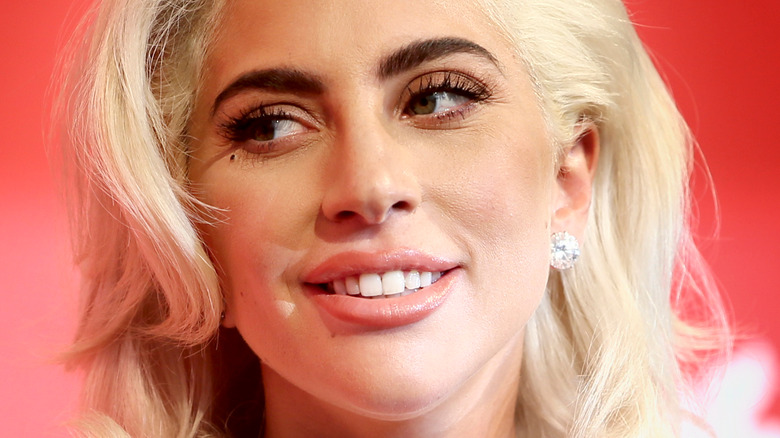 Shutterstock
Lady Gaga's ever-evolving style has helped her become a fashion icon whose flamboyant looks often overshadow her music. However, her Little Monsters seem to love her willingness to take risks with her appearance just as much as they adore her impressive discography. And while her outrageous outfits always attract a lot of attention, fans have also come to expect the unexpected when it comes to how she styles her platinum blonde tresses — remember those Diet Coke can hair curlers?
Sometimes, Gaga literally elevates her hair by wearing sky-high heels that make her heads taller than she actually is, like those iconic Alexander McQueen armadillo boots. She has rocked a mermaid tail, introduced fans to a male alter-ego named Jo Calderone, and worn a coat made out of stuffed Kermit the Frogs. But, while her edgy ensembles and numerous personas are an important part of her appeal as a performer, the "Born This Way" hitmaker's hair holds a special significance to her.
In a YouTube video teasing her 2011 single "Hair," Gaga recalled how her parents would always tell her "to go back upstairs and brush your hair" when she was growing up. "It was stifling my identity," she said. "My hair was my glory. It was the only thing that I could change about myself in school because we wore uniforms." Once she was out of school, however, she had even more freedom to keep experimenting with her hairstyles, and one result stands heads above the rest.
Lady Gaga protected her real hair from raw meat with a wig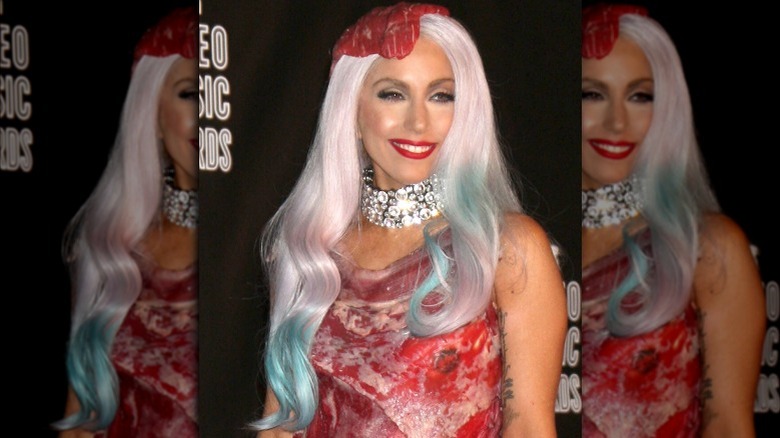 Shutterstock
While PETA applauded Lady Gaga for her creepy Kermit coat that was meant to be a "commentary on not wearing fur," the animal rights organization was less than impressed when she wore her unforgettable meat dress at the 2010 MTV Video Music Awards. After "steaking" her claim as one of the night's biggest style stars, she explained why she rocked bits of a real cow carcass. "It has many interpretations, but for me this evening it's [saying], 'If we don't stand up for what we believe in, if we don't fight for our rights, pretty soon we're going to have as much rights as the meat on our bones,'" she said on "The Ellen DeGeneres Show" (via Billboard).
Gaga's hair really stood out against the raw, red color of her attire. She wore a silvery blonde wig with electric blue tips, and it was topped with a cut of meat placed at a jaunty angle. While her longtime hairstylist Frederic Aspiras is usually responsible for transforming her tresses, Sam McKnight took credit for adding the pièce de résistance to the wig. "I put the meat on her head for the VMAs, I got the steaks delivered... and they were pinned to a wig," he told i-D magazine. The headpiece was included as part of the Haus of Gaga/Las Vegas exhibit at the Park MGM Hotel. But these days, it's more like beef jerky (via InStyle).
Lady Gaga's hair has paid the price for her fame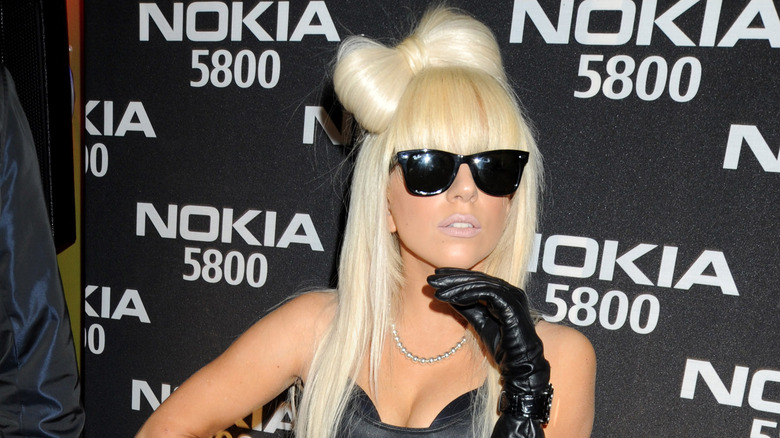 Dave M. Benett/Getty Images
When Lady Gaga first burst onto the pop music scene, she was doing some of her styling herself. For example, she created the hair bow made of hair that was part of her early signature look (via Oprah Daily). However, she eventually found herself in the capable hands of hairstylist Frederic Aspiras, who would become an esteemed Haus of Gaga member. During a 2019 interview with Billboard, he estimated that he and Gaga have amassed a collection of over 5,000 wigs. His creations included the neon yellow wig with black roots that she wore during her 2009 Monster Ball tour.
Gaga does not always rock wigs, and the upkeep on the natural brunette's platinum dye job has taken its toll on her tresses. In 2011, she told People that she occasionally had to "get a chemical haircut because my blonde hair is falling out." However, by 2019, she was letting her natural locks shine more often, so they were clearly in better health. "She does have really beautiful hair," Aspiras told Allure. "I've been doing a lot of treatments to keep her color brighter and her hair stronger." He also explained that Gaga usually wears wigs for performances because she sweats so much. But whether her hair is real or a wig, it always embodies her free spirit. She captured its importance perfectly in song: "This is my prayer / That I'll die living just as free as my hair."