What Rudy Giuliani Just Said About Going To Jail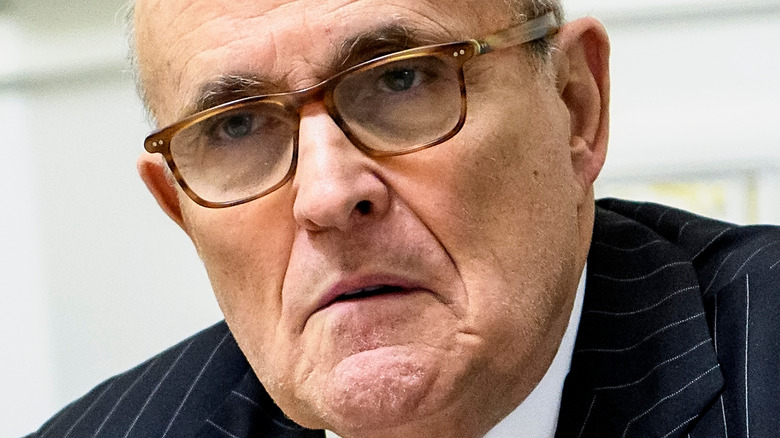 Shutterstock
Former mayor of New York City Rudy Giuliani has been the subject of FBI investigations regarding suspicions that he broke foreign-lobbying laws during dealings with Ukraine back in 2019. The New York Times reported that, earlier this year, federal investigators raided Giuliani's apartment and seized electronic devices in an effort to dive deeper into the attorney's role in the matter. One of the warrants indicated that investigators were searching for communications between Donald Trump's former attorney and Ukrainian officials in order to uncover potentially damning information about President Joe Biden's son and overturn the 2020 election. Authorities believe that Giuliani "illegally lobbied the Trump administration in 2019 on behalf of Ukrainian officials" who were helping him in his search for information against the Biden family. It is unclear, as of now, whether the search and seizure has uncovered any additional information against Giuliani.
In a statement regarding the search warrants, Giuliani maintained that he has done nothing illegal in regards to the Ukraine probe and called the search a "corrupt double standard" (via The New York Times). His lawyer, Robert J. Costello, was equally unnerved by the developments, referring to the actions taken by federal authorities as "legal thuggery." Giuliani further expanded his thoughts regarding the investigation in an interview with NBC News, during which he made comments about potentially facing jail time. Keep scrolling to find out what he said.
Rudy Giuliani called the investigation 'a terrible distortion of justice'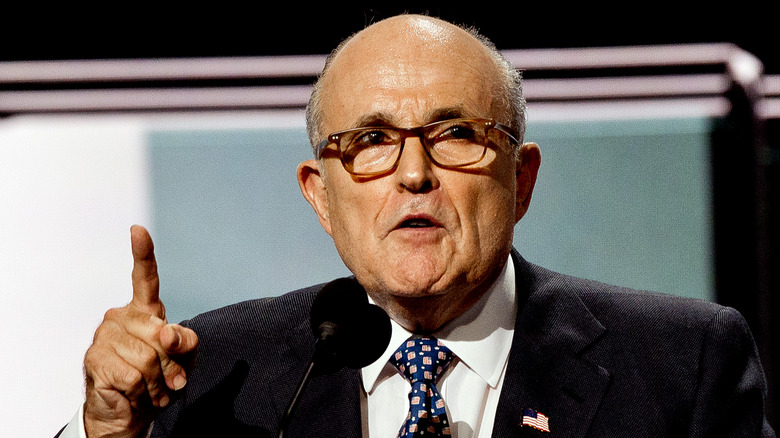 Shutterstock
During an interview with NBC News, Rudy Giuliani, who was stripped of his right to practice law in New York earlier this year, delved into his thoughts regarding the Ukraine investigation, of which he is a leading subject. Regarding the question of whether he was working as an unregistered lobbyist for Ukrainian officials, Giuliani said, "I committed no crime, and if you think I committed a crime, you're probably really stupid, because you don't know who I am." Outraged, he added, "Is the guy who put the mafia in jail, terrorists in jail, Ed Koch's commissioners in jail, and the worst people on Wall Street — I'm not going to file [a form]? I mean, that's just crazy." Giuliani went on to call the investigation "misguided" and "politically motivated." 
Giuliani also touched on the possibility of getting sent to prison for his alleged involvement, telling interviewers, "I am more than willing to go to jail if they want to put me in jail. And if they do, they're going to suffer the consequences in heaven. I'm not, I didn't do anything wrong." An interviewer followed up, asking Giuliani why he would be willing to go to jail if he's innocent, to which he responded, "Because they lie, they cheat." Ultimately, Giuliani feels the investigation is "a terrible distortion of justice" and that only Trump's lawyers are penalized without being given a chance to defend themselves.