The Truth About Dick Van Dyke's Affair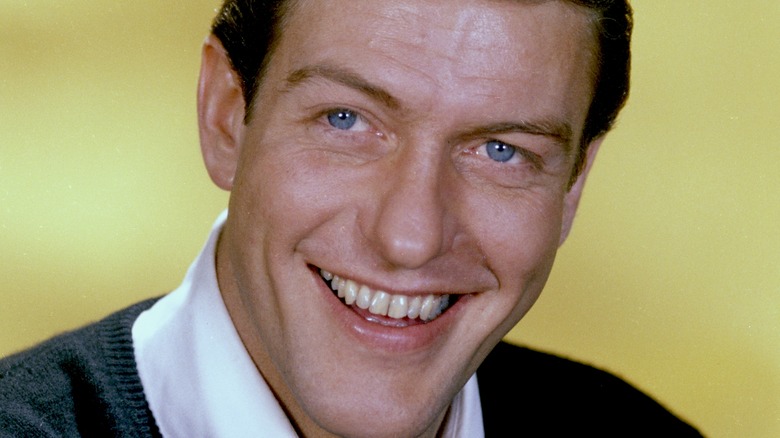 Michael Ochs Archives/Getty Images
Dick Van Dyke is one of the most beloved movie and TV actors of all time, but his personal life has more twists and turns than "Chitty Chitty Bang Bang." The actor, who also starred in "Mary Poppins" and his own self-titled CBS sitcom, has made many headlines over the years for his complicated personal life. Now, Van Dyke is 95 and has only been married twice, but he had a long relationship between his two marriages that caused him serious stress.
Van Dyke met his future first wife, Margie Willet, in 1945, when he was close to 20 years old. In his 2012 memoir, "My Lucky Life In and Out of Show Business," the actor wrote that Willett was a "local girl" he had known for a while who dumped her high school football boyfriend to date him.
After marrying in 1948, the Van Dykes welcomed four children together by 1961, per Showbiz Cheat Sheet. But Dick Van Dyke's work as an entertainer took him on tour all across the country, so family life was fleeting. By the late 1970s, Van Dyke and his wife had separated, and they divorced in 1984, according to the outlet. Nearly 30 years later, in 2012, Van Dyke married his second wife, Arlene Silver, who is 46 years his junior. But it was his relationship that came in between his two marriages that caused him the most turmoil.
Dick Van Dyke cheated on his first wife with his agent's secretary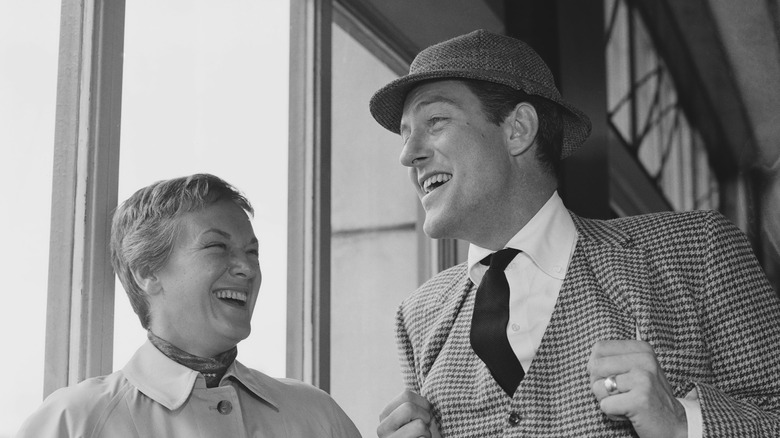 Express/Getty Images
Dick Van Dyke's marriage to his hometown girl couldn't survive his showbiz lifestyle. In 1976, he began an affair with his agent's secretary, Michelle Triola, according to Country Living. The ex of actor Lee Marvin was the opposite of Van Dyke's wife, who didn't care for Hollywood "or its stars" and began spending more time at the family's ranch property in the California desert, per the outlet. "She was feisty, smart and, unlike Margie, knew the showbiz world inside out," Van Dyke told Closer Weekly of Triola.
In his memoir, Van Dyke revealed that he gradually began to invent excuses to call his agent just so he could speak with Triola on the phone, per Showbiz Cheat Sheet. Van Dyke's close friendship with his agent's secretary eventually turned into a full-blown affair. "Our phone conversations turned into lunches and those evolved into low-key dinners in dark restaurants where we could avoid attention," he wrote in his tell-all.
The guilt from his affair caused Dick Van Dyke much stress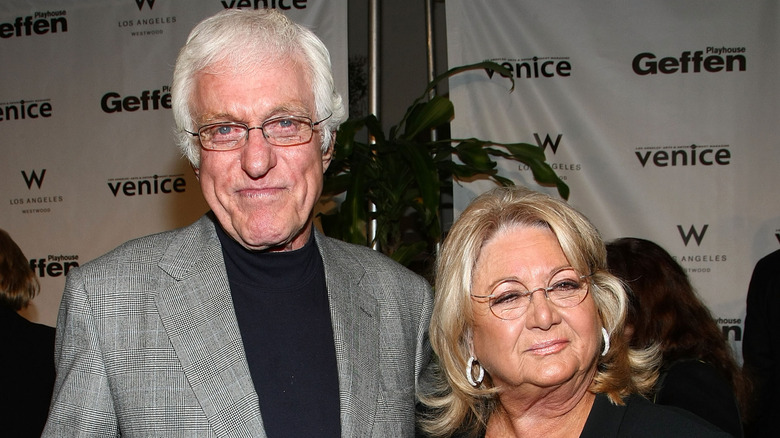 Alberto E. Rodriguez/Getty Images
In his book, Dick Van Dyke also revealed that living a double life took a major toll on him. "I worked harder going back and forth between my two worlds than I did on the show," he wrote in his 2012 memoir, per Showbiz Cheat Sheet. "I lost seven pounds in the first two months. I told people it was work. In truth, it was the stress of dividing my time between two extremely strong, attractive women."
In a follow-up book, "Keep Moving," Van Dyke admitted that he was "writhing in guilt" over the love triangle and knew he had to do something to clear his conscience, per the Daily Mail. He ultimately came clean to his wife  about the affair, and they separated in the late 1970s and divorced in 1984.
Van Dyke stayed with Michelle Triola (pictured above with Van Dyke), and they lived together in Malibu but never married. He told Closer Weekly that Triola never got around to putting a "date in the diary" for them to wed. The two stayed together until Triola's death in 2009, one year after Van Dyke's first wife Margie Willet died. In 2012, he married his second wife, Arlene Silver. As he described his marriage to Parade, Van Dyke noted it was "one of the smartest moves I ever made. She makes me happy. She's very mature for her age, and I'm very immature for my age, so it's just about right!"