Inside Dan Levy And Paul Rudd's Relationship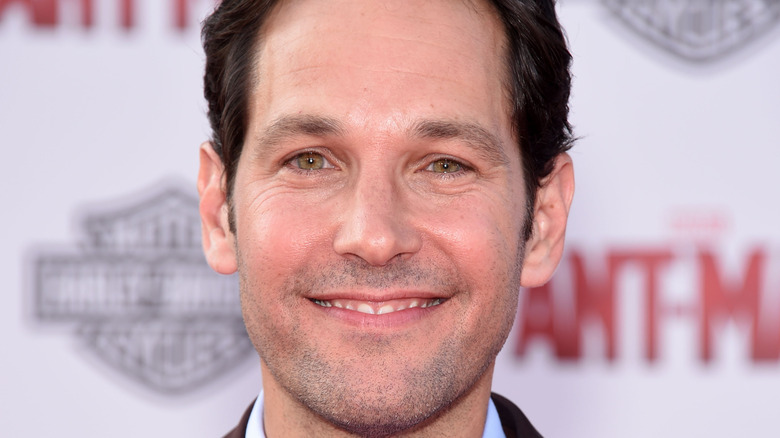 Shutterstock
Paul Rudd has been acting since the early '90s — and not as a child star, as hard as that may be to believe. It seems that every viral photo of "The 40-Year-Old Virgin" actor is met with floods of jokes about how youthful he looks after doing more than half a century of living.
Rudd's flawless complexion has inspired the creation of pieces with titles like, "In Honor of His 52nd Birthday, These Photos Prove Paul Rudd Is an Ageless Vampire." Another popular practice is to put current photos of Rudd side-by-side with older pics of the actor, including the era when he starred in the 1996 movie "Clueless." His seeming inability to age has even attracted the notice of Jennifer Aniston, who first worked with him on the 1998 movie "The Object of My Affection." They later became castmates on "Friends" when he played Phoebe's (Lisa Kudrow) husband. "You don't age, which is weird – but we celebrate you anyway," Aniston wrote in an Instagram tribute to Rudd on his birthday (via Entertainment Tonight).
Rudd was asked about his secret to defying the effects of aging at the Chicago Comic and Entertainment Expo in 2019. "I'm 80 years old on the inside," he joked, per the Chicago Tribune. He pointed to his chest before continuing, "In here, pure darkness — and a little moisturizer." We'll just imagine that he gets that moisturizer from Rose Apothecary, the store created by Dan Levy's dewy-skinned "Schitt's Creek" character David Rose.
Paul Rudd and Dan Levy look like BFFs in a viral photo
Social media users went wild after Paul Rudd and Dan Levy were photographed together in early August. The guys grabbed a bite to eat at the Darjeeling Express restaurant in London's Covent Garden, where they noshed on a spread that included puris, ladoos, rice, and a meat dish, according to the Hindustan Times. The eatery shared a pic of the famous diners on its Instagram page. They were both smiling, and Levy was throwing up a peace sign. The image also began popping up in viral tweets. "Everyday Paul Rudd chooses not to be a billionaire by refusing to release a skincare line," quipped one Twitter user. Perhaps he and Levy need to collab on one?
Other people cared more about seeing the actors together than Rudd's skincare regimen. "Paul Rudd and Dan Levy being friends is what the world needed," read one tweet. "Paul Rudd looking young is nothing new but I enjoy this greater revelation that him and Dan Levy are like bffs," another admirer wrote. Their appearance together sparked speculation that they might have a working relationship as well as an adorable friendship. As noted by ScreenRant, Rudd is currently filming "Ant-Man and the Wasp: Quantumania" in London, so there's a chance that Levy met his new best bud when he joined the Marvel Cinematic Universe.
Prankster Paul Rudd loves Schitt's Creek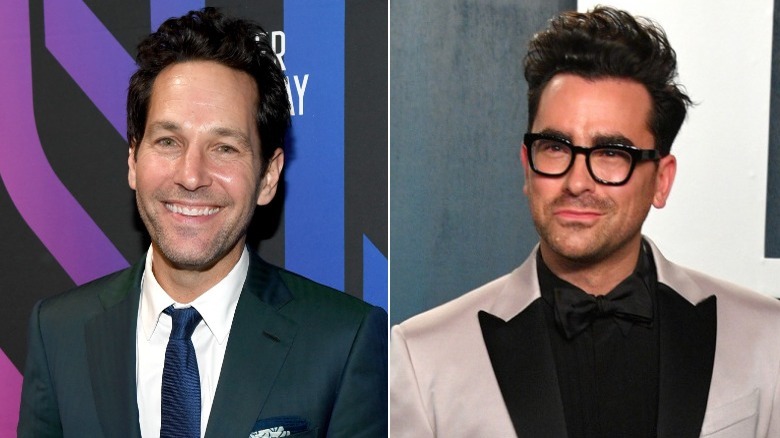 Kevin Mazur, George Pimentel/Getty Images
The Darjeeling Express previously shared a photo of Paul Rudd patronizing the establishment on his own, and he seemingly enjoyed the experience so much that he decided to return with Dan Levy as his guest. Perhaps they had a lengthy conversation about Levy's beloved comedy series as they dined — after all, Rudd is a "Schitt's Creek" superfan. He spoke about his love for the Emmy-winning comedy in a 2019 BuzzFeed video. "Catherine O'Hara's character in 'Schitt's Creek' is quite possibly the greatest creation since the Mars Rover. It's something to behold. It's spectacular," he said. "And Eugene Levy is such an MVP. In every category, in life, he's just so funny, the whole family is incredible." Of course, Dan Levy deserves a lot of credit for the show's success since he co-created it with his famous father. He also starred on it, served as a writer, executive producer, and as showrunner.
Now that Levy is pals with Rudd, maybe the "Schitt's Creek" star will find himself on the receiving end of one of his hilarious pranks. In a tweet that went just as viral as a photo of Rudd's ageless face, Seth Rogen recounted how his "Knocked Up" co-star once replaced his masseuse, unbeknownst to him. Rogen never noticed, so Rudd proved that his fingers are just as magical as his skin by completing the massage.