OJ Simpson Has Something To Say About The COVID Vaccine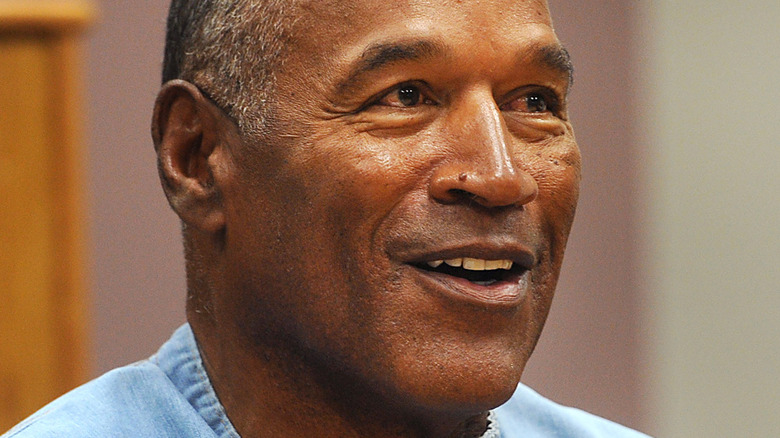 Bloomberg/Getty Images
O.J. Simpson surprised many when he joined social media in June 2019. It was almost 25 years since he had been arrested for murder, and the Buffalo Bills legend returned to the spotlight with a video message for fans on Twitter, per ABC. Since that initial post, Simpson has stayed active on Twitter, and often shares his personal views. One subject Simpson has been vocal about is the COVID-19 vaccine. In January, he posted a photo while tweeting, "Get your shot. I got mine!!!" Simpson wore a "The Juice" face mask in the snap and held up the sleeve of his white polo while a healthcare worker administered the shot. Four weeks later, Simpson shared footage as he waited for his next dose. "Got my second shot. Go get yours," he wrote while uploading a video that captured the moment he received the shot.
On July 27, due to the widespread Delta variant, the Centers for Disease Control and Prevention reversed a previous mandate that allowed unvaccinated people to go maskless in public spaces, per CNBC. "This is becoming a pandemic of the unvaccinated," CDC director Dr. Rochelle Walensky told the press (via NPR). "Our biggest concern is we are going to continue to see preventable cases, hospitalizations and sadly deaths among the unvaccinated," Walensky added. This news provoked another video response from Simpson. Keep reading to see how he felt about the update on the mask mandate.
OJ Simpson blasts unvaccinated NFL player
On August 2, nearly a week after the CDC reversed their mask mandate, O.J. Simpson once again took to Twitter to discuss the COVID-19 vaccine by uploading a video. "You know with 99, or whatever, percent of people dying are the unvaccinated from the new COVID stuff," the Hall of Fame running back said. He then relayed an analogy on why people should get the vaccine. "That being vaccinated is like wearing your seatbelt," Simpson recalled hearing. "That it doesn't guarantee you won't get in an accident, but if you do, you have a much better chance of surviving." He ended the video by addressing the mask mandate news. "I don't like wearing masks, and it's you people who are not getting shots that have brought this mask thing back."
In late July, Simpson took issue with current Buffalo Bills standout Cole Beasley, who had been vocal about not wanting to get vaccinated, per The Spun. Beasley felt that if the NFL mandated the vaccine, then this would be a violation of players' rights. Simpson adamantly refuted Beasley's argument. "You don't have a right to drive at 0.08 alcohol consumption in your blood. You don't have a right to drive over 80 miles per hour," Simpson said in his video. "Those are safety issues. This whole thing is about safety — public safety — it's not about your rights," he added. The former Bills player also said that Beasley should "opt out" of playing if he did not want to get vaccinated.