What Tahzjuan Hawkins Has Been Up To Since The Bachelor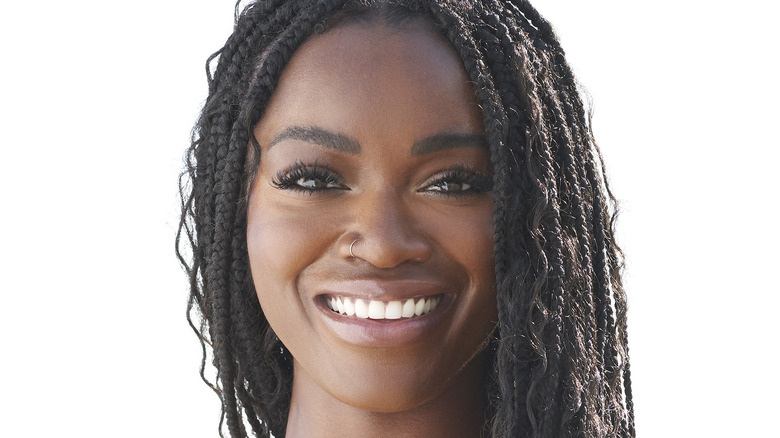 ABC/Craig Sjodin
Tahzjuan Hawkins was a contestant in 2019 on the 23rd season of "The Bachelor," with Colton Underwood as the lead. Colton's time in the Bachelor Nation franchise created headlines well into later years when he came out as the first gay Bachelor. It was also revealed, per Variety, that Colton was getting a Netflix reality show to pair with his big announcement.
Colton's season and its ripple effect caused a stir for a while. He ended up with Cassie Randolph, whom he also met on "The Bachelor" and they were together for a year and a half. However, as Variety notes, that ended and in September 2020, she filed a restraining order against him, saying he stalked her and attached a tracking device to her vehicle.
Tahzjuan, meanwhile, was sent home on night one during the first rose ceremony. This, however, wasn't the last of Tahzjuan. Keep reading to find out what she's been up to since then.
Tahzjuan Hawkins graced the screens of Bachelor in Paradise
Tahzjuan Hawkins wasn't done with Bachelor Nation after Colton Underwood sent her home. She decided to join season 6 of "Bachelor in Paradise," but the experience was a challenge. Tahzjuan joined the series in week 4, and she had tons of travel difficulties (think missed flights and lost baggage) so she was late to the game.
Tahzjuan had a hard time dealing with the heat in Mexico. "I had every intention of like, Okay, you're going to get up, do your makeup, look great. You're trying to find a man," she told Refinery29 in 2019. "And then I got down there and I looked at everyone and I was like, why am I the only person having so many issues? I was there for just a couple of days. But the elements really got to me."
Tahzjuan had her sights set on John Paul Jones, as Distractify notes, but she wasn't the only one. Haley Ferguson asked him on a date and there was a small but resolved rivalry between the two gals. While Tahzjuan went home during her first week, she gave a very telling answer to Refinery29 when asked if she would go back: "I would try and give it another shot. I am a hopeless romantic, so I would never turn down the opportunity to find my person." The happy news is that Tahzjuan is going to be returning to "Bachelor in Paradise" for season 7!
Tahzjuan Hawkins is putting her heart on the line again
Tahzjuan Hawkins will be a returning face to "Bachelor in Paradise," set to air on August 16, per Marie Claire. Tahzjuan also confirmed her participation in the season on Instagram in mid July with the caption: "Tis the sea-sun!" followed by a sun and palm tree emoji. Very clever!
The Colorado native, who works as a business development associate for Lyft per Life & Style, seems to be the eternal optimist when it comes to finding love. Plus, considering she went home in the first week on both "The Bachelor" and "Bachelor in Paradise," our girl certainly deserves more air time!
The good news is that there are several new contestants, many of whom are fresh from Tayshia Adams' season as well as some from Katie Thurston's. With a whole new group of guys, Tahzjuan might have a better shot at finding love. And as for handling that Mexico heat? Only time will tell.