Why Mike Wolfe's New Girlfriend Is Being Bullied Amid His Divorce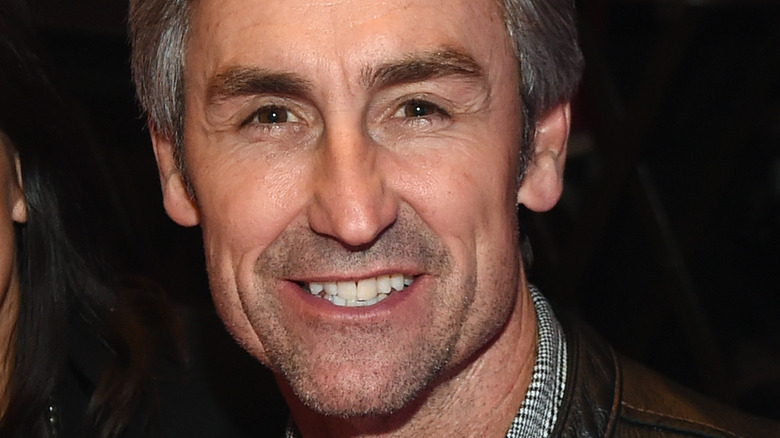 Rick Diamond/Getty Images
"American Pickers" has followed the exploits of Mike Wolfe and Frank Fritz as they travel the country in hopes of unearthing valuable antiques since 2010. Season 22 of the show premiered in 2021 as both hosts endured personal turmoil. Frank stepped away from the show to address health issues, and Mike continued filming as he went through a divorce with Jodi Catherine Wolfe, per Cinema Blend. Mike and Jodi, who have a daughter together, were married in 2012 but had been separated since June 2020. In March of 2020, the couple had "entered a collaborative family law participation agreement," per People. As covered by TMZ, by November the two decided to officially call it quits, as Jodi filed for divorce citing "irreconcilable differences." That divorce, however, was not the only news the outlet reported about Mike's love life. 
On July 9, TMZ announced that not only was Mike in the middle of a divorce, but he had a new girlfriend and it was already "pretty serious." Mike's new girlfriend was revealed as Leticia Cline, a model who had appeared in the pages of Playboy and Maxim in the past. Leticia was recognizable to some reality TV fans, as she was formerly on the reality dating show "Beauty and the Geek." It's not clear how long the new couple has been dating, but they were previously spotted hanging out in April. Keep reading to see how Leticia reacted once she started being bullied. 
Leticia Cline does not care about the narrative
Prior to appearing on "Beauty and the Geek," Leticia Cline had worked as a model and went to school to become an accountant, per Cinema Blend. In addition to her modeling work, Leticia has several revenue streams. She helps run a bar called The Dive along with her sister and mother, and, according to her Instagram bio, she works as a journalist and a councilwoman. The job working on the city council in Cave City, Kentucky was the source of a lot of tension. 
Around the same time that Leticia and Mike's relationship was made public in early July by the press, she made a lengthy Instagram post on July 11 that discussed bullying she had endured while working on the city council. "I've never been more bullied in my life than I have recently as a councilwoman," she wrote. "You'd think I'm living in the 1940's the way some of these men try and shut me up when I speak." The former model mentioned how her career had "evolved" over time, and that she would not succumb to bullying tactics. 
On July 21, Leticia made another Instagram post where she discussed the "narrative" surrounding her life and the "scrutiny" that comes with being in the "public eye." She wrote, "I realized that not only did people have an expectation of who they think you are but to try and control the narrative they created for you is a waste of energy."