Inside Eminem's History With Drugs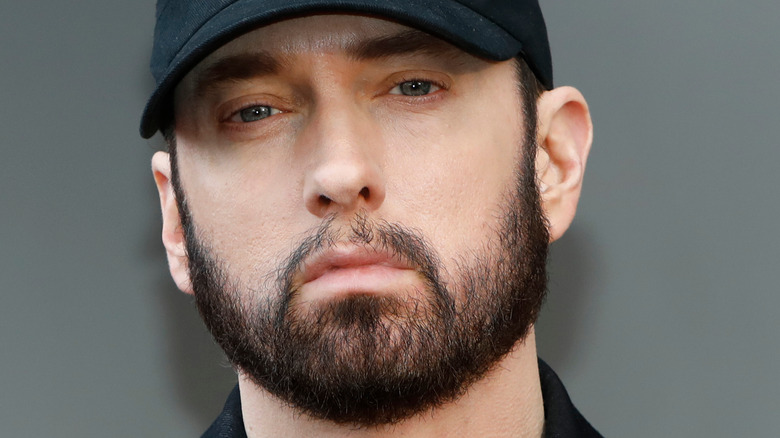 Shutterstock
He's known as one of the greatest rappers of all time. But, despite his overwhelmingly successful career, Eminem — like many artists before him — fell into the trappings of drug addiction. 
In 2013, MTV discussed how the rapper, born Marshall Mathers, explored the depths of his addiction in the film "How To Make Money Selling Drugs." "When I took my first Vicodin, it was like this feeling of 'Ahh.' Like everything was not only mellow, but [I] didn't feel any pain," he said in the film, according to the outlet. "I don't know at what point exactly it started to be a problem. I just remember liking it more and more. People tried to tell me that I had a problem. I would say 'Get that f**king person outta here. I can't believe they said that s**t to me. I'm not out there shooting heroin. I'm not f**king out there putting coke up my nose. I'm not smoking crack."
Ultimately, Eminem got clean and sober, and he detailed this sobriety in the album "Recovery." Read on to discover how Eminem achieved and maintained his sobriety.
Eminem turned to running to deal with his addiction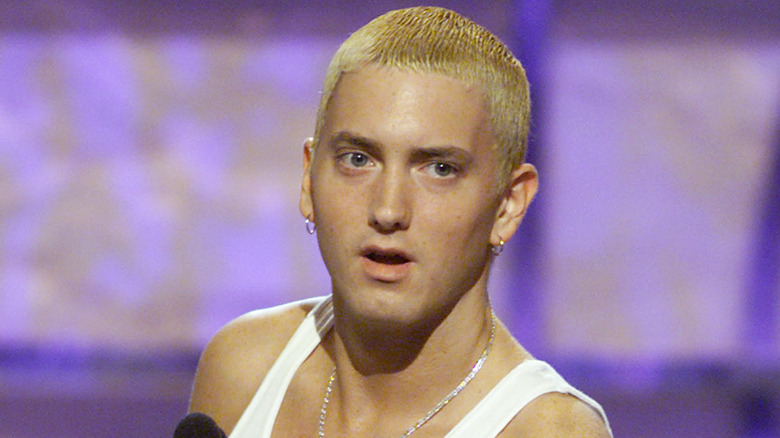 Kevin Winter/Getty Images
In 2007, Eminem was at the height of his fame. But he was also at the height of his drug addiction, as that's when he overdosed — and according to Billboard, he tipped the scales at 230 lbs when he was in the throes of his addiction. The reason behind this weight gain was two-fold. 
"The coating on the Vicodin and the Valium I'd been taking for years leaves a hole in your stomach, so to avoid a stomachache, I was constantly eating — and eating badly," he told Men's Journal in 2015. So, to shed the pounds, he took up running — and as it turned out, he had replaced one addiction with another. "I got an addict's brain, and when it came to running, I think I got a little carried away," he said. "I became a f**king hamster. Seventeen miles a day on a treadmill. I would get up in the morning, and before I went to the studio, I would run eight and a half miles in about an hour. Then I'd come home and run another eight and a half."
Eventually, Eminem lost 90 lbs and, per Billboard, he weighs 140 lbs today. But how's he doing with his sobriety? Read on to find out the good news.
Eminem just celebrated 12 years of sobriety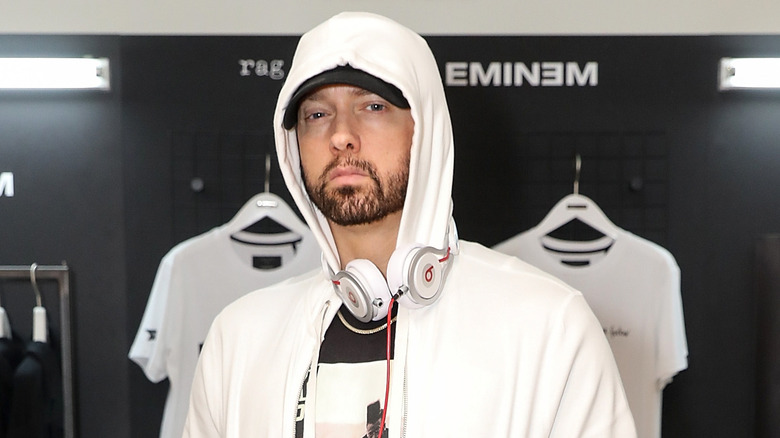 David M. Benett/Getty Images
In April 2020, Eminem took to Instagram to share that he had celebrated 12 years of sobriety. He shared a photo of the sobriety "chip" he received from Narcotics Anonymous to commemorate the occasion and captioned the image: "clean dozen, in the books! I'm not afraid." As of this writing, the photo had more than 1 million likes on Instagram. 
In an interview with Vibe (via The Hindu), Eminem revealed that, at one point, he overdosed on methadone. A friend had given him the drug, which is used to wean heroin addicts off of the drug, and he would not have taken it had he known it was methadone. "[My] doctor told (me that) the amount of methadone (I'd) taken was equivalent to shooting up four bags of heroin," he said. "Had I known it was methadone, I probably wouldn't have taken it."
Regardless, he's clean and sober now, which is a good thing. Congratulations to Eminem for celebrating so many years of sobriety!
If you or anyone you know is struggling with addiction issues, help is available. Visit the Substance Abuse and Mental Health Services Administration website or contact SAMHSA's National Helpline at 1-800-662-HELP (4357).