Meghan McCain Has Strong Words For Kathy Griffin After Cancer Diagnosis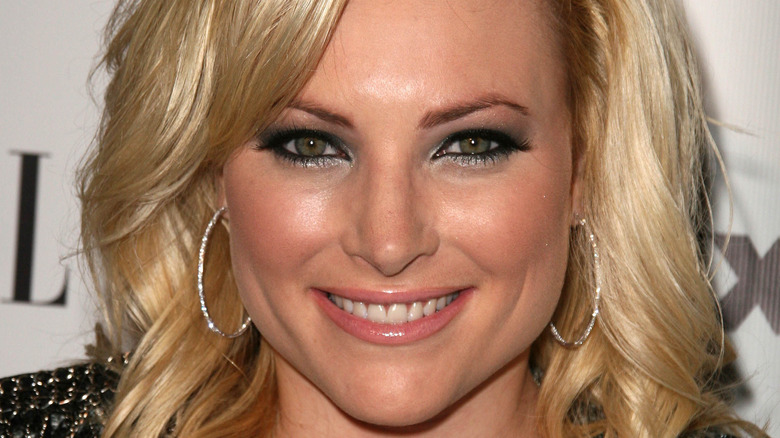 Shutterstock
Kathy Griffin was dealt another devastating blow when she was diagnosed with lung cancer. She shared the news on Instagram, revealing that she was going to undergo surgery to have half of her left lung removed. The diagnosis came as a shock because she is not a smoker.
Griffin let her fans know that she was optimistic about her prognosis because doctors caught her cancer early, and she was hopeful that she would not have to undergo chemotherapy or radiation treatments. "I should be up and running around as usual in a month or less," she wrote. Griffin's family has a tragic history with cancer. In 2014, Her brother Gary passed away after suffering from esophageal cancer. Three years later, Griffin shaved her head in solidarity with her sister Joyce, who had an undisclosed form of cancer. She lost her battle with the disease in September 2017.
Griffin's post was met with an outpouring of love and support from her fellow celebs, including Amy Schumer, Ricki Lake, Rosie O'Donnell, and Lisa Kudrow. However, there was one star whose reaction to her medical scare included a big dose of vitriol: "The View" co-host Meghan McCain. Griffin's cancer diagnosis and her struggle with addiction to prescription medications were a topic of discussion during one of McCain's final episodes of the daytime talk show. The co-hosts also brought up the infamous photo of Griffin holding up a bloody mask resembling the head of Donald Trump.
Keep reading to find out more about what's going down with Griffin and McCain.
Why Meghan McCain can empathize with Kathy Griffin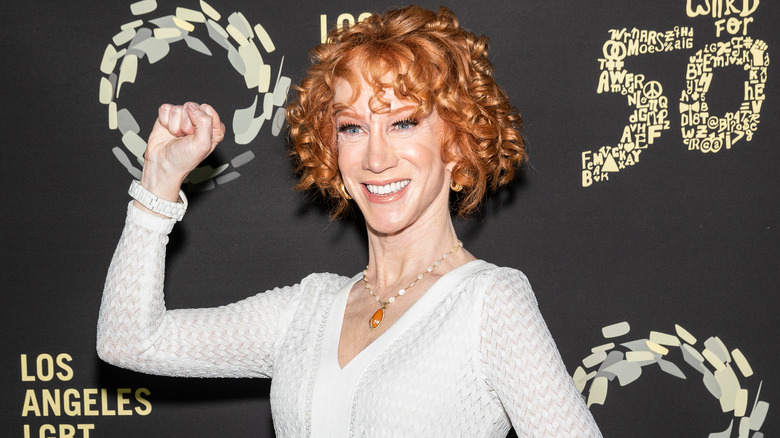 Shutterstock
"The View" segment included a clip of Kathy Griffin on "Nightline." During her interview with ABC News host Juju Chang, she revealed that the backlash to the beheading photo shoot sent her on a downward spiral. "I started thinking about suicide more and more as I got into the pill addiction, and it became almost an obsessive thought," she said. After attempting to take her life, she decided to seek help.
"The View" co-hosts Joy Behar, Sunny Hostin, and Sara Haines expressed sympathy for Griffin and spoke out against the "cancel culture" that led to the comedian losing work and receiving death threats. According to Griffin, one of her harassers even contacted her dying sister. However, she made it seem as though the hate wasn't getting her down in 2018 when she appeared on "The View" and took back her Donald Trump apology. 
When it was McCain's turn to weigh in on Griffin's latest revelations, she initially said that she could empathize with her. Her father, United States Sen. John McCain, died in 2018 after fighting brain cancer, and her mother Cindy has revealed that she was once addicted to opioids. "It's just horrific to go through as someone who's a bystander, let alone going through it yourself," McCain said. "My heart goes out to her in that way, and I hope for a very speedy recovery." However, McCain then began to air her grievances with Griffin and her co-hosts.
Why Meghan McCain wants Kathy Griffin to apologize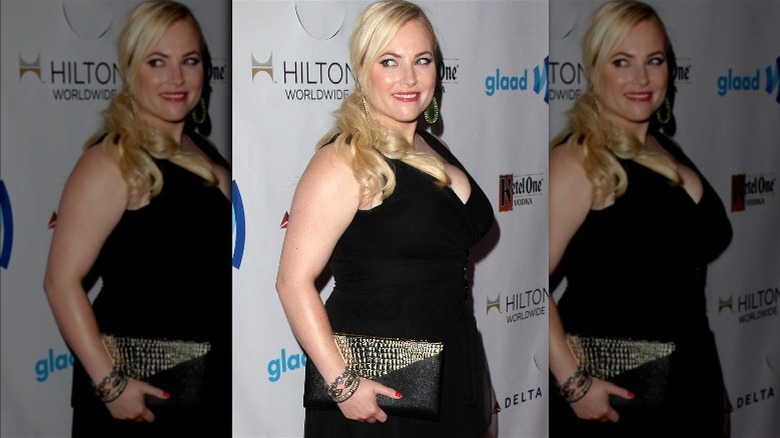 Shutterstock
Meghan McCain took issue with her co-hosts' suggestion that the backlash to Kathy Griffin's beheading photo was too harsh and unforgiving. "I just wonder if this show would have the same reaction if a conservative host or conservative comedian had held up a head of Vice President Harris, President Obama, President Biden," she said. Her opinion of Griffin clearly hasn't changed since 2018, when she first compared Griffin's photo shoot to graphic videos of terrorists beheading actual human beings. "And I don't like her because I don't like seeing severed heads of anyone, any place, because it reminds me of what ISIS does to our soldiers," McCain stated during the recent "View" segment.
Her other beef with Griffin was in regards to her ill treatment of "American Idol" star Clay Aiken. The comedian used to joke about his sexuality before he came out in 2008 and even dubbed him "Gayken." McCain said that Aiken was "lucky he didn't become an opioid addict" in a seeming reference to Griffin's struggles. "I would love to hear an apology, if she's doing this kind of soul-searching, for what could've happened with my good friend," McCain said. "I don't like her, I'm never going to like her for all the jokes she made about Clay." E! News' Marc Malkin reported that Griffin did try to apologize to Aiken backstage at Rosie O'Donnell's variety show in 2008, but, like McCain, he wasn't interested in forgiving her (via Pride).