Chris Evans' Latest Message To Lizzo Is Raising Eyebrows. Here's Why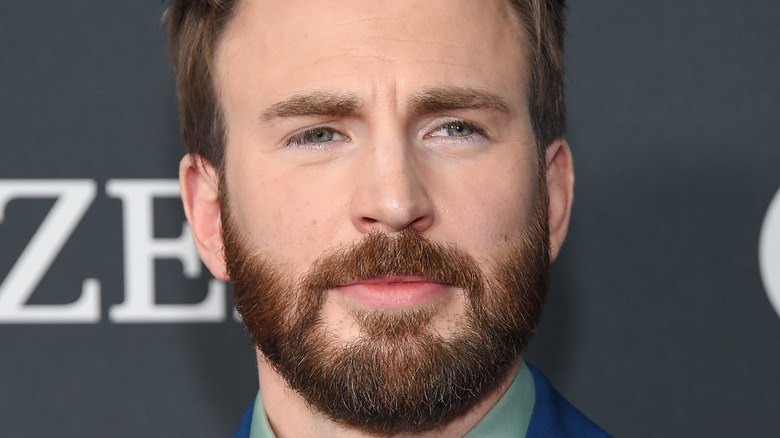 Shutterstock
Marvel and Lizzo fans, get ready for a "Lil Merica" coming soon. The singer joked that she was expecting a baby with none other than Captain America himself during a TikTok video last week. Lizzo said: "This is something I've been trying to keep really personal and private, just between me and the father of my child, but since we're airing out all the rumors today." The 33-year-old then theatrically backed away from the camera and cradled her belly... all to the dramatic sounds of the "Captain America" theme song. "'I've been sucking in. We're gonna have a little America!" While the idea of Chris Evans and Lizzo having a baby sounds "good as Hell," unfortunately it's all in response to a fan comment.
Proving she's just like us, Lizzo admitted on TikTok in April she drunkenly slid into the DMs of a certain celeb. Showing an inebriated emoji message to Evans, Lizzo said: "Don't drink and DM, kids ... for legal porpoises this is a joke," to which a fan commented: "Lizzo baby ... we know you're [pregnant] and we know it's Chris Evans' now spill the tea." Shortly after, the Grammy-winner revealed in an updated video that Evans responded with: "No shame in a drunk DM. God knows I've done worse on this app lol," alongside a facepalm emoji, perhaps in reference to when he accidentally shared an NSFW pic to his Instagram last year.
Now the Hollywood heavyweight has followed up on Lizzo's baby announcement with his own thoughts ... and his mom's! 
Chris Evans jokes with Lizzo that he doesn't want any 'gender reveal parties'
A mini Chris Evans would apparently make the actor's mom so proud. The 41-year-old, who's currently single, replied to Lizzo's TikTok video, revealing he's all for becoming a first-time dad. The "Juice" singer shared screenshots of Evans' messages in a separate TikTok video on Sunday, which said: "Hi! Just heard about our little bundle of joy my mother will be so happy lol." But "The Avengers" star did provide some ... fatherly recommendations for their official baby announcement. "(Just promise me no gender reveal parties lol)," he also wrote. Not wanting to waste any time, Lizzo asked fans for baby names in the caption. "OMG YALL— HE SAW THE BABY BUMP! WE DID IT!" Lizzo wrote in the caption of the latest video. "NOW YALL GOTTA NAME LIL MERICA!!!!! WHAT YALL BOUTA NAME MY BABY ?!"
While some Lizzo fans provided name suggestions like "Chrizzo," and "Jamal Evans" (the internet's nickname for the actor), others were quick to point out the unusual time he responded. "He's still thinking about you at 4am," one wrote, while another said: "Lmaoooo at 4:54am IN THE MORNING!!!!! Girl imagine waking up to a text from Chris Evans aghhhh so jealous rn." While we have yet to hear from the man himself about his preferred baby names, we're just going to quietly picture Lizzo and baby holding mini Marvel bags on the red carpet. Imagine.