Alex Dunphy From Modern Family Is Gorgeous In Real Life
For 11 seasons, Ariel Winter played the role of Alex Dunphy on ABC's "Modern Family." From pre-teen to young woman, Winter grew up before our eyes, giving viewers plenty of sarcastic humor as the bespectacled, genius, middle child of the Dunphy family. At just 11 years old, she was thrown into the limelight as part of the ensemble cast and has since gained a legion of fans and an impressive acting resume. And while starring in the hit comedy, she lent her voice to the Disney-animated series "Sofia the First" and more recently, took on more mature roles, including a cameo in "Law & Order: Special Victims Unit."
Naturally, when "Modern Family" came to an end in 2020, so did some life transformations for Winter. She was no longer the young girl that first graced our screens, instead the now young woman was ready to say goodbye to her much loved character and hello to new roles. But it wasn't just new gigs she was ready to embrace — she also took on a whole new look. Here's how Winter's style has evolved ever since her Alex Dunphy days. 
Ariel Winter's fashion went from sweet to sultry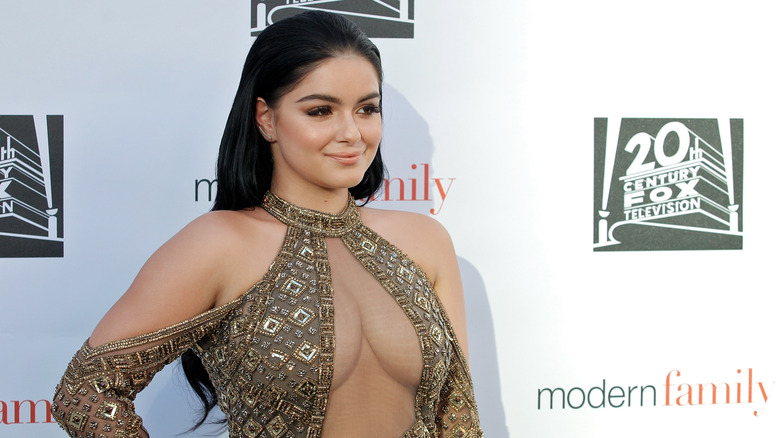 Tibrina Hobson/Getty Images
A quick look at Ariel Winter's Instagram reveals that her everyday look is miles away from her "Modern Family" character. The young actor has definitely tried some daring looks over the years and has been known to take a few fashion risks. Unlike her "Modern Family" character who often sported graphic tees, Winter prefers form-fitting outfits giving her a more sultry and mature look. Her most controversial look was most likely the outfit she wore to the "Modern Family" Season 8 finale screening. While her co-stars were dressed on the more casual side, Winter wore a revealing, plunging, cutout mini dress that caught the attention of many on social media. 
Following the event, Winter took to Instagram to defend her wardrobe choice. "Why TF does anyone care that I didn't dress casual like everyone else for the panel? Why do I have to be like everyone else?" she wrote in an Instagram post which she has since taken down, per The Cut. "As long as you feel good about yourself that's what matters. I know I did. Don't ever let anyone stifle who you are and how your express yourself. Rant over
" 
On multiple occasions, Winter has taken to social media to defend her fashion choices and has had to deal with sexist comments about her body. Luckily she's had the support of her co-stars, such as Sarah Hyland, who has come to her defense when needed. 
Ariel Winter's new do made her unrecognizable
It's safe to say Ariel Winter wasted no time to shed the sweet and goody-two-shoes image of her character as she launched her post "Modern Family" career. After dyeing her hair black for years as Alex Dunphy, she transformed her brunette locks to bright red. In a July 2019 interview with Allure, she spoke about how much she loved her new look.
"Dyeing it this color was something I was really excited to do. At first, I was nervous. But the day after I dyed it, I felt like a different person," Winter said. "I walked past my bathroom mirror and was like, 'Oh my god! Who's in my bathroom?' And it was literally me. But I love it. It's my favorite style I've done so far."
A few months later, she debuted a complete transformation after she dyed her platinum blonde. Sharing the new do on Instagram, she captioned the picture "Winter Is Coming!!!!!!!!!!!" As of this writing, Winter has kept the color — and her confidence in her new style is wonderful to see.