Where Does Simone Biles Live?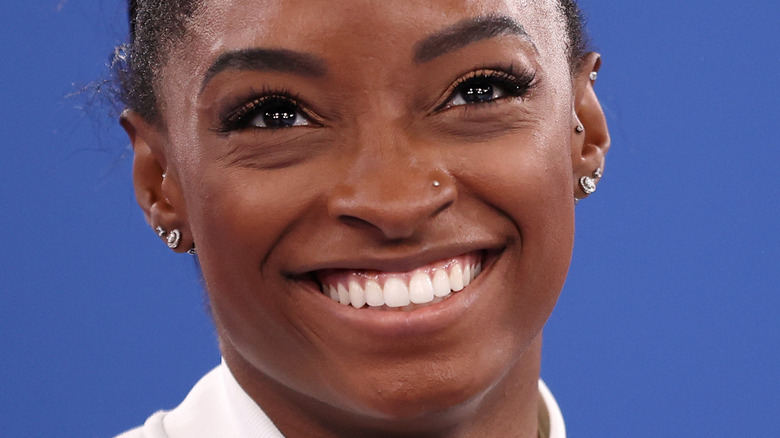 Laurence Griffiths/Getty Images
Simone Biles currently lives just outside of Houston, Texas, in Spring. According to the Houston Chronicle, the Olympic gymnast purchased a brand new house in 2019. The four-bedroom, three-and-a-half bathroom home has nearly 4,000 square feet of living space, according to the New York Post. And while she did buy a home that was new construction, Biles has already made some upgrades, like adding a swimming pool. The house sits on a one-acre lot in a gated community, which affords Biles safety — and privacy. 
The New York Post reports that Biles' house features "wood and tile floors" throughout, a "media room," and a doggy wash room, which has come in handy for her two pups, Lilo and Rambo. "The stucco home, which was built in 2019, has an open floor plan with a foyer, a family room with a fireplace and tray ceilings, a kitchen and a dining room, according to the listing," while the kitchen features "high-end appliances, quartz countertops, custom cabinets, and an oversized island," according to the Post. Biles shares the home with her boyfriend, NFL player Jonathan Owens, who plays for the Houston Texans, according to NBC Philadelphia.
While Biles spent much of her childhood in Texas, she was actually born in Ohio. Keep reading to learn more about Biles' childhood, and where she has lived throughout her life.
Simone Biles was in and out of foster care as a child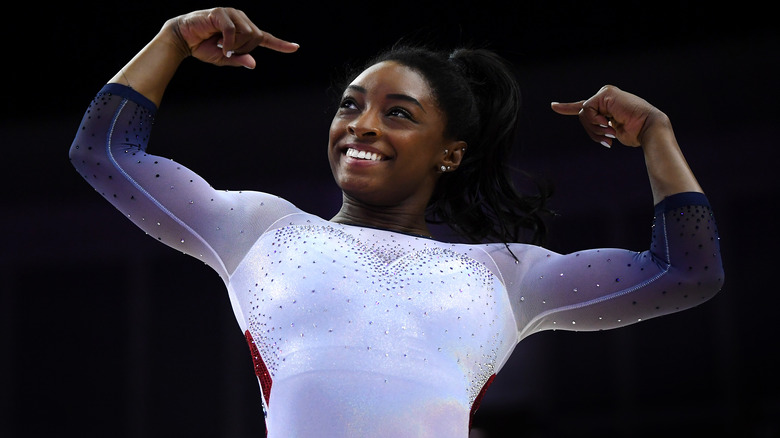 Laurence Griffiths/Getty Images
According to Brittanica, Simone Biles was born on March 14, 1997, in Columbus, Ohio, to her biological parents, Shanon Biles and Kelvin Clemons. When she was about 2-years-old, however, she was entered into the foster care system along with her siblings. At the time, her mom had been struggling "with drugs and alcohol," according to USA Today. "We were really fortunate because we got to stay with our siblings, which most siblings get separated. We had a good experience in foster care," Simone told the outlet.
It was Simone's grandfather, Ron Biles, and his wife, Nellie, who stepped up and offered to care for Simone and her siblings, moving them to Texas. A couple of years later, however, Simone's mother wanted to give things another try, according to USA Today. The children were entered back into the system in hopes that things would work out, but they didn't. At that point in time, Ron and Nellie filed to officially adopt Simone and her younger sister, Adria, while their two older siblings went to live with Ron's sister in Ohio.
Simone has been very candid about her life in foster care and the adoption process, according to Marie Claire. In fact, when she was on "Dancing With the Stars," she shared some of her story. "I never had mom to run to. I do remember always being hungry and afraid," she said during one interview, later admitting that her parents — Ron and Nellie — "saved" her.
Where will Simone Biles go next?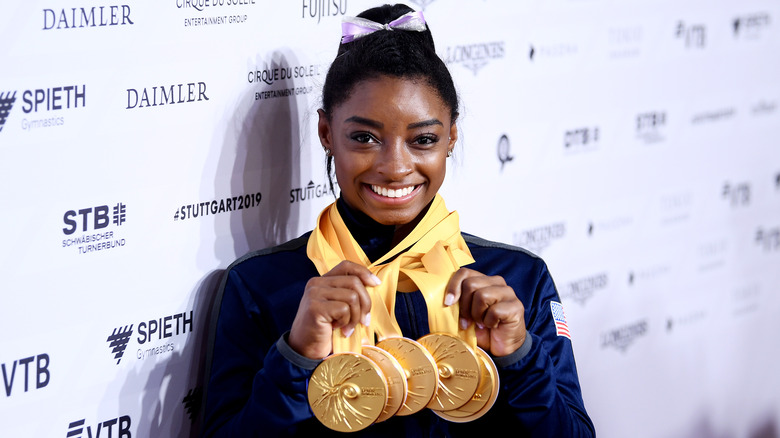 Laurence Griffiths/Getty Images
In October 2017, Simone Biles shared that the house that she and her sister, Adria Biles, grew up in had been put on the market, according to the Daily Mail. "The house I grew up in is now up for sale. Lots of amazing memories. Someone go buy it," Simone tweeted at the time. The house sold two months later, and, less than two years after that, Simone bought her own home where she would make new amazing memories. Simone's house is in an ideal spot as it isn't too far from the gym where she trains. The World Champions Centre is also located in Spring, Texas, and was actually built just for her, according to Texas Monthly. The house is also less than an hour from NRG Stadium where Jonathan Owens and the Houston Texans play.
Simone seems content living in Texas, as that's where she spent most of her childhood; It's where she fell in love with gymnastics, and where she met her boyfriend. This may not be her forever home, but it's a great place for her to lay down some roots as an adult — and as a 7-time Olympic medalist.