The TV Show Joke About Selena Gomez's Surgery That Has Her Seeing Red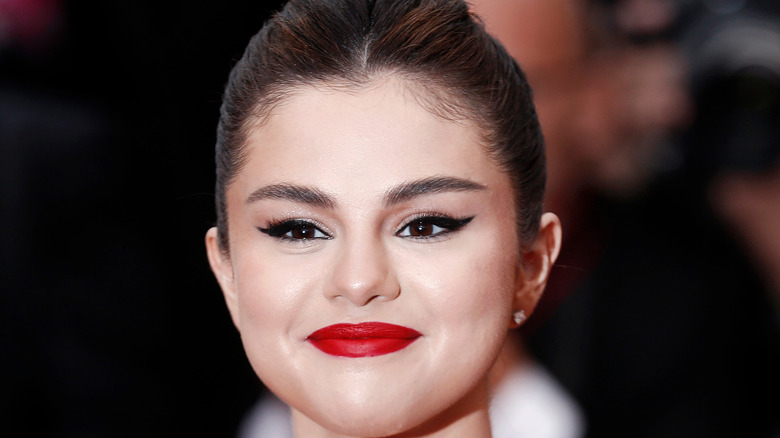 Shutterstock
Selena Gomez revealed in 2015 that she had taken time off from her singing career and checked into a rehab center the year prior as a result of her lupus diagnosis, an autoimmune disease which causes one's immune system to attack healthy tissue and organs. Her rehab stint was about undergoing chemotherapy, she told Billboard.
In 2017, the "Can't Keep My Hands to Myself" singer revealed on her Instagram account that she'd undergone a kidney transplant as a result of lupus. "So I found out I needed to get a kidney transplant due to my Lupus and was recovering," she wrote at the time. "It was what I needed to do for my overall health. I honestly look forward to sharing with you, soon my journey through these past several months as I have always wanted to do with you." She also divulged that it was her friend Francia Raisa who had donated her kidney to the "Good For You" singer. "She gave me the ultimate gift and sacrifice by donating her kidney to me. I am incredibly blessed," Gomez penned.
Since her diagnosis, Gomez has set up the Selena Gomez Lupus Research Fund to help raise money for research and spread awareness about the disease. But for all of the awareness Gomez's diagnosis and surgery raised, several TV shows still made offensive jokes about the actor-singer's condition. And she just fired back at the latest one.
Selena Gomez calls 'The Good Fight' kidney transplant joke 'tasteless'
Selena Gomez and her supporters are calling out the Paramount+ series "The Good Fight" for their "tasteless" joke about the pop star's kidney transplant, which she underwent as a result of Lupus.
In the episode, one of the characters, Jay, claimed that people today need "a permission slip to tell a joke" and proceeded to ask what topics aren't okay to joke about. The other character in the scene, Jim, replied, "Selena Gomez's kidney transplant," per Billboard. On August 3, the "Come & Get It" singer called out the show for its inappropriate joke, taking to Twitter to write, "I am not sure how writing jokes about organ transplants for television shows has become a thing but sadly it has apparently. I hope in the next writer's room when one of these tasteless jokes are presented it's called out immediately and doesn't make it on air."
Unfortunately, "The Good Fight" is not the first show to poke fun at the former Disney Channel star's organ transplant. Read on to find out what other show did it first.
The 'Saved By the Bell' reboot made multiple insensitive comments about Selena Gomez's kidney transplant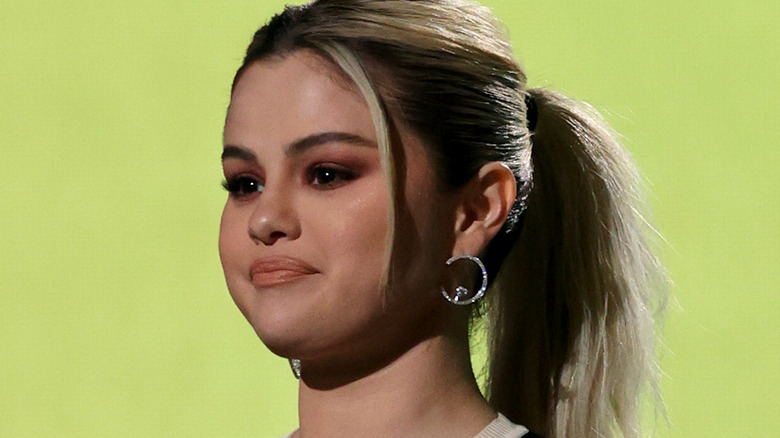 Kevin Winter/Getty Images
In the "Saved By the Bell" reboot, which premiered on Peacock in November 2020, two characters argued about who had actually donated their kidney to the "Who Says" singer. In the episode, one character remarked (via E! Online),  "Now, I know for a fact that Selena Gomez's kidney donor was Justin Bieber's mom. God, I wish that I had my phone so that I could prove it." Another character in the scene responded, "Prove what? That you're an idiot? It was Demi Lovato's kidney. They're best friends, like you and I were." If that wasn't enough, another scene features graffiti on the wall that reads: "Does Selena Gomez even have a kidney?"
Peacock eventually apologized for their comments, donated to the Selena Gomez Lupus Research Fund, and removed the scenes from the show. Gomez's donor and best friend, Francia Raisa, responded to the apology. "Appreciate the apology but let's not forget about the donors that potentially felt offended and dismissed from the spray paint written on the wall."