Sister Wives Star Kody Brown Catches Heat For New Career Venture
"Sister Wives" star Kody Brown can add a new job to his resume — he's now on Cameo! He seemed excited to announce the news, writing via Twitter on Aug. 3, "Hey everybody, I'm on CAMEO!" For $60, you can have the TLC star send you a happy birthday message, words of encouragement, or whatever else crosses your mind.
There's nothing wrong with diversifying your income stream, but not everyone is thrilled over his new career venture. Critics took him to task on Twitter as one wrote, "I think you should get a real job instead of begging for money. You got yourself into this when you ordered the stupid move from Vegas. Dig yourself out by yourself." Another seemed to question how he treated his wives, adding, "If you have time to do this you probably then have time to actually be a husband to your first wife #shameful." One critic chimed in with, "Is this how your wife's (except Robyn) get ahold of you??"
Kody is clearly dealing with some backlash, which arguably isn't surprising as he is not exactly famous for his money management skills — keep reading for more details about what we mean.
Kody Brown might be in a tough financial spot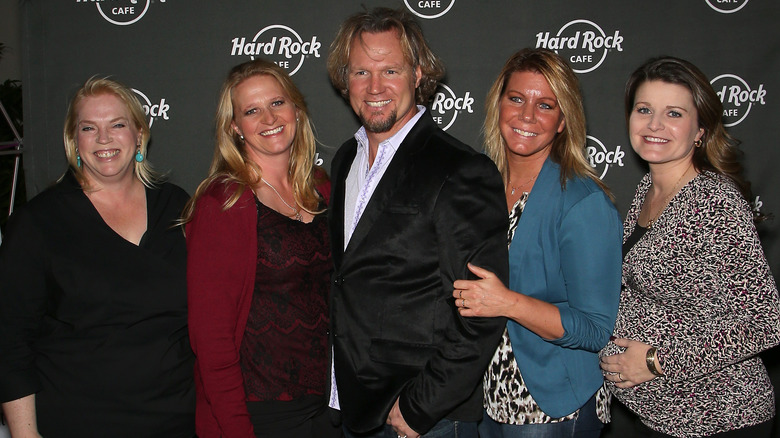 Gabe Ginsberg/Getty Images
"Sister Wives" star Kody Brown is no stranger to financial issues. According to a November 2020 report from The Sun, he reportedly owes more than $2,000 in property taxes on the home he shares with his fourth wife, Robyn.
To make matters even more complicated, Kody did not even start building on that land yet. And that's not all — Kody was allegedly late on the first half of a property tax payment for his $890,000 home that was due on Nov. 2, 2020. As a result of interest, he now needs to pay $465.01, according to the outlet. He also supposedly did not pay the first half of property taxes for one of the four parcels of land he bought, bringing that debt to $1,075.20. Throw in a second parcel of land, and that adds another $1,114.55 in property taxes that Kody needs to pay. Yikes!
The family seems to have fallen on hard times after they moved from Las Vegas to Flagstaff, Arizona. They had trouble selling their four homes, which later "sold for thousands under their asking price," The Sun reported. Their money issues were no secret, as wife Christine shared during the most recent season of the show: "Financially, we're drowning." Kody added, "Basically we're paying four, no five mortgages with the Coyote Pass property." Hopefully, Kody's Cameo gig brings in extra income.