Travis Barker's Keeping Up With The Kardashians Cameo You Probably Forgot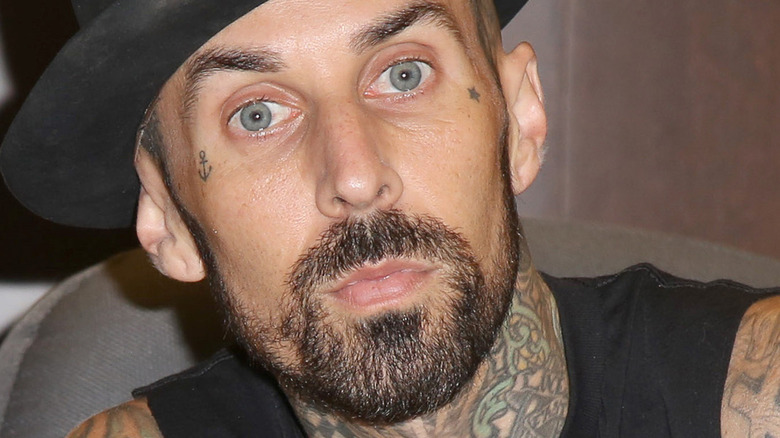 Shutterstock
Kourtney Kardashian and Travis Barker have been the First Couple of Instagram since going official on the platform in February. Kourtney shared an Instagram photo of her and Barker's hands interlocked right after Valentine's Day, and the pair has gone on something of a social media PDA spree ever since. Barker showcased a "Kourtney" tattoo on his Instagram in April (with her manicured fingers endearingly caressing the ink), and the Poosh founder one-upped him in June by posting a vial of blood labeled "Travis Barker" in an Instagram Story. While one fan replied "gross" to the Daily Mail's tweet of the story, it was obvious Barker and Kourtney had no problem giving their love the limelight. 
Although reportedly dating on the down low since late 2020, the Blink-182 drummer and the "Keeping Up with the Kardashians" star only made it a public affair in January with flirty Instagram comments, per the Daily Mail. Long before things got hot and publicly heavy, however, the two started as just friends, with Barker being a fellow resident in Kourtney's Calabasas, Calif. neighborhood. 
Now, fans have noticed that Barker made numerous pre-"Kourvis" appearances on "KUWTK." Here is why some fans think these cameos foreshadowed the pair's chemistry. 
Fans thinks Travis Barker and Kourtney Kardashian had chemistry a long time ago
Travis Barker made multiple "Keeping Up with the Kardashians" appearances before he and Kourtney Kardashian got romantic — and all have now adopted a new meaning! Though Barker gave People the "just friends" line about Kourtney in 2019, rediscovered footage of him and the middle Kardashian sis in "KUWTK" episodes made some suspect sparks flew long ago. 
Highlight clips from a Kardashian fan account on Instagram show Barker and Kourtney hanging on the show tons of times. As she explained in a 2017 clip, "Our neighbor and friend Travis Barker decided to come over because his kids and my kids are really good friends." One fan noticed Barker didn't make eye contact with Kourtney in the clip, which they think shows a sign of being in love. In another 2017 episode, Kourtney, with a warm smile, invited Barker to make a gingerbread house while the drummer was at her house celebrating Christmastime fun with her family. In a shorter, but very cozy-looking clip from Kourtney's birthday bash in 2019, the pair are sitting and laughing while — wait for it — their shoulders touched. Cue the gasps! "Yikes! And Scott [Disick] and Younes [Bendjima] were there. It's no wonder she had anxiety about the party," one fan commented, per Daily Mail. "The way they look at each other," another quipped.
Whether the fans are reading a little too much into these "KUWTK" episodes or they're right on the money, it's safe to say Barker and Kourtney's friendship laid the groundwork for their now-romance!