Siesta Key: Inside Madisson Hausburg And Ish Soto's Relationship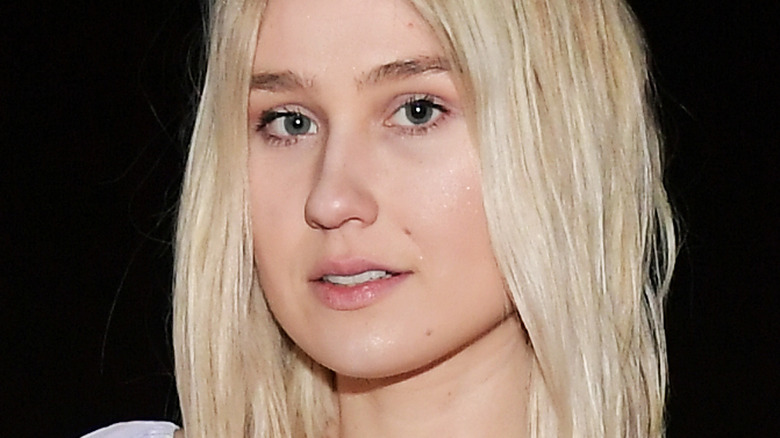 Neilson Barnard/Getty Images
First comes love, then comes the engagement, then comes the baby! Congratulations are in order for "Siesta Key" star Madisson Hausburg and Ismael "Ish" Soto, as the pair just revealed via Instagram on Aug. 4 that they are expecting a baby in January 2022.
Madisson posted a trio of photos to Instagram captioning it "Mom and Dad," while her fiancé Ish shared and captioned a different photo of the happy couple holding up an ultrasound photograph, "We are so excited! I love you so much!!!" he captioned the post, "You're going to be the best mom!!!" Fellow "Siesta Key" co-stars including Kelsey Owens and Juliette Porter were quick to congratulate the happy couple. Kelsey commented "AHHH my heart is bursting!!! You both are going to be the best parents. That's one lucky baby." While Juliette commented, "Ahhh so happy for you both!"
Although an outpour of love and congratulatory messages came in for the two, the pair have not always had an easy relationship, getting flak from critics. So what is their relationship really like? Keep scrolling for the details.
Madisson and Ish's romance had a dramatic start
Ish Soto was a producer on "Siesta Key" during the first season, while Madisson Hausburg is a main cast member. Hausburg opened up to her co-star on the Season 3 premiere that the two were officially dating. By the end of the season, Hausburg and Soto were engaged.
Like any relationship, the two have shared their ups and downs, one of the biggest being critical reactions to their difference in age. (As of this writing, Madisson is 27 while Ish is 46). Talking to Us Weekly about the negative chatter, Madisson said, "My relationship has been really hard just because so many people have their opinions about it. I understand that. I get that, but it's really, really tough to put something you love and you care about out there just for everyone else to tear it down."
Yet, despite critics, Hausburg moved from Siesta Key to Los Angeles to be with Ish in 2020, when they became engaged. Madisson relived their engagement during the "Siesta Key" reunion, explaining to her co-stars that after buying their first home together, she went to take a selfie, and Ish was on his knee behind her proposing. "I have never felt as safe and as loved as I do when I'm with Ish," Madisson told People. She continued, "He reminds me every single day how special I am and he makes me want to be the best possible version of myself."
Madisson defends her life with Ish
Well, it seems the two are very happy together, but it doesn't seem everyone is as happy for them. After announcing the couple is expecting, some fans commented on the official "Siesta Key" Instagram page saying that if Madisson Hausburg thought planning a wedding was stressful, wait until she raises a baby.
The comments point towards a plot point in the current season. Madisson has been planning her wedding to Ish Soto, but in a recent episode, Madisson asked whether she and Soto could stop wedding planning so she could focus on her mental health and them starting a family. Madisson clapped back at commenters though, stating that she has "never strayed from wanting to be a mom and wanting a family with Ish." She continued that their decision to start a family was not impulsive or irresponsible, and she has been working on her anxiety so she can be the best possible mom.
Despite what the critics say about their relationship, it is obvious the two are extremely happy together with Madisson commenting to Ish on Instagram saying, "I LOVE YOU AND OUR BABY SOOOO MUCH!!!"