Where Did Mike Richards Work Before Jeopardy?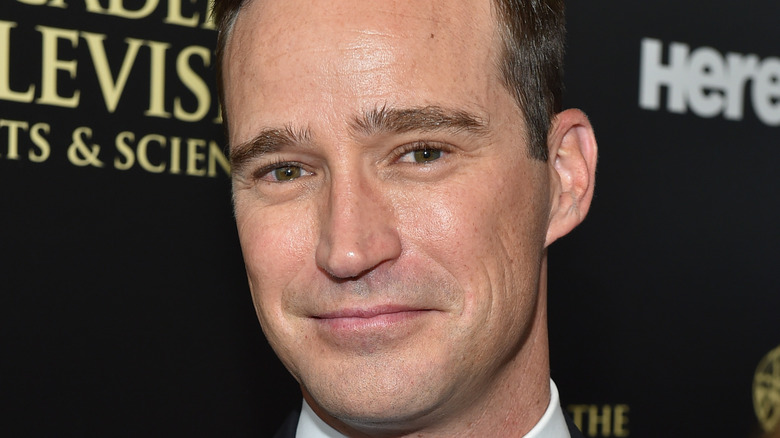 Alberto E. Rodriguez/Getty Images
Who is Mike Richards? Well, if the clue "This man replaced Alex Trebek as host of the game show he starred on since 1984" were to appear on the "Jeopardy!" game board, it's possible that a contestant could someday score some cash for saying his name (as long as they phrase their answer in the form of a question, of course).
According to Variety, Richards is in "advanced negotiations" to become the next permanent host of "Jeopardy!". If he lands the coveted gig, he'll have beat out a star-studded roster of guest hosts who got trial runs on the show after Trebek passed away in November 2020. The eclectic group of celebs hoping to fill the esteemed host's shoes included "The Big Bang Theory" star Mayim Bialik, Green Bay Packers quarterback Aaron Rodgers, "Jeopardy!" champ Ken Jennings, and "Reading Rainbow" host LeVar Burton. According to Newsweek, Jennings was the top choice to replace Trebek in a poll conducted by OnePoll. However, it looks like Richards' credentials and connections just might help him take home the prize — he is the show's executive producer, after all.
Richards just joined the show as EP in 2020 (via the New York Post), but he clearly learned the ropes pretty fast. "I was very fortunate to have a front row seat to watch and study Alex," he said. Richards' history with other game shows also could give him a bit of an edge, and he's been comfortable in front of the camera for decades.
Why Mike Richards got kicked off the news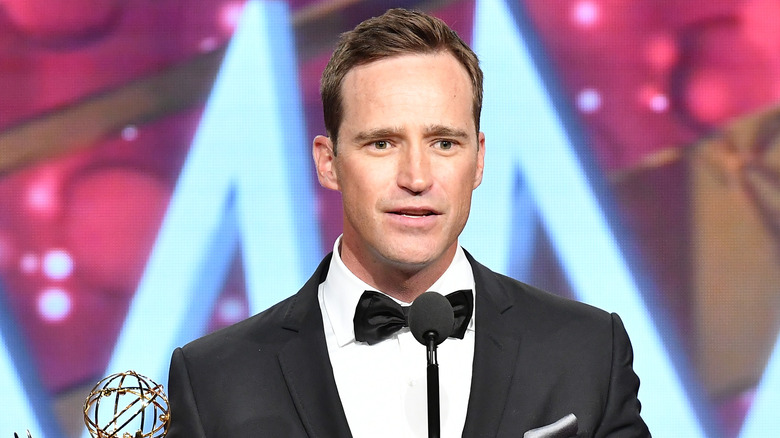 Earl Gibson Iii/Getty Images
From 2006 to 2008, Mike Richards hosted The CW reality series "Beauty and the Geek," which saw gorgeous women and socially inept men partnered together to compete for a cash prize. While chatting about the show with The CW Source in 2007, he recalled how he got his start in the entertainment business.
Richards revealed that he began appearing on camera when he was in college. "I went to Pepperdine University, and I was on the news," he stated. "We had, like, a local newscast for Malibu." It was a cable access show filmed by students, and he said that the production value was lacking. "I could never stay serious long enough, so I got kicked off of the news," he continued. However, he was presented with an even better opportunity after being fired: He got to create his own cable access show. He opted to go the late-night talk route and named his comedic creation "The Randumb Show."
At the same time he was hosting "Beauty and the Geek," Richards was also covering entertainment news on the ReelzChannel show "Dailies" (per Variety). He got another hosting job on the 2008 reality series "High School Reunion," but he was producing long before that. "At age 23, I produced my first series for USA Networks called 'Friends or Lovers,'" he told Reality Wanted in 2007. "I love working in the industry, I eat and pay bills by hosting, writing and producing."
Mike Richards missed out on hosting another daytime game show
According to Variety, Mike Richards was in the running to replace Bob Barker when the television icon decided to retire from hosting "The Price Is Right" in 2007. Richards ultimately lost the Showcase Showdown to comedian Drew Carey, but he got a pretty awesome consolation prize: He was signed as the game show's co-executive producer in 2008. He went on to win three Emmy Awards during his tenure with the show, and he took home another one this year for his work on "Jeopardy!" "I've produced for a really long time, and I take great pride in my career path and my work ethic," he said of his credentials, per USA Today.
Richards' impressive resume as an executive producer also includes "Wheel of Fortune," "Let's Make A Deal," and "Who Wants to Be a Millionaire." In addition, he found more hosting work on The Game Show Network's "The Pyramid" in 2012. However, there's no doubt that hosting "Jeopardy" would be the biggest feather in his cap, even though he wasn't angling for the hosting job when he wound up behind Trebek's old lectern. When he appeared on the show for the first time, he revealed that he was stepping in at the last minute because the COVID-19 pandemic was making some of the celebrity guest hosts "a little reticent to shoot" (via CinemaBlend). It looks like making that bold move might just pay off more than any "Jeopardy!" cash prize.