Why Aaron Carter Will Be Fully Nude For His Next Job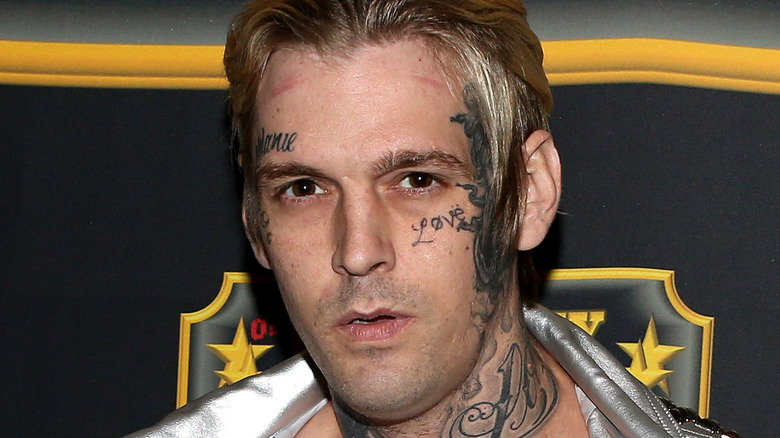 Bill Mccay/Getty Images
The sad story of former child star Aaron Carter isn't getting any cheerier. The "I Want Candy" singer is making headlines after the media learned Carter would be fully nude for his next job. 
Aaron rose to fame by age ten and earned over $200 million before he was even 18 (though much of it was spent by his parents). After Aaron's career went south, he was left with barely any, and his life spiraled out of control. In 2019, CNN reported that former pop star struggled with multiple personality disorders, schizophrenia, acute anxiety, and manic depression.
Since 2019, Aaron has launched some serious allegations against his family and especially at his brother Nick Carter, who became a star as one of the Backstreet Boys. According to The Mirror, Aaron's older brother Nick, and Aaron's twin sister Angel, filed a restraining order against him in 2019. The claims by his siblings were ugly. In September 2019, Nick tweeted, "In light of Aaron's increasingly alarming behavior and his recent confession that he harbors thoughts and intentions of killing my pregnant wife and unborn child, we were left with no choice but to take every measure possible to protect ourselves and our family." Well, keep reading to find out why Aaron will be fully nude for his next job.
Aaron Carter joining musical revue in Las Vegas 'Naked Boys Singing!'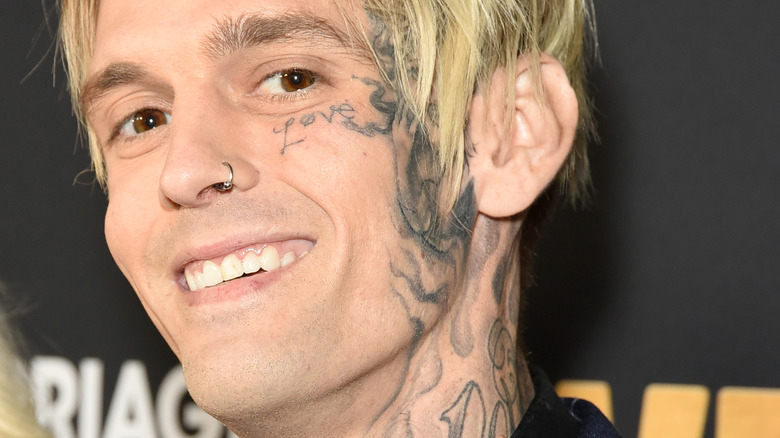 Presley Ann/Getty Images
Aaron Carter will star in a male revue musical in Las Vegas titled "Naked Boys Singing!" Page Six reported that the former pop star would be part of the 60-minute show that features an all-male cast all nude on stage. "Naked Boys Singing!" premieres on September 8.
The outlet reported that Aaron is already dropping his drawers for fans to earn money. Aaron charges $15 a month for nude photos and videos on his OnlyFans page. The former pop star told Variety that he thinks the "naked body is a beautiful thing." Carter said, "We were all born naked. I love doing OnlyFans...They make you feel attractive and good about yourself... It's not about the money. It's about the fans." According to Page Six, stars like Cardi B and Chris Brown have also had Only Fans pages. 
The Naked Boys Singing website claims to be a "hilarious musical revue features 15 original songs, a bevy of gorgeous and talented men, and no clothes — a winning combination if ever there was one!" According to Page Six, Aaron's new gig and his Only Fans page are not the only places he gets nude. The "I Want Candy" singer started a Livestream porn show on CamSoda in December 2020. 
Aaron Carter's downward spiral is a tough subject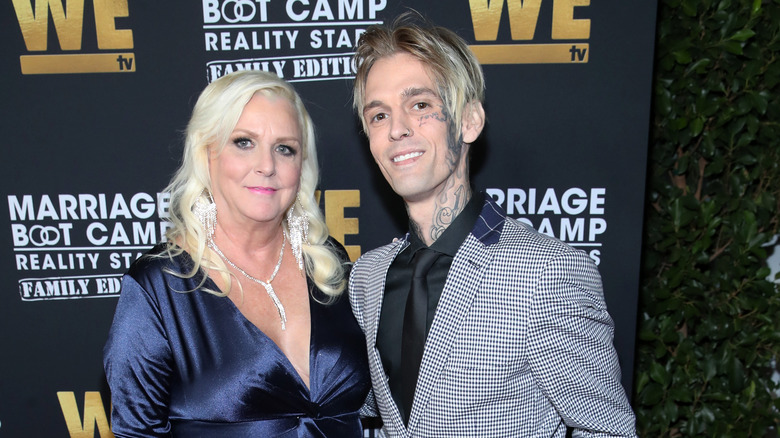 Randy Shropshire/Getty Images
It seems like Aaron Carter continues to make news for his outrageous behavior, leading some fans to wonder if he can stop his downward spiral. But to stop spiraling, Aaron may need to keep toxic family members at bay, like his mother, Jane Carter. The Carter family matriarch has a history of abusive behavior and allegedly stole money while managing Aaron's career as a child.
"There was a lot of neglect on my parents' part. They didn't do a lot of things right," Aaron has said (via HuffPost). "I made over $200 million in my career before I even turned 18 years old. ... Under the Coogan Law, [my parents] were supposed to be putting 15 percent of my money into my Coogan Account," he explained. "I got $2 million when I turned 18 years old. I should have had at least $20 million in my account." At the time, Aaron realized he not only had much less than that but owed $4 million in tax liens due to his parents' irresponsible spending. Things have only spiraled from there, much of it, fairly, at Aaron's doing.
After Nick got a restraining order against Aaron, the bad blood between the Carter brothers hasn't stopped. Clearly, there's a lot of toxicity in this once-shining family, but if Aaron is ready to go nude, that's his choice.
If you or anyone you know is struggling with addiction issues, help is available. Visit the Substance Abuse and Mental Health Services Administration website or contact SAMHSA's National Helpline at 1-800-662-HELP (4357).