The True Meaning Behind 'Motley Crew' By Post Malone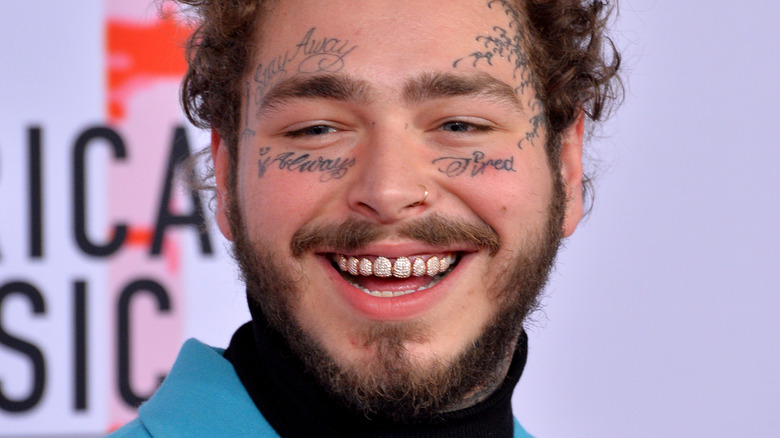 Shutterstock
Fans of Post Malone are probably pretty excited when the superstar releases new music and that was surely the case on June 30, when he first teased fans with "Motley Crew," according to Genius. Found on his upcoming fourth studio album "Only Wanna Be With You," the tune is apparently "a return to the Post Malone of old, with a closer resemblance to rap instead of the primarily pop-driven [2019 album] 'Hollywood's Bleeding,'" per Genius. 
The song also comes along with a music video that features Malone in a racing get-up as well as fitting appearances by NASCAR's Bubba Wallace and Denny Hamlin, per Pitchfork, not to mention fellow famous music industry figures like Ty Dolla $ign and Big Sean. Of course, anyone who checks out the video will also notice a cameo by none other than Tommy Lee, who found fame as the drummer of glam group Mötley Crüe (and was the namesake of an earlier tune that Malone did with Tyla Yaweh).
So, does that mean that the song "Motley Crew" is indeed about Lee and his band? Read on to find out!
Post Malone likes to party with his 'Motley Crew'
Written by Post Malone along with a team of music industry pros, per Genius, the video for "Motley Crew" sees the rapper riding along with Tommy Lee and celebrating like a first-place winner. He can also be seen hanging out with his famous friends while they all heat things up in the same spot where race cars set the road on fire. At the same time, Malone can be heard in the first verse rapping, "Sit-up, pour, I just forgot where I was / Pour it up, throw it up, sit up, what? / Get up, b***h, get up, b***h, get up." Obviously in the mood to party, he then adds, "Came with a wig splitter / I got John Wick hitters (Ooh) / I'ma go get, get up (Wow, uh)."
In the second verse, Malone isn't afraid to flaunt his friends, riches, and influence. "What you gon' do? I'ma pull up with the crew / When I'm off the juice, I like to hang out the roof," he raps, before telling listeners, "I'm rockin' jewels, I like when the diamonds, they move / I just go through, I do not wait in a queue."
Granted, there's more to this song than just living well and having a good time. It turns out that there happens to be something special behind the subject of the song and when the tune was released. Read on for more!
There was a timely inspiration for Post Malone's 'Motley Crew'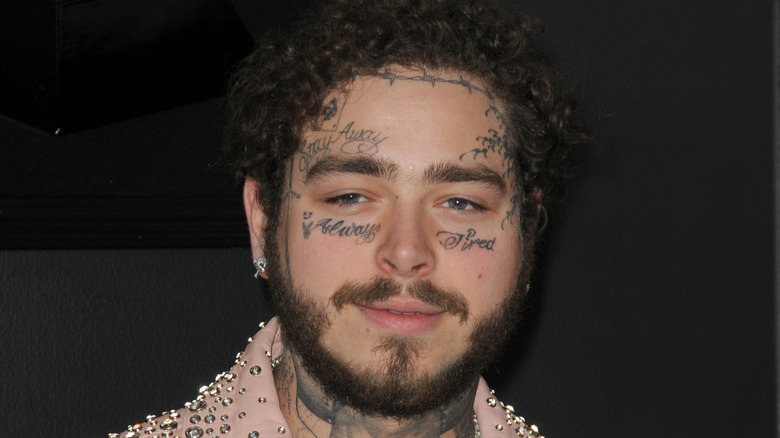 Shutterstock
If you listen to "Motley Crew" from Post Malone, then you'll hear him tell fans in the chorus, "Came with the gang, a myriad / ... Where is my roof? Mysterious / ... Curtains with yellow interior / B***h, I'm a star, I'm Sirius / We came to play, it's serious." He adds, "Came with the gang, a myriad / Came with the motley crew."
Although a motley crew can refer to "an unusual mixed group," according to Merriam-Webster — which could be a term used to describe Malone and his friends — there's more to the song than simply getting out to have a good time with people you like to spend time with. When Malone was writing and recording "Motley Crew," the world was dealing with the coronavirus pandemic and related lockdown. Because of that, it had been quite a while since anyone had enjoyed the kind of night out that's mentioned in the song.
The star explained to Apple Music (via Genius), "What I remember most about making this song is that night in the studio. I was home thinking about people getting back in the mosh pits and partying again." Relisten to the song and it may hit a little differently now that you know the full motivation and meaning behind this catchy release.