The Truth About Michael C. Hall And Jennifer Carpenter's Divorce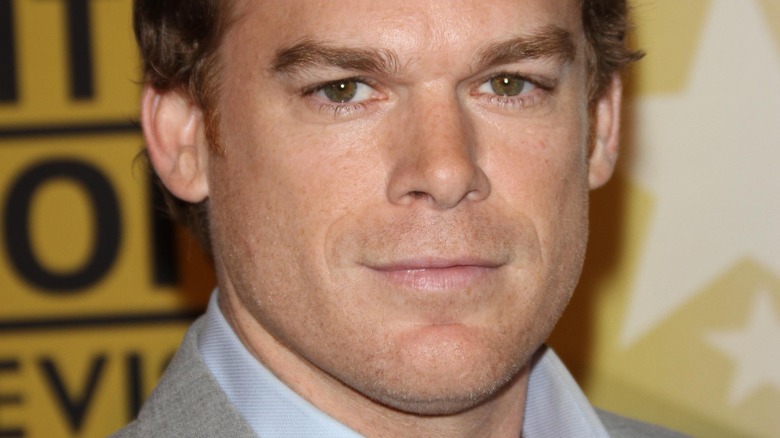 Shutterstock
When "Dexter," a series about blood-spatter analyst and serial killer, Dexter Morgan, hit Showtime in 2006, it quickly became the new jaw-dropping drama series to watch. The show has had years of binge-worthy rerun time on platforms like Netflix and PlutoTV, and "Dexter" is undoubtedly part of the zeitgeist. However, there are some things about Michael C. Hall and Jennifer Carpenter you might not know. For instance, while the two played a brother and sister crime-fighting duo — the titular Dexter and Debra Morgan — on TV, in real life, they were shortly husband and wife. 
After a New Year's elopement in 2008, Hall and Carpenter continued to work together on "Dexter", despite the state of their marriage quickly crumbling. By the summer of 2010, according to Divorce Mag, Carpenter had filed for divorce, citing "irreconcilable differences." Their divorce was finalized in 2011, long before the two would part ways professionally. As their marriage came to an end, the two committed to seeing their work on "Dexter" through to the end, which came in September of 2012. Here's more on their relationship.
Michael C. Hall and Jennifer Carpenter kept mum on reasons for divorce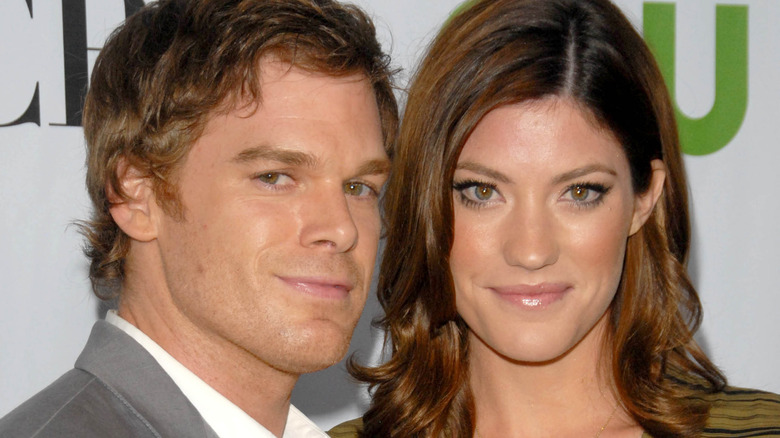 Shutterstock
So why did the acting duo call it quits? While both actors have spoken of their time on "Dexter" after their divorce, neither has offered a closer look into their personal relationship. Carpenter and Hall kept the details of their reasons for divorcing mum and to this day, no public tidbits have been provided on why the couple decided that divorce was necessary. That doesn't mean, however, that we won't see them back in action together. 
Coming in November, a ten-episode reboot of "Dexter" is planned. And according to Julie Benz, who played Rita Morgan, Dexter's naïve and willfully blind wife on the show, the limited series is "going to give fans the ending it deserved versus the ending that was," as she exclusively told us. 
The trailer for the new series extension titled "Dexter: New Blood," which was posted to YouTube, focuses on Dexter's struggle to blend into his new surroundings, but one thing he can't escape is the dark passenger who always waits, lurking in the shadows on his life. Dexter will struggle to keep his dark passenger satisfied without giving away anything about his past or who he's come to be. But fans of the show know that no matter what, the darkness always wins in the end. 
Michael C. Hall and Jennifer Carpenter have moved on
Bryan Bedder/Getty Images
Because Hall and Carpenter filed for divorce in California, they weren't permitted to remarry until the divorce was finalized. However, in May of 2012, Hall moved on with novelist, Morgan Macgregor (seen above), whom he married in 2016, according to Gossip Cop. 2016 also meant wedding bells for Carpenter, who married musician Seth Avett (yes, of the Avett Brothers) and People reports the two welcomed their son, Isaac, in 2019.
While the finer points of their relationship were never made public, it's clear that both Hall and Carpenter have the utmost respect for each other as people, actors, and colleagues. According to Divorce Mag, Hall has this to say about working with his ex-wife after their divorce: "It's gratifying, honestly. The fact that Jennifer and I worked through whatever was going on with us personally in the way we did and maintained our commitment to telling this story was never in question. It was always what we needed and wanted to do."
For her part, Carpenter added, "I feel like marriage is sort of like a generic label. Our marriage didn't look like anyone else's. And our divorce didn't either. So, I've said it before and we've said it before. Just because the marriage ended doesn't mean the love did. It's an awkward thing to talk about your personal life in front of a bunch of strangers, but there's nothing but love and respect. Nothing."