The Truth About Meghan And Harry's Mansion In Montecito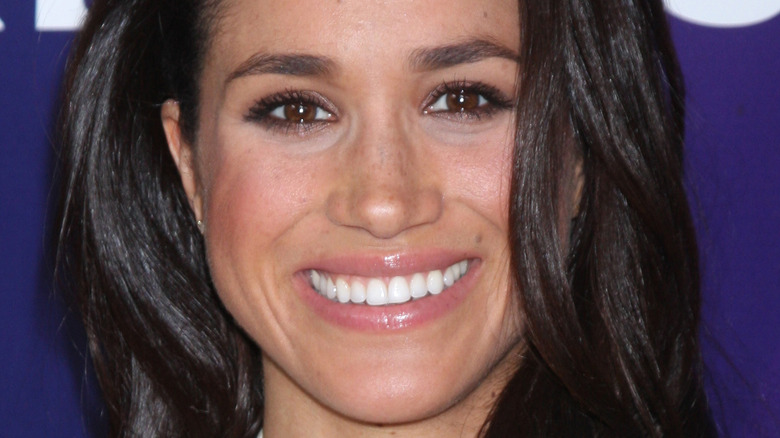 Shutterstock
Meghan Markle and Prince Harry gave up their lives as royals to move into a ritzy neighborhood in Montecito, California, and "Megxit" has helped the Duke and Duchess of Sussex become official American celebrities. For evidence of just how interested fans and critics of the couple are in their lives, take a look at the reactions to Meghan's new Archewell video showing the inside of their palatial home.
In honor of her 40th birthday, Meghan announced the launch of her 40x40 initiative, a mentorship program geared toward women who are re-entering the workforce amid the COVID-19 pandemic. She teamed up with actor Melissa McCarthy to create a video promoting the project, and it was filmed inside her mansion. It was not exactly an episode of "Cribs," but viewers had plenty of visual details to drink in before Meghan bid them farewell with a teacup toast. On Twitter, royal commentator Angela Levin suggested that Meghan and Melissa were "mocking the Queen," and Hannah Martin from the Talented Ladies Club told The Daily Express that Meghan's initiative "feels a little like a publicity stunt." But while it brought out the haters in full force, we're simply here to drool over her interior design fit for a queen.
All the details about Meghan Markle and Prince Harry's gorgeous home
According to The New York Post, Meghan Markle and Prince Harry purchased their 18,000-square-foot mansion for $14.65 million last summer. It's located near the Santa Barbara beach, and the couple can boast plenty of celebrity neighbors who also enjoy the prime real estate location. Oprah Winfrey lives nearby, as do two other famous couples: Ellen DeGeneres and Portia di Rossi, and Katy Perry and Harry's new friend Orlando Bloom (via Architectural Digest).
The room Meghan's viewers saw in her video featured a mostly cream interior. She sat at a very sturdy-looking wooden table with a weathered finish. It was positioned in front of a massive stone fireplace, and her adorable beagle Guy was curled up beside it on a striped bed. A textured rug on the floor matched the beige color scheme, and some white roses with ridiculously huge blooms sat in a glass vase on the table. In some shots, a fiddle-leaf fig tree was visible near the window.
Harry and Meghan's home reportedly has nine bedrooms and 16 bathrooms. (Say what?!) There's a library, arcade, gym, two saunas, and a wine cellar. The couple also has a home theater where they can watch all their Netflix productions (via Variety). Outside, there's a chicken coop, tennis court, and outdoor pizza oven. The oasis is the perfectly place to sit and sip your tea while your haters stew.