Why Chrissy Teigen Has Regrets About Her Plastic Surgery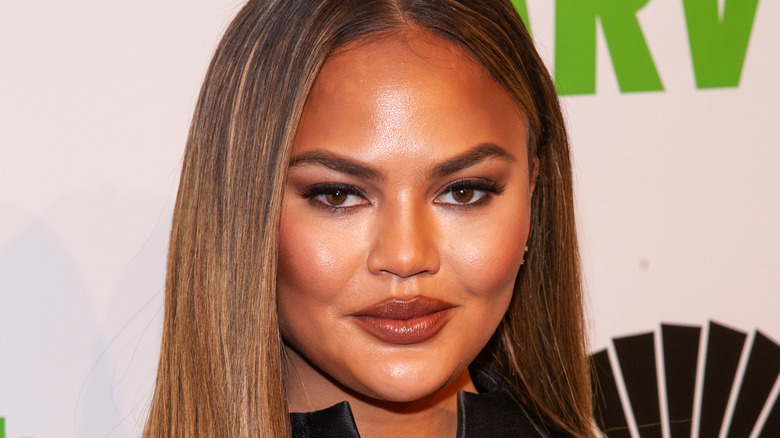 Shutterstock
Chrissy Teigen, who updated the world on her mental well-being in late July 2021 after being admitted into what she called the "cancel club," has always spoken plainly about her mental health, especially when pertaining to her body image. After all, Teigen is a former Sports Illustrated supermodel, an occupation notorious for breeding insecurities. In August 2020, Teigen shared with Glamour that as an 18-year-old model, she used to weigh herself every morning, afternoon and night. At age 20, she went under the knife, receiving a breast augmentation. "It was more for a swimsuit thing," Teigen said. "I thought, if I'm going to be posing, laid on my back, I want them to be perky!"
Teigen, a mother to Luna and Miles Legend with husband John Legend, also revealed how her attitude toward her body has relaxed after giving birth twice. "I do look at [my body] in the shower and think, 'Arghhh, these kids'," Teigen joked. "But I don't take the aesthetics so seriously now. It's very fulfilling not having that pressure of putting on a swimsuit and looking good for a magazine while running around a beach... I'm already thinking enough things I am mad at myself about, I can't add my body into it."
It seems Teigen's more positive outlook on her body has extended to her breast implants, with her having them removed in June 2020. Here's why Teigen regretted her breast augmentation.
Chrissy Teigen says having kids and breast enhancements don't gel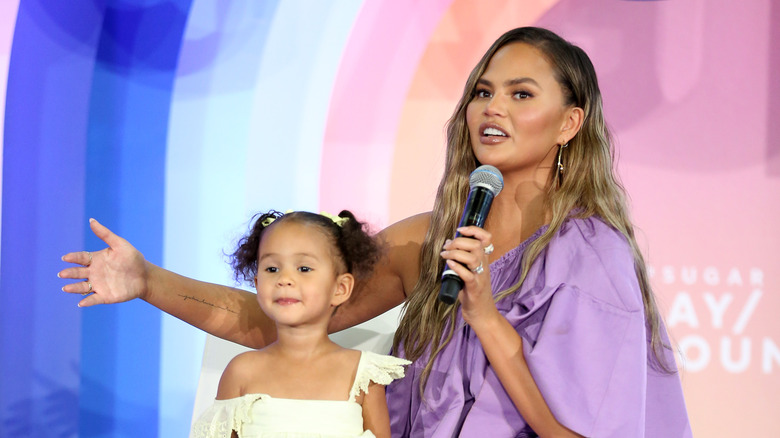 Monica Schipper/Getty Images
Although Chrissy Teigen's figure made her a highly successful swimsuit supermodel by her early 20s, she had become tired of her surgically enhanced breasts by 2020. Speaking with Glamour, Teigen explained, "I kept them the same cup size. I just filled them out, so they are rounder and firmer. I had a quarter 'teardrop' cup in the bottom and filled out the breast line." However, the ex-model revealed her two pregnancies forced her to rethink her boob job.
"You have babies and they fill up with milk and deflate and now I am screwed," Teigen shared with candor, although she said she worried about re-doing her breasts or removing them. "I think you're supposed to replace [implants] every ten years. But when you have kids you think about [the risks] of surgery and I think, 'This is not the way I want to die, in boob surgery,'" she stated.
However, Teigen admitted, "I want them out now. If I could do one thing, it would be to have a lift." By the time she spoke to Glamour UK again in August 2020, however, Teigen's tune had changed about undergoing cosmetic breast procedures. Read on for the turn of events. 
Chrissy Teigen reassures that she'll "still have boobs" post-surgery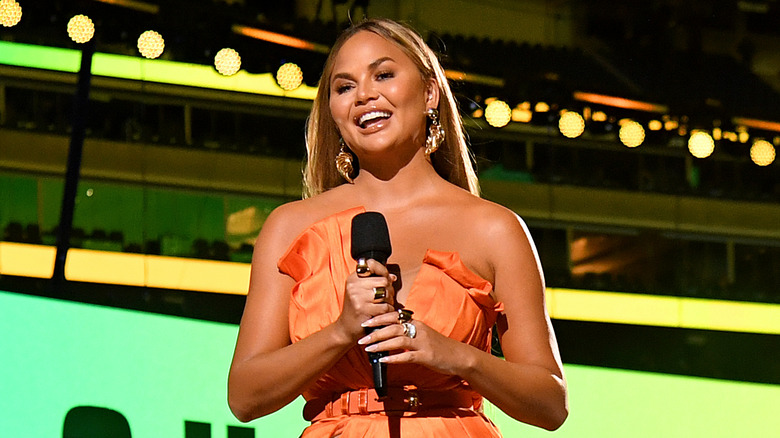 Kevin Mazur/Getty Images
Well, Chrissy Teigen did have her breast implants removed. In May 2020, Teigen announced via social media (duh, where else) that she was about to receive the surgery she had long desired. Tweeting an Instagram screenshot of her announcement with a very Teigen-esque tone, the model shared, "Hi hi! So I posted myself getting a covid test on the twitter, as I'm getting surgery soon. A lot of people are understandably curious (and nosey!) so I'll just say it here: I'm getting my boobs out! They've been great to me for many years but I'm just over it." Teigen went on to list the benefits of her breast surgery, including being able to "zip a dress in my size" and "lay on my belly with pure comfort!" She reassured fans, "I'll still have boobs, they'll just be pure fat. Which is all a tit is in the first place. A dumb, miraculous bag of fat." ...True?
By August, Teigen told Glamour that her decision partially came from her desire to be a good role model. "You can't set these expectations for people that everything is perfect," she explained. "Everyone filters their s**t, edits or Facetunes so you forget what normal faces or bodies look like. It's not fair and it makes you jealous of other people's bodies." However, Teigen stated that she wished simultaneously to educate her children about plastic surgery "to be comfortable in their own skin... you want to tell them everything you can and let them decide."