More And More Retailers Are Turning Their Backs On Chrissy Teigen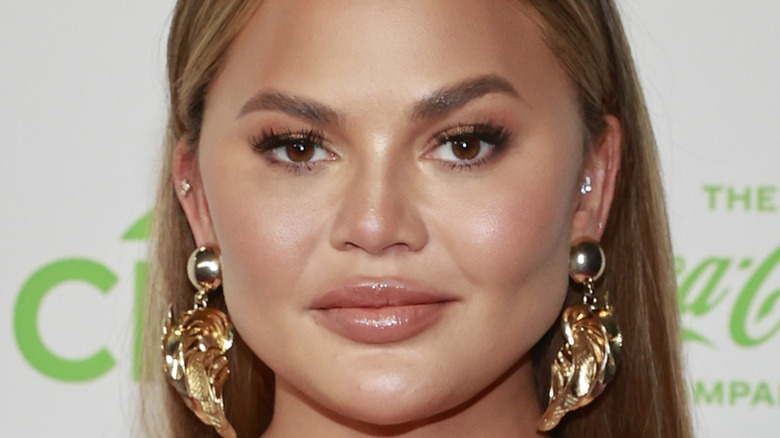 Emma Mcintyre/Getty Images
In May 2021, Chrissy Teigen made headlines (and not in a good way) when media resurfaced her previous tweets bullying the likes of model Courtney Stodden and reality TV personality Farrah Abraham. In an interview with the Daily Beast, Stodden alleged that Teigen had even gone so far as to encourage suicide.
"She wouldn't just publicly tweet about wanting me to take a 'dirt nap' but would privately DM me and tell me to kill myself," Stodden — who now identifies as non-binary and goes by the pronouns "they/them/theirs" — shared with the outlet. Teigen also took aim at "Teen Mom" star Abraham with her 2013 tweet: "farrah abraham now thinks she is pregnant from her sex tape. In other news you're a w***e and everyone hates you whoops not other news sorry."
In the wake of the backlash, Teigen tweeted a public apology in which she confirmed she had privately reached out to Stodden as well. "I'm mortified and sad at who I used to be," the former Twitter queen wrote. "I was an insecure, attention seeking troll. I am ashamed and completely embarrassed at my behavior but that ... is nothing compared to how I made Courtney feel." She concluded, "I will forever work on being better than I was 10 years ago, 1 year ago, 6 months ago."
But is her apology enough? It seems the damage has already been done, and Teigen is paying the price for her cyberbullying.
Bloomingdale's drops Chrissy Teigen's cookware line
Frazer Harrison/Getty Images
Amid the fallout of Chrissy Teigen's old tweets, retail giant Macy's dropped Teigen's cookware range Cravings, per Daily Mail. Though Macy's did not confirm the decision was as a result of the social media controversy, conservative political activist Candace Owens strongly implied that was the case. "I am pleased to announce that as of this evening, Macy's has removed Chrissy Teigen's cookware line from its website," she tweeted. "Thank you @Macys for doing the right thing. Teenage suicide is not a joke."
As of this writing, Page Six reports that Bloomingdale's has followed Macy's example, and dropped Teigen like a hot potato. "We're told Bloomingdale's was hours away from signing a contract with the Twitter personality and cookbook author, which would see her host a promotional event for the store, but pulled the plug on Monday because of the toxic press swirling around Teigen," the outlet said. An insider revealed that the event was pretty much a done deal until it was canceled "at the 11th hour."
Target also no longer carries the former supermodel's Cravings line, though this business move "was in motion long before Courtney ... raised their issues with Chrissy's treatment of them," according to TMZ. Regardless, it seems the cookbook author is feeling the heat.