The Truth About Chris Cuomo's Relationship With His Brother Andrew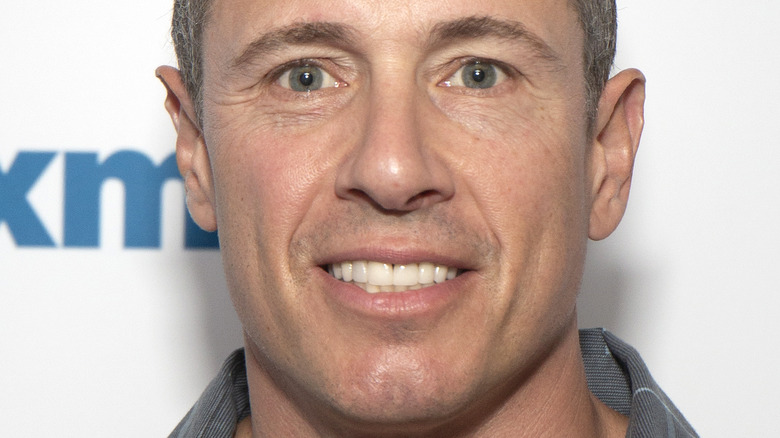 Santiago Felipe/Getty Images
Andrew Cuomo has always had a very close relationship with his little brother, Chris Cuomo. As a matter of fact, the Governor of New York was more like a father figure towards him, especially after the death of their own father, former Governor Mario Cuomo. The two brothers have always been supportive of one another, both in their personal and professional lives.
In fact, during a press briefing in March 2020, Andrew made it no secret that he admired his younger brother and the different path he took in his life, despite his father's insistence for Chris to practice law. "My father was a very strong personality, and my father basically suggested forcefully to Chris that he should be a lawyer," Andrew recalled (via ET Online). "It was a different time and a different place. So, Chris went to law school. God bless him, he quit the law firm, went to work for Fox TV, which is a whole separate conversation in the house, and then worked his way up. He's at CNN. He does a beautiful job."
Seeing how the two brothers are so close, it shouldn't come as a surprise to anyone that their relationship along with some of the things that have been done and said has stirred quite a lot of controversy. Keep reading below to find out why.
The Cuomo's thick-as-blood brotherly bond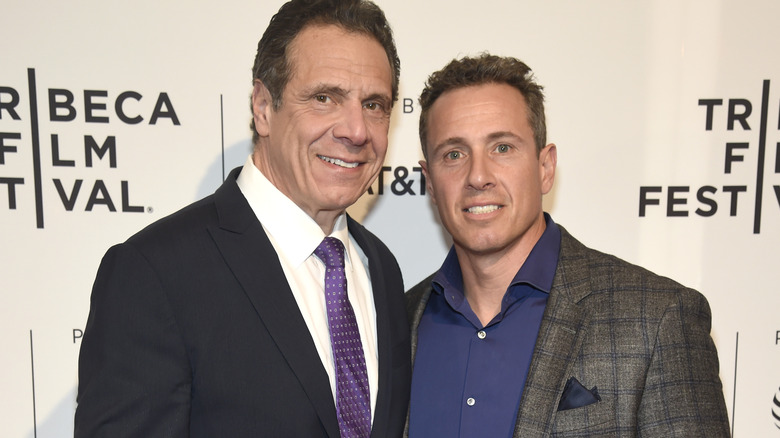 Kevin Mazur/Getty Images
For Andrew Cuomo and Chris Cuomo, the importance of family was always strongly emphasized while they were growing up in their Italian-American and very Catholic household. Through the good times and the bad, the two brothers always stuck up for each other, regardless of what the battle was or what the outcome would be. During the early months of 2020, Andrew even appeared on Chris' CNN show, "Cuomo Prime Time" to discuss the rising cases of COVID-19 both in New York and throughout the world. It was during the height of the pandemic, but also the height of their popularity, as the Cuomo brothers provided much-needed comedic banter during an otherwise grim moment in everyone's lives.
However, Andrew's appearance on Chris' show also sparked a lot of backlash, as many people raised their eyebrows over the journalistic ethics of Chris interviewing his brother, who also happened to be the governor of New York state. But that wasn't the only thing that landed the Cuomo brothers in hot water. According to The Washington Post, Chris took part in strategy calls to advise Andrew on how to respond to his sexual harassment allegations. This led to a delicate slap on the wrist from CNN and a whole lot of criticism, too.
Chris Cuomo is Andrew's ride or die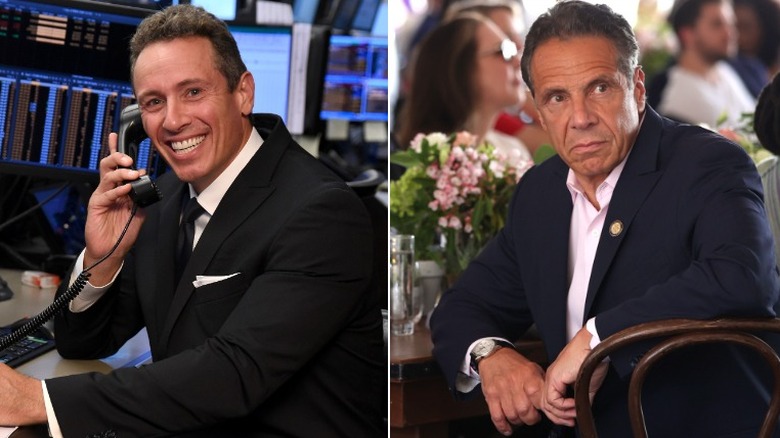 Presley Ann, Cindy Ord/Getty Images
Andrew Cuomo's political career might have peaked during the COVID-19 pandemic thanks to the way he spoke with empathy about the loss of life while also providing the kind of parental guidance that many in the United States were craving at the time. But everything came to a crashing halt when sexual harassment allegations were made against him, which led to a report by New York's state attorney general that found he did make unwanted advances towards multiple women.
In May 2021, Chris apologized for getting involved in Andrew's scandal. "When my brother's situation became turbulent, being looped into calls with other friends of his and advisors that did include some of his staff," he said, per NBC News. "It will not happen again. It was a mistake."
But now that there have been calls for Andrew's impeachment, Chris has been laying low. Page Six reports that Chris, sure enough, "has a lot to say" about his brother's sexual harassment schedule but instead has taken a strategically-timed vacation from his network as pressure continues to mount for Andrew to resign. Chris has been banned from discussing his brother on CNN, but to his critics, Chris' silence speaks volumes as this proves once again that when it comes to the Cuomo brothers, that they'll ride together — and maybe even go down together, too.
If you or anyone you know has been a victim of sexual assault, help is available. Visit the Rape, Abuse & Incest National Network website or contact RAINN's National Helpline at 1-800-656-HOPE (4673).