Piers Morgan Lashes Out At Andrew Cuomo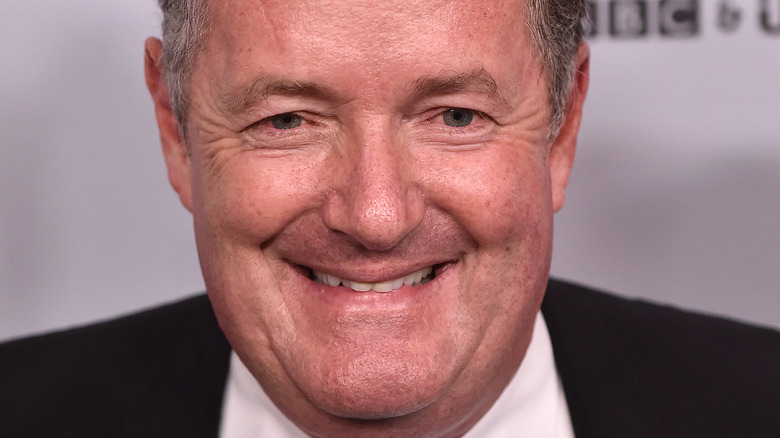 Shutterstock
The following article contains mentions of sexual and workplace harassment. 
New York Governor Andrew Cuomo has been feeling the pressure to step down ever since an investigation found that he had sexually harassed 11 women. President Joe Biden was one of several such public voices. "I think he should resign," Biden told reporters on August 3, per NBC News. Gubernatorial candidate Cynthia Nixon and Senate Majority Leader Chuck Schumer have also insisted Cuomo voluntarily leave office prior to the investigation's conclusion. Nixon, who ran against Cuomo in the 2018 New York gubernatorial race, tweeted in March that the governor could no longer "be relied upon to act in the best interests of everyday NYers over his own perceived interests & those of his donors." Schumer echoed Nixon's sentiment that Cuomo's resignation would be "for the good of the state" in a MSNBC interview (via CNN).
Cuomo might not go quietly, however, as he has categorically denied all allegations and refused to give up his post throughout his investigation. Nonetheless, the public official can expect his impeachment to chug ahead with speed. In a statement, New York State Assembly Speaker Carl Heastie, who ordered the investigation, revealed, "We will move expeditiously and look to conclude our impeachment investigation as quickly as possible."
With things in the balance for the politician, Cuomo's detractors just added one more name to their club: Piers Morgan. Here's what the outspoken personality had to say about the governor.
Piers Morgan calls for "sleazeball" Andrew Cuomo to resign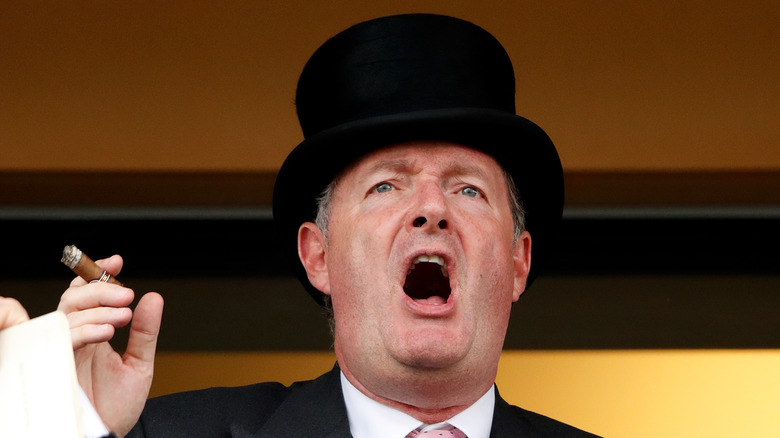 Max Mumby/indigo/Getty Images
Only recently beloved for his handling of the coronavirus pandemic, New York Governor Andrew Cuomo is now facing the music after the damning results of a sexual harassment investigation  — and Piers Morgan is the harshest of his critics yet. In an August 9 column for the Daily Mail, Morgan opened with playwright Tennessee Williams' famous line, "The only thing worse than a liar is a liar that's also a hypocrite." Calling Cuomo a "fork-tongued, disingenuous, duplicitous, charlatan sleazeball," Morgan's tirade lampooned the governor for "doing some of this stuff at the very same time as he was publicly positioning himself as a heroic #MeToo advocate to women," noting an August 2019 gala Cuomo held to celebrate his signing of laws protecting women from sexual harassment in the workplace. Per New York Attorney General Letitia James's investigation (via CNN), Cuomo was found to have engaged in "unwelcome and non consensual touching" with 11 women, including staff members. 
Morgan argued that Cuomo, who discharged thousands of possibly COVID-infected elderly back into nursing homes in 2020, should have been ousted for that alone. "As he accepted Emmys for his heroic handling of the pandemic, wrote self-congratulatory books about his own magnificent leadership... Cuomo persistently lied about the number of people that were sent back to nursing homes, and the number of nursing home residents who died from the virus," he wrote, concluding simply, "He must resign today." 
If you or someone you know has been the victim of sexual assault, you can call the National Sexual Assault Hotline at 1-800-656-HOPE (4673) or visit RAINN.org for additional resources.