Royal Expert Slams Prince Harry For Juggling In Meghan Markle's 40x40 Video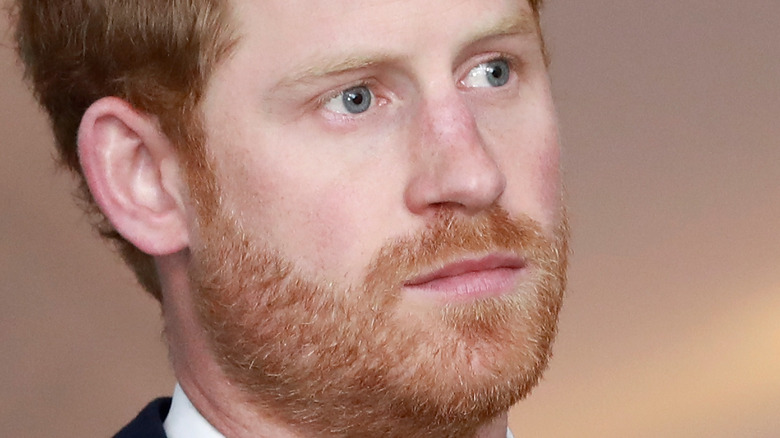 John Phillips/Getty Images
Prince Harry made a surprise appearance in Meghan Markle's 40x40 initiative video which was posted on the Archewell website on her birthday. The Duke of Sussex didn't play a role in the video clip, but he was included in the blooper reel that played at the end. It all went down with Meghan was chatting with actor Melissa McCarthy about what to do for her 40th birthday. Melissa suggested tea with Meghan's chickens, and while Meghan was responding, Melissa caught a glimpse of Harry standing outside the window juggling. Melissa started laughing, and Meghan turned to see her husband, dressed in a gray collared shirt and wearing a pair of sunglasses, tossing items into the air — and she started laughing, too.
Ultimately, Meghan revealed that she was launching the 40x40 initiative in which she said she asked 40 friends to donate 40 minutes of their time to help a woman get back into the work force following job loss during the coronavirus pandemic. The fun video that was used to announce the new project showed a different side of the Duke and Duchess of Sussex, who have made a few appearance in 2021, but most have been more serious. However, not everyone was entertained by it. Keep reading to find out what one royal expert had to say about Harry's juggling appearance.
Prince Harry was 'juggling like a clown,' expert says
Following the release of Meghan Markle's 40x40 video, royal expert Jonathan Sacerdoti spoke out about Prince Harry's appearance, slamming the Duke of Sussex for becoming a sort of "sidekick" to Meghan. "What a fall – from being Prince to literally being a jester in the court of Queen Meghan," Sacerdoti told Express. He went on to point out that Harry and Meghan have been doing interviews and making other appearances separately — following their interview with Oprah Winfrey, that is — and that he believes it's by design. "[Harry has] been saying all sorts of things – he's been, let's say, revealing his truth about the Royal Family and his, his childhood and then adulthood in the UK as part of that family. [Meghan has] been really taking a backseat, which I think has been very carefully designed to protect her reputation," Sacerdoti explained.
In his interview with Express, Sacerdoti explained that Meghan appears to be steering the ship, and that Harry has been involved at the moments it's necessary — to "corroborate" her claims, for example. Sacerdoti wondered if Meghan kept Harry out of her 40x40 initiative as a way to further protect her reputation — by not even letting "him have a speaking part."
"Instead, he wasn't even in the same room, he appeared to have been locked out into the garden. He was at the window, juggling like a clown or a court jester," Sacerdoti told Express, adding that it probably wasn't "great" for "Harry's brands."