How Many Grandchildren Does Betty White Have?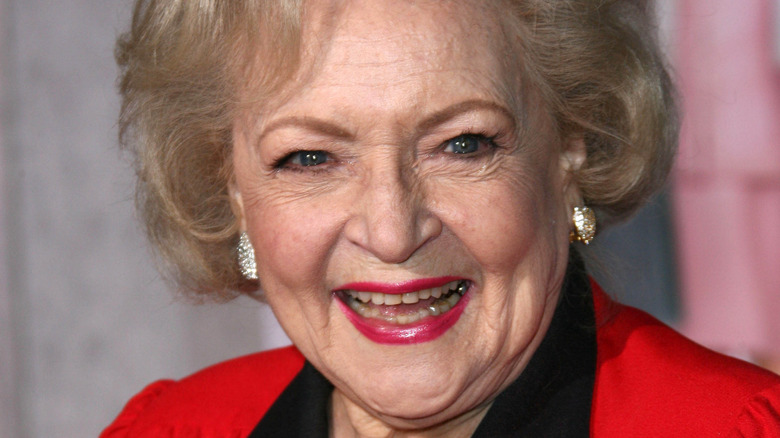 Shutterstock
Betty White is a popular American actor, whose cheerful demeanor has brought joy to audiences for several decades. Her career on-screen started in 1930, earning her the Guinness World Record for the longest working tv actor. In addition, she was also the first woman to win a Daytime Emmy and was inducted into the Television Hall of Fame in 1985.
When it comes to White's personal life, she was married three times. Her first marriage was to Dick Barker, an aircraft pilot, in 1945 — but they were divorced that same year. In 1949, White remarried talent agent Lane Allen. However, they eventually separated in 1951. As it turned out, it was White's third marriage to television host Allen Ludden that worked out the best, with the pair appearing on game shows together. Ludden, unfortunately, died in 1981, leaving behind three children from a previous marriage, and White hasn't remarried since.
So, what does this all mean for White potentially having grandchildren? We dive deeper into the subject after the jump.
Betty White doesn't regret not having bio kids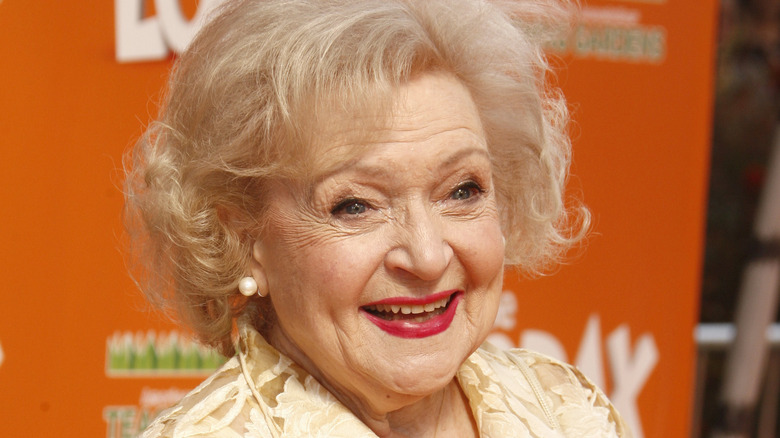 Shutterstock
Although actor Betty White never had children of her own, she was a loving stepmom to her late husband Allen Ludden's three kids. Ludden's first wife Margaret McGloin had three children prior to her death, David (1948), Martha (1950), and Sarah (1952). David went on to become an author and university professor, while Sarah moved to Chicago to open a karate studio. According to Closer Weekly, it was the middle daughter, Martha, who had some apprehensions about the marriage between White and Ludden, but these rumors of discord have not been confirmed.
In 2012, White did an interview with CBS Sunday Morning, where she spoke about her decision not to have biological kids, saying, "No, I've never regretted it. I'm so compulsive about stuff, I know if I had ever gotten pregnant, of course, that would have been my whole focus." She added, "But I didn't choose to have children because I'm focused on my career. And I just don't think as compulsive as I am, that I could manage both."
White is pretty private when it comes to her stepchildren and their families, so it's not clear how many stepgrandchildren she has as of this writing (although there are unconfirmed reports she has three). But what is obvious? How the star's personal choices have inspired others.
Betty White's stepmom role resonated with Sandra Bullock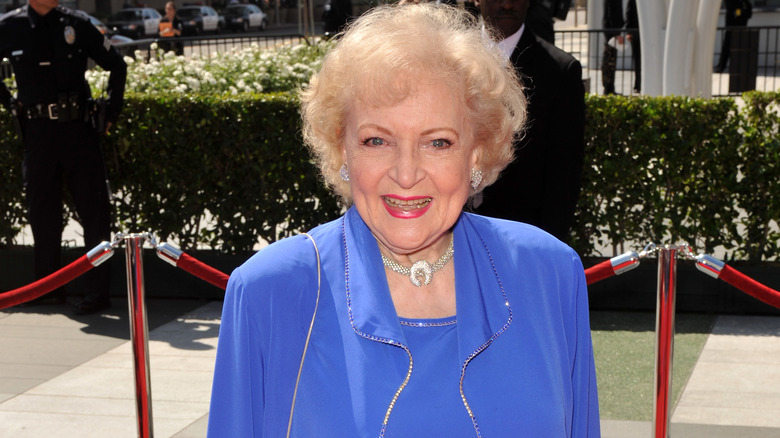 Shutterstock
Betty White's path was unconventional for a woman at the time, but it has served as an inspiration to other stars. In 2009, Sandra Bullock spoke to People about how White's approach to motherhood impacted her own life.
Reflecting on a conversation she had with White on the subject, Bullock shared with the outlet, "Betty said, 'You know what? I never had children biologically. 'I married someone who had three children. And how blessed I was to have those three stepchildren.'" That conversation helped Bullock embrace her own life as a stepmom to then-husband Jesse James' kids.
Although White hasn't spoken out on having stepkids or stepgrandchildren, she has played a grandmother plenty of times, including "The Proposal" starring Bullock and Ryan Reynolds. So step grandkids or not, she'll always be America's lovable grandmother. "I'm the luckiest old broad on two feet," she told The Washington Post about her enduring place in fans' hearts.