This Is Why Peyton List Left Bunk'd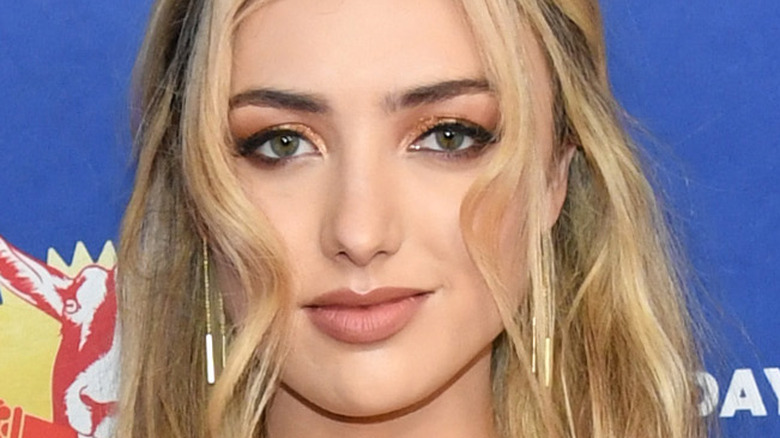 Kevin Mazur/Getty Images
Peyton List is recognized by many as Emma Ross, the Disney Channel character she portrayed for quite a few years. She originated the role of Emma on the show "Jessie" and continued it by starring on "Bunk'd" along with a few others who did both Disney shows. However, List decided to leave "Bunk'd" before it wrapped its run. How come?
In a chat with Brooke Shields for Interview Magazine, List recalled her early days in the entertainment industry. She said she knew from a young age she wanted to be a performer, but "never thought of it as a career." "It started off as an after-school thing I would do growing up in New York. I would take the train to the city, my mom would take my twin brother and me," she recalled. Her brother was actually "discovered on the Staten Island ferry," but List's mom fought for her daughter to get a chance. From there, List did quite a bit of modeling and even appeared on the "American Girl" magazine cover at one point. She snagged quite a few small acting gigs too, per IMDb page. She popped up on soap operas like "As the World Turns" and "All My Children" before being cast in "27 Dresses" as a young version of Katherine Heigl's characters. Additional parts followed, but it was being cast as Emma on "Jessie" that catapulted her to stardom.
Let's dig into List's role as Emma — and why she ultimately parted ways with the character.
A 'Jessie' spin-off extended Peyton List's run as Emma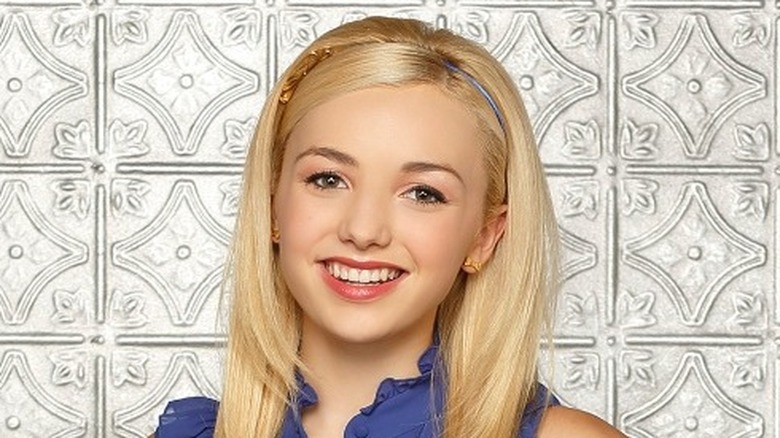 Craig Sjodin/Disney Channel
"Jessie" revolved around a small-town Texas girl, Jessie (portrayed by Debby Ryan), who moved to New York City to become a nanny for a wealthy family. Peyton List's Emma was the Ross family's only biological child, and she had three younger siblings who had been adopted: Luke, (late Cameron Boyce), Ravi (Karan Barr), and Zuri (Skai Jackson).
After four seasons, "Jessie" ended. And according to a Twitter post from Ryan, there was no drama involved in Disney's decision to end the show. "We did four seasons, the most any Disney Show did. Hit a hundred episodes and it ran its course," Ryan noted. In addition to playing Emma on "Jessie," List portrayed the character on other Disney shows, like "Austin and Ally," as well.
Still, Disney wasn't ready to let go of the Ross family entirely. Before "Jessie" even ended, "Bunk'd" was coming together. As Yahoo! Finance shared, the spin-off sent Emma, Zuri, and Ravi to Camp Kikiwaka, the summer camp in Maine where their parents first met. Emma, who'd been something of a teen fashionista and diva throughout "Jessie," was out of her element as "Bunk'd" began. By the end of Season 3, however, she'd grown immensely thanks to her camp counselor work and she became the Camp Kikiwaka manager (per HITC). In a Season 3 finale twist, Emma had decided to leave camp to model in Italy. 
But why did List herself leave the series?
Peyton List puts the 'Disney princess' life behind her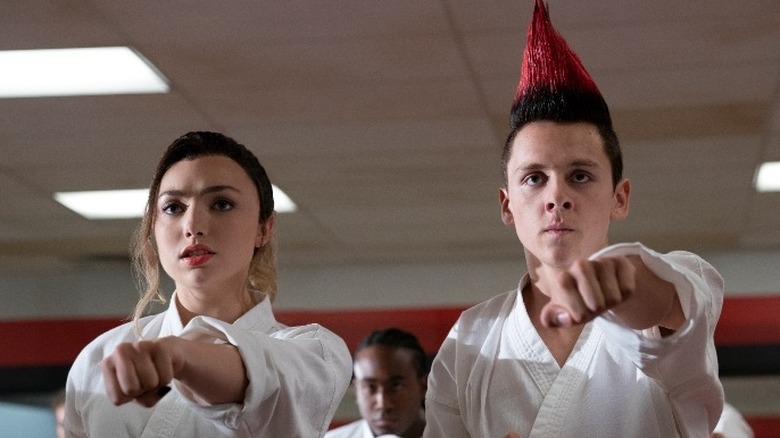 Bob Mahoney/Netflix
Peyton List shared insight regarding her "Bunk'd" departure in an Instagram comment indicating she'd "aged out of children's shows" (via Just Jared Jr.). She added, "I love all of those people so much from the show they are and always will be my family." At the same time, List shared, "Everyone grows up and starts new projects."
When she left "Bunk'd," List didn't know what role she'd take on next. As she told WWD, she met with several networks and aimed to showcase a new side of herself. She recalled that "Cobra Kai" creators were thrilled to take "the Disney princess," later calling it "the best decision we made." Tory Nichols joined "Cobra Kai" in Season 2, and List admitted the character is "exactly the opposite of who I am." During her January 2021 Interview Magazine discussion, List revealed, "I've been so empowered by the role" on 'Cobra Kai.'" She added, "I feel like I have learned more from this project than anything else." She noted she loves doing comedy, adding that "a period piece would be a dream" as well. However, now she knows she is capable of doing action work and she's anxious to do more.
List returned to "Bunk'd" in October 2020 for a Season 5 appearance, detailed TVLine. Fans were thrilled to catch up with Emma after modeling in Italy went awry — and everybody will be anxious to see what Peyton List embraces next.